U.S. Navy's Most Expensive Warship Just Got a $120 Million Repair Bill
The price tag of the U.S. Navy's most expensive warship has ballooned to $13 billion, more than $2.4 billion over its initial budget.
The nuclear-powered aircraft carrier USS Gerald R. Ford, also known as the CVN-78, has had considerable cost overruns due to problems with untried technology.
U.S. Congress approved increasing the spending lid for the ship by an additional $120 million to fix its latest problems, such as its advanced weapons elevator which takes ammunition between the decks.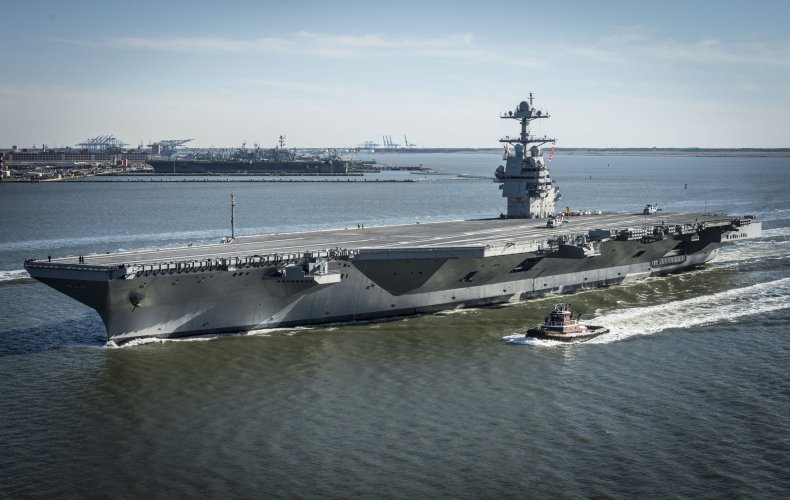 The ship's propulsion system also requires repairs after it broke down during sea trials in January, the Navy said, according to Bloomberg. This was the second failure of the system in less than a year.
U.S. Congress had initially capped the price for the vessel in 2007 at $10.5 billion, but this has grown over the last decade and the total acquisition cost has now hit $13.027 billion.
The U.S Government Accountability Office said in a report last month that construction of the ship built by Huntington Ingalls Industries had begun with "immature technologies and an incomplete design."
"The ship delivered 20 months later than the Navy planned, with construction-related work still remaining and over 40 serious deficiencies that could impact ship operation or safety," the report added.
Shelby Oakley, a director with the office said: "This and other ship quality issues are not surprising. The Navy has had issues with the extent of its inspections prior to delivery from the shipbuilder," Bloomberg reported.
The Navy did want to bring forward the vessel's 2022 deployment by a year by canceling shock trials that test how it handles nearby detonations.
But The Diplomatreported that the Pentagon had endorsed the tests which will take place after its technical problems have been fixed.
Congress wants to push ahead and expand the Navy's 284-ship fleet to 355 by the mid-2030s. U.S. President Donald Trump pledged he wanted a "12-carrier Navy" up from its present 11 when he visited Newport News, Virginia, where USS Gerald R. Ford was built in March 2017.
Named after the 38th American president, it marks the start of the phased replacement of the Navy's Nimitz-class carriers.