U.S. Needs to Give Ukraine Weapons to Strike Russian Territory: General
A U.S. brigadier general called on the U.S. and allies to send weapons to Ukraine that it can use to carry out strikes on Russian territory amid the ongoing war.
Mark Arnold made the call in an interview with the Ukrainian Channel 24 that was published Tuesday, saying that he was not just referring to the Russian-occupied Crimean peninsula in saying that Russian territory should be targeted.
"The USA and NATO say do not strike on the territory of Russia, but this is nonsense," he said. "The beginning of the end of the Russian army in Ukraine is the destruction of the supply line of fuel, ammunition and equipment. This must be done both on the border and hundreds of kilometers deep into Russia. In order to do this, NATO needs to change its policy, and abandon the theses about the prohibition of strikes on Russian territories. It is necessary to give Ukraine such weapons that could crush the Russians in them."
While the U.S. and other NATO nations have not become directly involved in the ongoing Russia-Ukraine war, they have sent weapons like the U.S.-supplied High Mobility Artillery Rocket Systems (HIMARS) and other aid to Ukraine.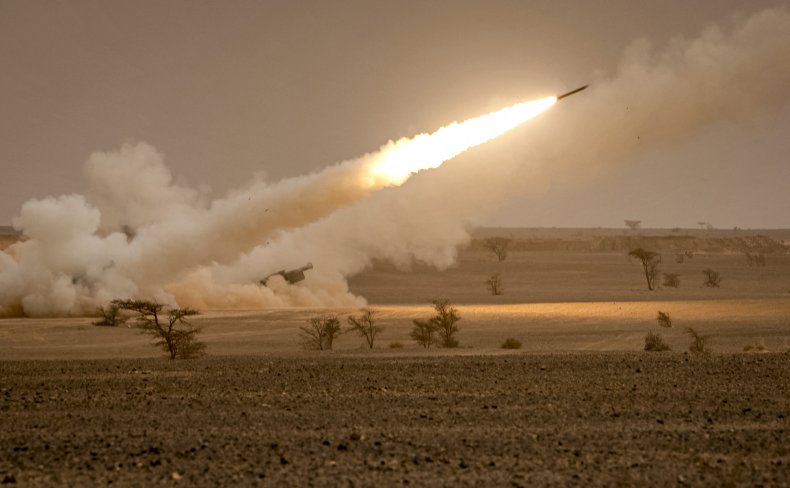 In a joint press conference with NATO Secretary-General Jens Stoltenberg in early June, U.S. Secretary of State Antony Blinken said that Ukraine had provided the U.S. with assurances that American-supplied weapons systems would not be used for strikes on Russian territory, the Guardian reported.
The HIMARS Ukraine has received have gained widespread attention for their effectiveness in striking Russian targets in recent weeks. But use of these or other heavy weapons supplied from outside Ukraine to attack inside Russian territory may increase the risk of more countries being pulled into the conflict.
Before the U.S. officially confirmed news reports that it was planning to send rocket systems to Ukraine, Russian Ambassador to the U.S. Anatoly Antonov called for an "end to the senseless and extremely risky pumping of weapons into the country."
Noting in a Telegram post that the U.S. may give HIMARS and M270 MLRS (multiple launch rocket systems) to Ukraine, Antonov said that there was "a risk that such equipment will be placed near Russia's borders and Ukrainians will be able to strike at Russian cities. Such a situation is unacceptable and intolerable for us."
Russian President Vladimir Putin has not directly threatened to attack any other countries during the war, though he has said that any nations that "create a strategic threat to Russia" in Ukraine can expect "retaliatory strikes."
When asked in the interview what additional U.S. and NATO weapons would be most effective in helping Ukraine win the war, Arnold listed long-range HIMARS missiles, combat drones, aircraft that are in service with NATO, and what he described as a powerful anti-missile defense system. He noted that all of these could require an "intensive training" of Ukrainian troops that could take a year or longer.
When asked if the U.S. and allies providing such weapons for strikes on Russian territory could potentially escalate the conflict, Arnold told Newsweek that "Putin's anger is already at 100 percent, and I do not believe these types of tactical strikes in Russia can stimulate anything more violent using conventional weapons than Russia's current aggression."
He also stressed that it is "essential to disrupt resupply of weapons, ammunition, reinforcing ground forces, fuel, and similar resources in order to enable Ukraine's victory."
"Any restriction of this capability considerably reduces the probability of victory," Arnold added.
Newsweek reached out to the U.S. State Department for comment.
Update 9/1/22, 10:30 a.m. ET: This story has been updated with additional comments from Mark Arnold.