U.S. Says 'No Deals Cut or Concessions Made' with Russia After Biden Calls Ukraine's Zelensky
A U.S. official has informed Newsweek that President Joe Biden did not make or discuss any agreements with his Russian counterpart Vladimir Putin regarding the crisis in Ukraine, whose leader the U.S. president has since also consulted.
Asked on Thursday if U.S. officials had discussed with their Ukrainian counterparts the potential of Kyiv offering partial autonomy to the eastern Donbas region currently under the control of Russia-aligned rebels in an effort to de-escalate tensions with Moscow, a State Department official stated shortly after Biden's call with Ukrainian President Volodymyr Zelensky that "there have been absolutely no deals cut, or concessions made, or even discussed."
"The President was very clear about his commitment to our core principles," the State Department spokesperson said of the Tuesday call with the Russian leader. "He expressed support for Ukraine's territorial sovereignty, and he told President Putin that one nation cannot tell another to change its borders."
"The notion that we are pushing Ukraine to make concessions, or cutting anyone out of diplomacy is disinformation and should be treated as such," the spokesperson added.
White House Press Secretary Jen Psaki had also hit out against the suggestion that Washington was trying to get Kyiv to cede territory in exchange for calm with Moscow, calling such reports "absolutely false" during a press conference Thursday.
The point was further emphasized by a senior administration official who later told a press call that "President Biden has made very clear that he stood by our principles."
"He made it very clear that one nation can't force another nation to change its border," the senior administration official said. "One nation cannot tell another to change its politics and nations can't tell others who they can work with."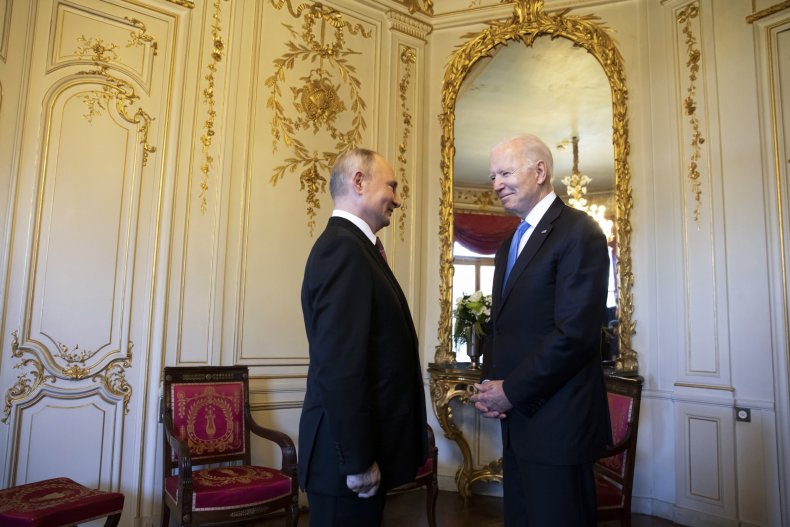 That same day, Zelensky said he had been made aware of the details of Biden's talks with Putin after his own 1.5-hour call with the U.S. leader on Thursday.
"The President of the United States informed me of the content of his negotiations with Putin," Zelensky said. "We also discussed possible formats for resolving the conflict in Donbas and touched upon the course of internal reforms in Ukraine."
A readout later released by the White House said that "President Biden voiced the deep concerns of the United States and our European Allies about Russia's aggressive actions towards Ukraine and made clear that the U.S. and our Allies would respond with strong economic and other measures in the event of a further military intervention."
Biden was said to have "reaffirmed the United States' unwavering commitment to Ukraine's sovereignty and territorial integrity" and "made clear that the United States and its allies and partners are committed to the principle of 'no decisions or discussions about Ukraine without Ukraine,' while both men "called on Russia to de-escalate tensions and agreed that diplomacy is the best way to make meaningful progress on conflict resolution."
"President Biden underscored the readiness of the United States to engage in support of confidence-building measures to advance the implementation of the Minsk Agreements, in support of the Normandy Format," the readout added.
But Russian Foreign Ministry spokesperson Maria Zakharova had warned earlier Thursday that "negotiations on a peaceful settlement have actually reached an impasse."
She accused Zelenky's administration of "simply imitating the process" laid out by the Minsk Agreement and "avoiding direct dialogue with Donetsk and Luhansk"—the two self-declared republics in Donbas—"trying to shift the responsibility for the slipping of the settlement onto Russia, which, let me remind you, is a mediator in the peace process." She also dismissed reports of an imminent Russian invasion as part of "a massive information attack" against Moscow.
U.S. and Ukrainian intelligence have accused Russia of deploying well over 100,000 troops near the border with Ukraine, where Donbas rebels have clashed with Ukrainian security forces since 2014, when a pro-West government came to power in an uprising that rattled Moscow.
In the midst of Ukraine's unrest, Russia directly deployed forces to the then-Ukraine-controlled Crimean Peninsula, which it subsequently annexed as part of a referendum disputed by Ukraine and a number of other countries.
Moscow has defended its troop movements, arguing Russia had the right to arrange troops on its side of the border as it chooses. Putin has denied plans to initiate any military operation against Ukraine but has demanded an end to Kyiv's bid for membership in the U.S.-led NATO military alliance.
"We are bound to be concerned over the prospect of Ukraine's potential accession to NATO because this will be followed by the deployment of corresponding troop contingents, bases and weapons that threaten us," Putin said during a press conference Wednesday.
NATO deployed multinational troop battalions to the Baltic states of Estonia, Latvia and Lithuania as well as Poland, all former parts of the Soviet Union's Warsaw Pact during the Cold War and now NATO members neighboring Russia, following the 2014 unrest in Ukraine. Romania and Poland now also host advanced weapons systems opposed by Russia.
"Looking on helplessly at what is happening there would be simply criminal negligence," Putin said at the time.
The White House and Kremlin both separately said that Biden and Putin agreed to continue to engage diplomatically to de-escalate the situation following Tuesday's call, but Putin's spokesperson, Dmitry Peskov, said Thursday that no format has been agreed, as reported by the state-run Tass Russian News Agency.
And Russian Deputy Foreign Minister Sergey Ryabov emphasized that same that "at this point, nothing is decided."
"The U.S. announcements that are made unilaterally do not create a new reality for us," Ryabkov said. "They are just a reminder these issues should be dealt with tightly."
The senior administration official on Thursday's call said that Biden was "always prepared to talk about security issues with Russia and frankly, a large number of formats exist to be able to do that," including the NATO-Russia Council and Organization for Security and Cooperation in Europe, or OSCE.
"We are of course prepared to talk to the Russians about this, this whole set of issues," the senior administration official said.