U.S. No Longer Lists Foreign Troops on Taiwan as Trigger for China Conflict
The latest Pentagon report on the Chinese military has omitted the scenario of foreign troops being deployed on Taiwan in a list of actions that the U.S. military assessed could trigger conflict from China.
The development comes amid media reports and statements from Taiwan President Tsai Ing-wen suggesting that a small contingent of U.S. forces were already present on the self-ruling island, stirring anger from Beijing, which claims Taiwan as part of its territory.
The document, called the "Report on Military and Security Developments Involving the People's Republic of China," was published Wednesday, marking the latest installment of an annual series that has run since 2000, with the only exception being the year 2001.
Each year, the assessment has sought to identify China's red lines across the Taiwan Strait flashpoint. Last year's 2020 edition featured seven scenarios: "Formal declaration of Taiwan independence; Undefined moves toward Taiwan independence; Internal unrest in Taiwan; Taiwan's acquisition of nuclear weapons; Indefinite delays in the resumption of cross-Strait dialogue on unification; Foreign intervention in Taiwan's internal affairs; and, Foreign forces stationed on Taiwan."
This year, however, the final scenario was omitted, leaving the six other "circumstances under which the PRC has historically indicated it would consider the use of force."
Asked about the reason this particular circumstance was left out of the latest assessment, Pentagon spokesperson Army Lieutenant Colonel Martin Meiners told Newsweek he currently "did not have anything to add to what's in the report."
"The report speaks for itself," he added.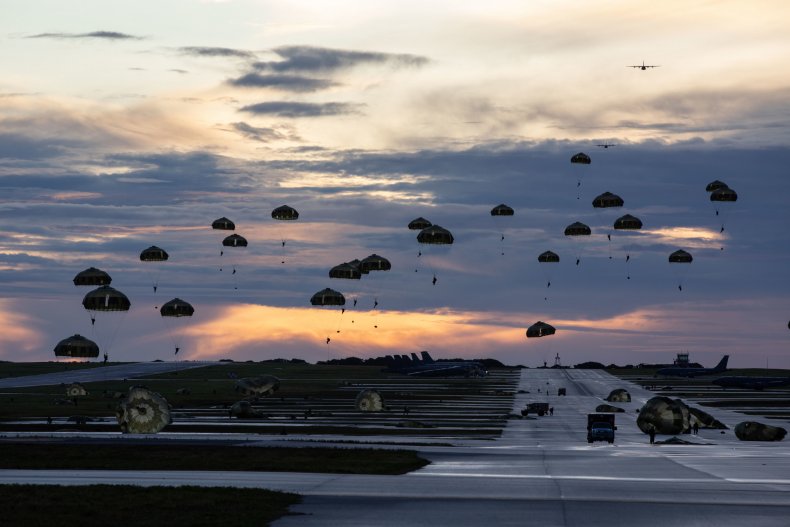 The report notes, as in most previous iterations, that the circumstances proving a potential tripwire for Chinese intervention "have evolved over time."
The "Foreign forces stationed on Taiwan" language was first introduced in 2009 and has featured in every report since, save for 2015, when the prospects of Beijing's taking action against Taipei were formatted differently than in other years.
The scenario describing "undefined moves toward Taiwan independence'" was first featured in 2006 and the scenario regarding "infinite delays" in cross-strait ties in 2004. The two lines regarding nuclear weapons and internal unrest premiered in 2002 and the formal declaration of independence and foreign intervention have been seen since the debut report.
China has vowed to reclaim Taiwan, with officials saying they prefer diplomacy but never renouncing the use of force.
The island's sovereignty has been a matter of debate since a civil war ended in 1949 with a Communist victory on the mainland that forced nationalists into exile on Taiwan, where a rival government was formed. International recognition was initially divided, but over the decades diplomatic ties increasingly favored the People's Republic and the U.S. ultimately shifted its relations in 1979.
Since then, however, the U.S. has maintained an unofficial relationship with Taiwan, including both political contacts and military assistance. These ties saw an uptick under former President Donald Trump and have continued to tighten under President Joe Biden, though his administration has vowed to uphold the commitments encoded in the formative understandings reached by Washington and Beijing more than four decades ago.
After Tsai appeared to publicly acknowledge the presence of U.S. troops in Taiwan during an interview with CNN last month, Chinese Foreign Ministry spokesperson Zhao Lijian urged the U.S. to adhere to these prior commitments.
"The one-China principle is the political foundation of China-U.S. relations," Zhao told reporters at the time. "On the Taiwan question, the U.S. should abide by the one-China principle and the stipulations of the three China-U.S. joint communiqués, rather than something unilaterally concocted by itself."
He voiced China's opposition to "official and military ties in any form between the US and the Taiwan region" as well as any "U.S. interference in China's internal affairs." He also accused U.S. warships that occasionally pass through the Taiwan Strait of having "flexed" their "muscles to make provocations and stir up troubles sending gravely wrong signals to the 'Taiwan independence' forces and threatening cross-Strait peace and stability."
"The cross-Strait reunification is an overriding historical trend and the right course, while 'Taiwan independence' is a retrogression leading to a dead end," Zhao said.
He then lashed out against Tsai's Democratic Progress Party, accusing it of making moves toward independence. Such actions he, argued "can not change the iron-clad fact that Taiwan is a part of China, neither will it shake the international community's universal and firm commitment to the one-China principle."
"Those who forget their heritage, betray their motherland, and seek to split the country will come to no good end," Zhao said. "Seeking 'Taiwan independence' leads to a dead end. So does supporting 'Taiwan independence.' No country and no one should underestimate the resolve, the will, and the ability of the Chinese people to defend their national sovereignty and territorial integrity. Otherwise, they will suffer another defeat."
Despite these warnings, however, Taiwan Defense Minister Chiu Kuo-cheng recently acknowledged the findings of an article in the local Apple Daily that alleged Taiwan marines had trained with U.S. counterparts on the U.S. Pacific island territory of Guam.
In response to this report, Meiners told Newsweek on Tuesday: "I don't have any comments on specific operations, engagements, or training, but I would like to highlight that our support for and defense relationship with Taiwan remains aligned against the current threat posed by the People's Republic of China and is in line with our commitments under the Taiwan Relations Act and our One China policy."
The U.S. has remained long remained deliberately ambiguous about whether or not it would step in in the event of a China-Taiwan conflict. Last month, Biden told a town hall event his administration had "a commitment" to do so, but the White House quickly walked back on the president's comments, clarifying that "there is no change in our policy."
This article has been updated to include further comment from Pentagon spokesperson U.S. Army Lieutenant Colonel Martin Meiners.