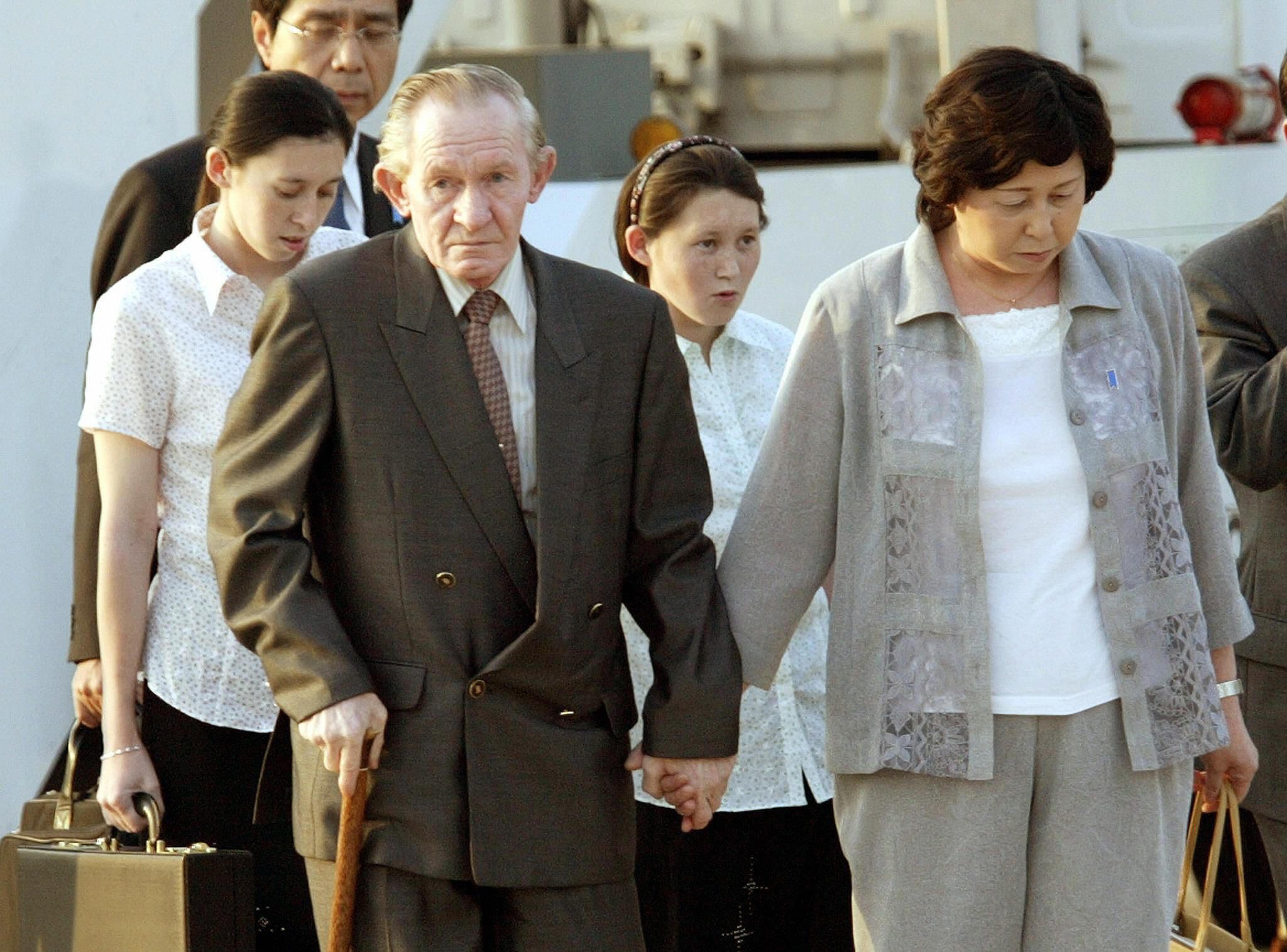 One winter night in 1965, Charles Jenkins downed 10 beers and made a choice he later regretted as the biggest mistake of his life. The 24-year-old U.S. Army sergeant stationed in South Korea at the Demilitarized Zone (DMZ), the border area with the North, crossed the line holding a rifle with a white T-shirt wrapped around it and surrendered to North Korean guards.
For almost 40 years, the North Carolina native lived as a prisoner in Pyongyang until he was liberated, thanks to Hitomi Soga, a woman North Korea abducted from Japan who became his wife.
Jenkins died due to cardiac arrest on Monday, at age 77, in his wife's hometown of Sado Island in the Niigata Prefecture, where he lived from 2004 onward with Soga and their two daughters, Mika and Brinda.
"I was astounded because it was so sudden," Soga said in a statement reported in Japanese media. "I cannot think now and would like to comment when I regain my calm."
For the first 15 years of his time in North Korea, Jenkins lived with other three U.S. soldiers who defected to Pyongyang, as Jenkins recalled in his 2009 memoir The Reluctant Communist: My Desertion, Court-Martial, and Forty-Year Imprisonment in North Korea. Jenkins made the surprising move to the North over fears of being sent to Vietnam: The U.S. was about to become heavily involved in the war.
North Korea used the men's language skills, employing them to teach English and translate, under constant harassment by guards who made their lives "living hell." At one point guards cut off his U.S. Army tattoo without anesthesia, Jenkins said. Bizarrely, the prisoners also found stardom by playing Western villains in Pyongyang's propaganda movies.
"In North Korea, I lived a dog's life," he told the Los Angeles Times in August, his final interview. "Ain't nobody live good in North Korea. Nothing to eat. No running water. No electricity. In the wintertime you freeze—in my bedroom, the walls were covered in ice."
Jenkins was 40 when Soga, then 21, was brought to him to live together. Soga had been abducted from her hometown two years earlier—one of 17 Japanese citizens officially listed in Japan as having been kidnapped to train North Korean spies.
"I had never seen anybody so beautiful," Jenkins recalled in his memoir, "She was wearing a white blouse, a white skirt, and white high-heel shoes. In those grubby, old surroundings, it was like she was from a dream or an entirely different planet."
Jenkins refused to rape the woman even though he was told to "claim her" as his own, he wrote, and insisted if they had to be together "it would be by her choice as much as mine." Jenkins said he did his best to make her feel safe, protected and respected, and they eventually bonded over their loneliness and their mutual hatred of North Korea.
At first, she refused his marriage proposals, but she eventually agreed after Jenkins convinced her that, even if they did not love each other yet, marrying him would at least provide her with the certainty of being safe rather than not knowing where she'd be taken next.
In the end, it was Soga who provided Jenkins with safety and an escape route from North Korea. In 2002, she was freed from North Korea as part of negotiations that saw five Japanese abductees return home; she was joined by her family two years later. The 12 remaining abductees, who are still held in North Korea, were recently the subject of President Donald Trump's attention during his visit to Japan—he met with their families and mentioned the prisoners in a speech.
Upon his liberation, Jenkins faced a court martial in the U.S.; he spent 25 days in a military prison for his defection. He then returned to Japan to be with his wife, eventually finding work at a tourist attraction in Sado.
But his memory of North Korea continued to haunt him, afraid the regime may come look for him or his family and kill them. "North Korea wants me dead," he told the L.A. Times. "I'd like to go back to the U.S., but my wife don't want to go, and I have no means to support her there," he said. "So I figure might as well stay where I'm at."