North Korea's Worst Nightmare? Mike Pompeo Rumored to Be Next U.S. Chief Diplomat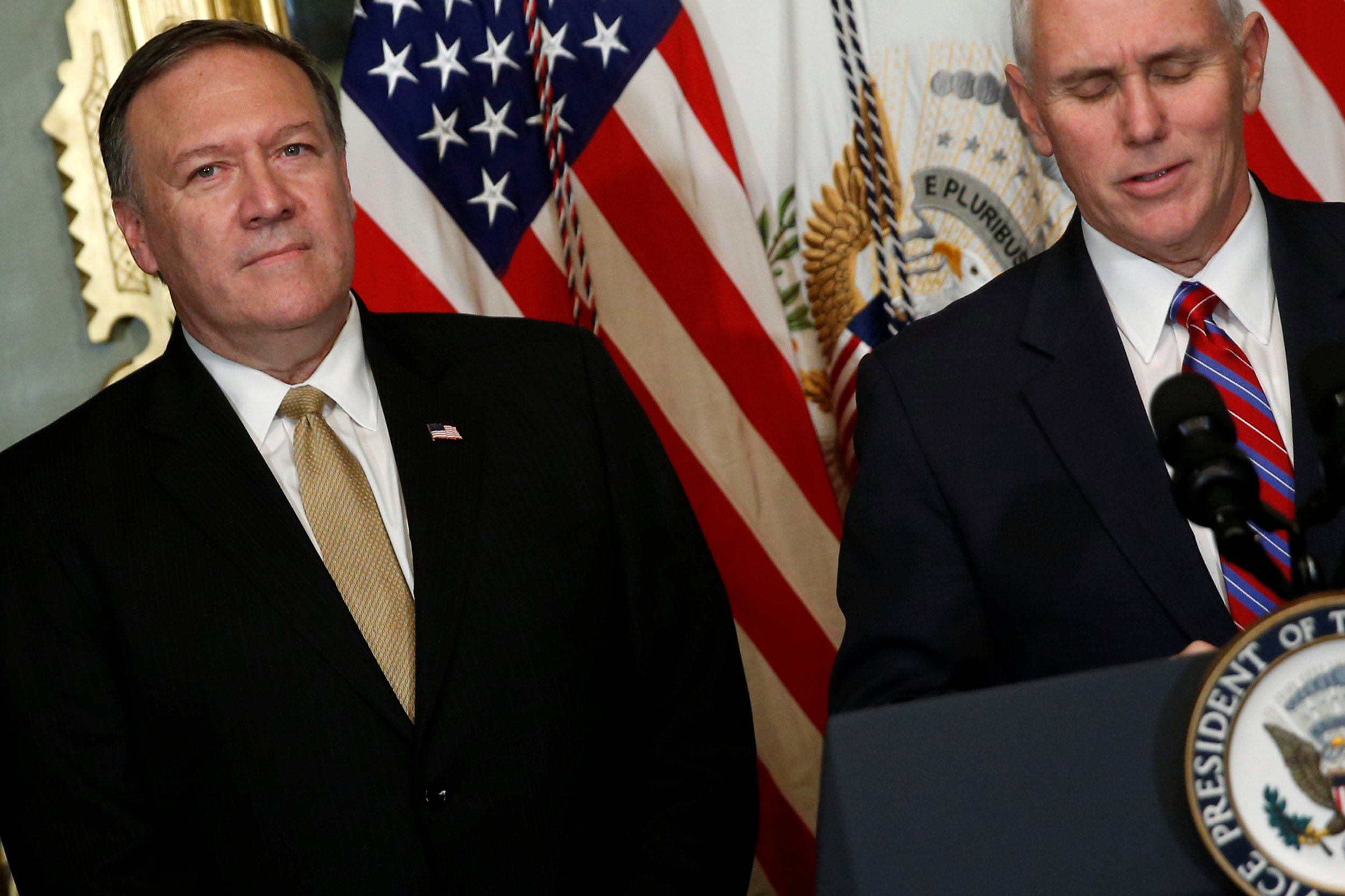 CIA director Mike Pompeo is tapped to replace Rex Tillerson as Secretary of State, The New York Times reported on Thursday.
While President Donald Trump has so far shown few signs of wanting to dismiss Tillerson—"He's here. Rex is here," he said on Thursday answering reporters' questions on the matter—it is no secret that the former Exxon Mobil chief executive has been at odds with the White House over key foreign policy issues, including how to handle tensions with North Korea.
In one of the most public shows of criticism, Trump ridiculed Tillerson last October for "wasting his time trying to negotiate" with North Korea's leader Kim Jong Un. "Save your energy Rex, we'll do what has to be done!" Trump wrote in a series of tweets.
North Korea has so far been one of Pompeo's priorities in his current tenure as CIA director. Within four months of his appointment to the role, Pompeo announced the establishment of a Korea Mission Center within its headquarters in Langley, Virginia.
"Creating the Korea Mission Center allows us to more purposefully integrate and direct CIA efforts against the serious threats to the United States and its allies emanating from North Korea," he said in a statement announcing the center's creation in May.
With this recent track record, can Pompeo be the right man to lead diplomatic efforts to contain North Korea?
"If Pompeo is as committed to diplomacy—as a necessary adjunct to pressure—as Tillerson has been, we would still have a chance to avoid a military conflict in Korea. If not....." Thomas Countryman, former assistant secretary of state for international security and nonproliferation and chair of the board of directors for the Arms Control Association, tells Newsweek in a written statement
Pompeo's relationship with the North Koreans hasn't been free from controversy. He angered the regime when, speaking at the Aspen Security Forum in Colorado in July, he suggested the North Korean people "would love" to see Kim go and that the most dangerous thing about the country was not so much its nuclear weapons but the character of its leader.
"So from the administration's perspective, the most important thing we can do is separate those two. Right?" Pompeo said. "Separate capacity and someone who might well have intent and break those two apart."
North Korea's response was furious, with a foreign ministry spokesman threatening a nuclear strike to "the heart of the U.S." should the American secret service attempt to remove Kim from power. Pompeo's remarks touched a raw nerve in North Korea. In May, the country's Ministry of State Security accused the U.S. and South Korean spy agencies of plotting together to assassinate Kim.
Pompeo's stance on North Korea should be familiar to Trump, as the two frequently discuss the issue. "I hardly ever escape a day at the White House without the President asking me about North Korea and how it is that the U.S. is responding to that threat. It's very much at the top of his mind," Pompeo told MSNBC's Hugh Hewitt in July.
The CIA director has also previously spoken about Trump's position on North Korea in public forums. "We all want to resolve this without resort to military activity. The president is intent on that as well," Pompeo said at a summit in October.
"And we're going to pull every arrow in the quiver until such time as we conclude that there's no alternative. At that point, the president's made very clear he is prepared to ensure that Kim Jong Un doesn't have the capacity to hold America at risk, by military force if necessary," he added.
Asked about what would happen if the North Korean ruler died, this time Pompeo offered a more restrained reply. "Given the history of the CIA I'm just not going to talk about that…. Someone may think there was a coincidence if, you know, there was an accident," he said, jokingly.
Striking a more serious tone, he added: "It's just not fruitful. We have a clear U.S. policy: It is an effort to diplomatically and economically challenge the regime."