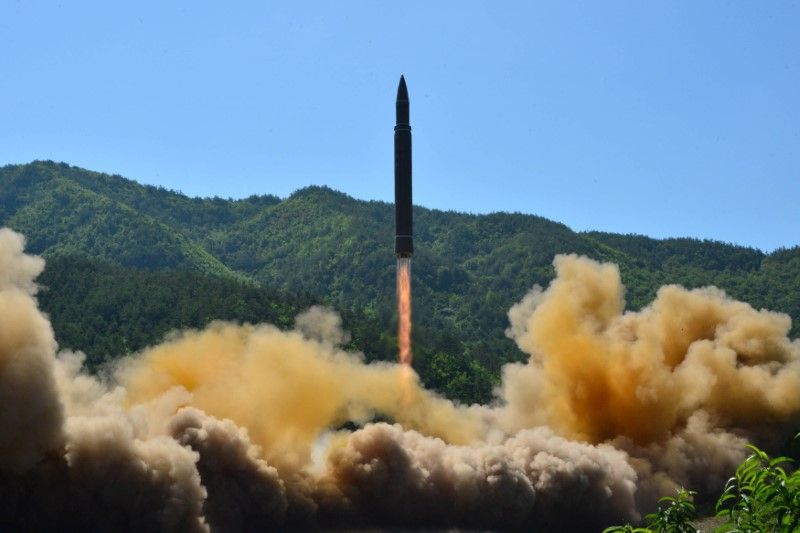 The United States is preparing for all options to counter the growing threat from North Korea, including launching a "preventive war," national security adviser H.R. McMaster said in an interview with MSNBC that aired Saturday. The comments come following North Korea carrying out two tests of intercontinental ballistic missiles (ICBMs) last month.
Related: A North Korea Attack Would Take Out Los Angeles, Chicago or New York, And Be The Deadliest In U.S. History
"What you're asking is are we preparing plans for a preventive war, right?" he said in response to a question from MSNBC's Hugh Hewitt. "A war that would prevent North Korea from threatening the United States with a nuclear weapon. And the president's been very clear about it. He said he's not gonna tolerate North Korea being able to threaten the United States. If they have nuclear weapons that can threaten the United States. It's intolerable from the president's perspective. So of course, we have to provide all options to do that. And that includes a military option."
North Korea has claimed that its latest missiles, which it says can carry large nuclear warheads, can now strike anywhere in the United States. Experts believe that the country's missile program, led by Kim Jong Un, has greatly accelerated in recent months putting it far ahead of previous predictions about when it could launch reliable long-range missiles.
Speaking to Newsweek in recent days, several experts said that an attack would be the deadliest the U.S. has ever received and potentially kill more than 100,000 people if it struck in large population centers like New York City or Los Angeles.
"I'm not going to confirm [whether the latest ICBM could reach anywhere in the U.S.] but whether it could reach San Francisco or Pittsburgh or Washington, I mean how much does that matter? It's a grave threat," McMaster said.
He added: "It's impossible to overstate the danger associated with a rogue, brutal regime."
McMaster cautioned that he was aware of the fact that any strike against North Korea could bring about a "very costly war" that would cause immense "suffering of mainly the South Korean people."
North Korea has consistently blamed the U.S. for escalating tensions in the Korean Peninsula by carrying out joint military exercises in the region with South Korea. It claims that its missile program is a powerful deterrent against such threats.
In recent weeks, the U.S. has been attempting to further squeeze North Korea economically, including by drafting a United Nations security council resolution that aims to cut the country's $3 billion annual export revenue by a third.
CIA Director Mike Pompeo last month floated another option for dealing with the North Korea threat, saying that he was "hopeful we will find a way to separate that regime from this system."
North Korea responded by threatening swift and brutal consequences for any attempt to topple Kim.
"Should the U.S. dare to show even the slightest sign of an attempt to remove our supreme leadership, we will strike a merciless blow at the heart of the U.S. with our powerful nuclear hammer, honed and hardened over time," a foreign ministry spokesman said.
Still, McMaster did not rule out such an attempt when asked whether it could be a legitimate tool.
"I think it depends on the legal justifications for that. And this goes back to just war theory. And what is the nature of the risk? And does that risk justify acting in defense of your people and your vital interests?"