U.S. Now Has More COVID Cases Than Brazil and India Combined, Countries in Second and Third
The U.S. now has more coronavirus cases than Brazil and India combined, the two countries with the second- and third-most cases.
As of Friday morning, the U.S. is reporting 3,576,430 total cases, with Brazil and India reporting 2,012,151 and 1,003,832, respectively, according to data from Johns Hopkins University's tracker.
Coronavirus trend maps suggest that the U.S. is reporting more new cases daily than any other country.
While it appears the U.S. had flattened the curve of new cases in mid-April, the trend has seen a sharp increase since mid-June and numbers are only continuing to rise, the data suggests.
The U.S. has also reported more coronavirus-related deaths than any other country, at 138,360.
Death rates are rising in at least 17 states, with Arizona, Texas and Florida experiencing the most deaths — three states that each reopened much of its economy in early May.
On July 14, counties in Texas and Arizona had ordered refrigerated trucks to operate as makeshift morgues to accommodate rising death rates, echoing measures taken in New York when the city was at its worst.
Benjamin Haynes, a spokesman for the U.S. Centers for Disease Control and Prevention (CDC), told Newsweek that cases are increasing in the country, particularly in the southeast and southwest regions.
"Current evidence tells us this increase is driven by many factors including increased testing, community transmission, and outbreaks in settings such as nursing homes and occupational settings," Haynes wrote in an email.
Newsweek contacted the U.S. Department of Health & Human Services for comment, but did not hear back in time for publication.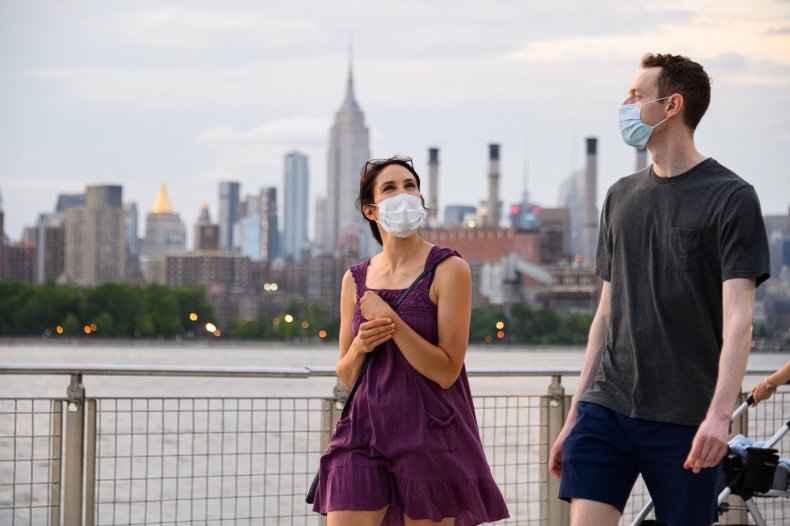 An unpublished White House document revealed Wednesday that 18 states are in the "red zone" for coronavirus cases, meaning they had more than 100 new cases per 100,000 people within the last week.
The document, dated July 14 and obtained by the Center for Public Integrity, was prepared for the White House Coronavirus Task Force. It suggests that more than a dozen states should reverse their reopening strategies and adopt measures seen in the early days of the virus, when virtually the entire U.S. shut down.
California became the latest state to ask businesses to close again. Governor Gavin Newsom ordered indoor restaurant operations, bars, wineries, movie theaters and more to close effective July 13.
In Arizona, Governor Doug Ducey announced June 29 that he would "pause" operations of bars, gyms, movie theaters and water parks for one month in an effort to help mitigate the spread of coronavirus.
Florida, the current world epicenter for coronavirus, has taken a comparatively relaxed approach in pausing its reopening strategies amid rising cases.
Governor Ron DeSantis has repeatedly stated he would not impose a statewide mask mandate, and is pushing for schools to reopen as planned in August.
The state now has more virus cases than the entire United Kingdom, a feat accomplished only by two other states, California and New York. Florida health officials reported a total of 315,775 cases as of Friday, compared to the 292,552 in the U.K.
But Florida state officials did order all bar owners on June 26 to stop selling alcohol at their establishments, in hopes this strategy would help quell rising case numbers.
That same day, Texas Governor Greg Abbott ordered bars across the state to close once more and restaurants to reduce to 50 percent occupancy.
Many state officials are attributing the rise in cases across the U.S. to young Americans who are not taking the coronavirus seriously.
In an interview Thursday evening with Facebook CEO Mark Zuckerberg, Dr. Anthony Fauci, the White House's top coronavirus adviser, said the average age of COVID-19 patients has dropped by 15 years since the beginning of the pandemic in the U.S.
"You have to have responsibility for yourself but also a societal responsibility that you're getting infected is not just you in a vacuum. You're propagating the pandemic," Fauci said, pleading with the country's younger population to keep safety measures in mind.
Update (07/17/20, 5:58 p.m. ET): This article has been updated to include a comment from theU.S. Centers for Disease Control and Prevention.