The U.S. Now Has Over 20 Percent of the World's Total Coronavirus Cases
Coronavirus cases in the U.S. now form over 20 percent of the world's total confirmed cases. The country reports more than 164,600 cases, including a death toll of over 3,000, according to the latest figures from Johns Hopkins University.
The virus, which was first reported in Wuhan, a city in China's Hubei province, has spread to over 801,000 people, more than 82,200 of whom are in China. Over 172,000 people have recovered from infection, including nearly 90 percent of China's confirmed infected population and almost 6,000 in the U.S., while more than 38,000 have died after contracting the virus.
The virus has spread rapidly across the U.S., which is the new global epicenter of the outbreak. New York is the worst-hit state, claiming the highest number of cases and deaths in the country.
Mitigation efforts continue across the country, with more than half of the country (at least 31 states) having issued "stay at home" orders, as well as in Washington, D.C. The latest order was announced on Monday by Washington, D.C. Mayor Muriel Bowser.
"Stay at home" orders require residents to remain home, while all non-essential businesses, including bars, restaurants, as well as other places of public gathering, are shuttered.
Several more disaster declarations have been made across the nation, including in Pennsylvania, Rhode Island, Kansas and Alabama.
U.S. has over 20 percent of world's cases, NY has nearly half of U.S. deaths
The U.S. reported at least 164,610 cases on Tuesday, with more than 3,000 deaths.
New York has nearly half of the total U.S. cases, with 66,497 confirmed cases, New York Governor Andrew Cuomo confirmed on Monday.
New York City has at least 38,087 confirmed cases, as of Monday, according to the city's department of health.
New York state's death toll reached 1,342 by Monday evening, forming nearly 45 percent of the country's fatalities.
"FEMA [Federal Emergency Management Agency] has obligated more than 1.3 million dollars — billion dollars in federal support to the State of New York," President Donald Trump confirmed at a White House press briefing on Monday.
New York City also reported the death of its first infected child who was reported to have an underlying condition, the city's department of health confirmed.
"If there was ever a moment for unity, this is the moment. This virus doesn't discriminate. It attacks everyone, and it attacks everywhere," Cuomo said at a press briefing Monday.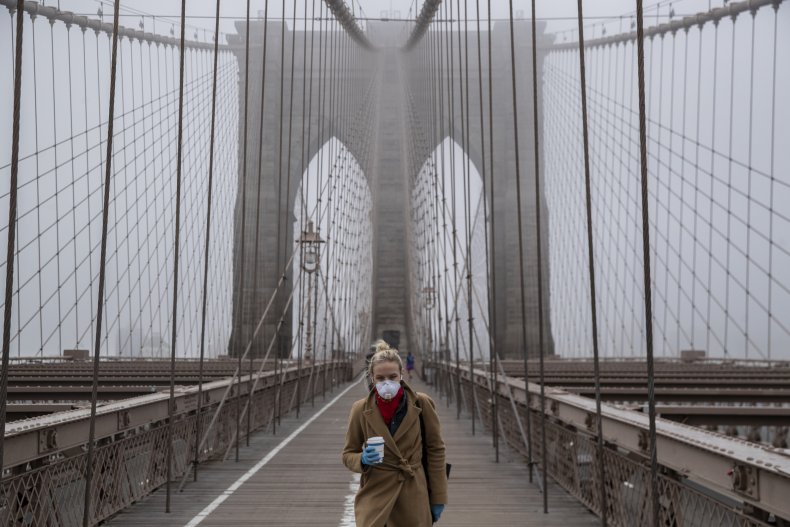 "As the numbers continue to increase, the situation is becoming painfully clear that the front line battle of this virus will be fought in our healthcare system," he said.
"We need more healthcare professionals, we need more supplies, we need more capacity and we need it now. The entire country has been playing catch up with this virus since day one, but in New York we have been trying to plan forward and get ahead of the problem," he added.
The graphic below, provided by Statista, shows the number of confirmed COVID-19 cases—the disease caused by the new strain of coronavirus—in a selection of states.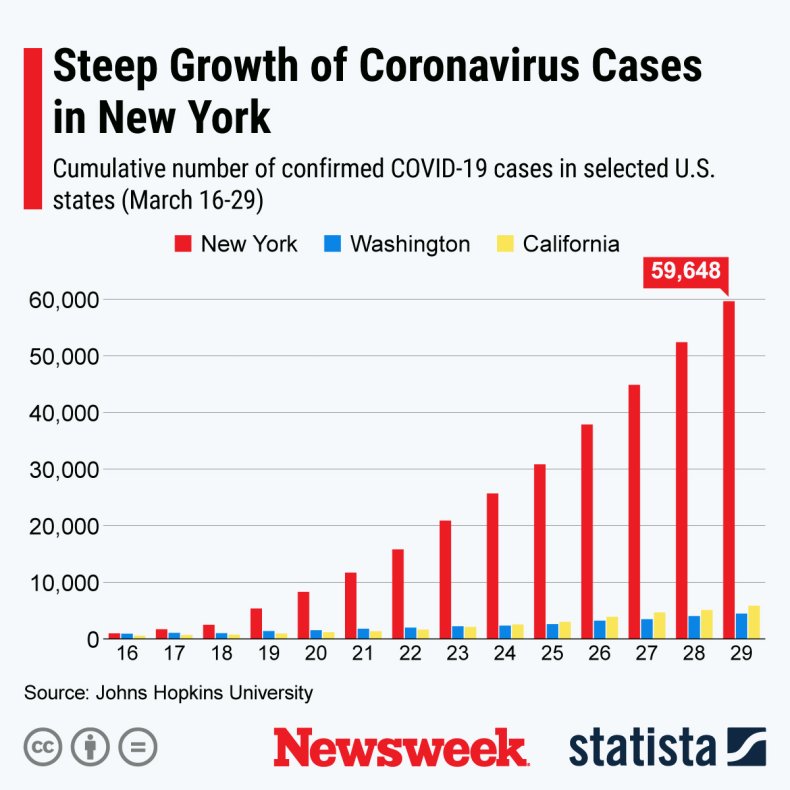 Other states with nearly 100 deaths or more and thousands of cases
New Jersey—at least 16,636 cases, with 198 deaths, New Jersey Governor Phil Murphy confirmed in a post on his official Twitter account on Monday.
Washington—at least 5,161 cases, with 217 deaths, according to figures from state counties.
California—at least 7,426 cases, with 149 deaths.
Michigan—6,498 cases, with 184 deaths, according to the latest report Monday by the state's official government website.
Louisiana—at least 4,025 cases, with 185 deaths, according to the latest report Monday by the state's department of health.
Illinois—at least 5,057 cases, with 73 deaths, according to the latest report Monday from the Illinois Department of Public Health.
More than a million Americans have been tested
Trump confirmed that more than a million people in the U.S. have been tested for the virus to date.
"Today we reached a historic milestone in our war against the coronavirus. Over 1 million Americans have now been tested—more than any other country, by far; not even close—and tested accurately," Trump said at a White House press briefing on Monday.
Secretary of Health and Human Services Alex Azar added: "We're now testing nearly 100,000 samples a day, also a level that no other country has reached," he said at the press briefing.
Other relief efforts highlighted at the press briefing on Monday
"FEMA and HHS [Health and Human Services] already delivered 11.6 million N95 respirators, 26 million surgical masks, 5.3 million face shields, 4.4 million surgical gowns, and 22 million gloves," Trump said.
400 ventilators will go to Michigan.
300 ventilators will go to New Jersey.
150 ventilators will go to Illinois.
150 ventilators will go to Louisiana.
50 ventilators will go to Connecticut.
Ford, along with General Electric Healthcare, will produce 50,000 ventilators in less than 100 days.
The virus could return in the fall
The director of the National Institute of Allergy and Infectious Diseases (NIAID) and a health expert on the U.S. COVID-19 virus task force, Dr. Anthony Fauci, warned on Monday that while the outbreak could make a return in the fall, it will be "a totally different ball game" by then.
"I would anticipate that that [the return of the outbreak] would actually happen because of the degree of transmissibility. However, if you come back in the fall, it will be a totally different ballgame of what happened when we first got hit with it in the beginning of this year," Fauci explained at the White House press briefing on Monday.
"There'll be several things that'll be different. Our ability to go out and be able to test, identify, isolate, and contact trace will be orders of magnitude better than what it was just a couple of months ago.
"What we're going through now is going to be more than just lessons learned; it's going to be things that we have available to us that we did not have before," he said.
With the several clinical trials currently looking into various therapeutic interventions, he noted: "We hope one or more of them will be available."
The graphic below, provided by Statista, illustrates the spread of COVID-19 across the U.S.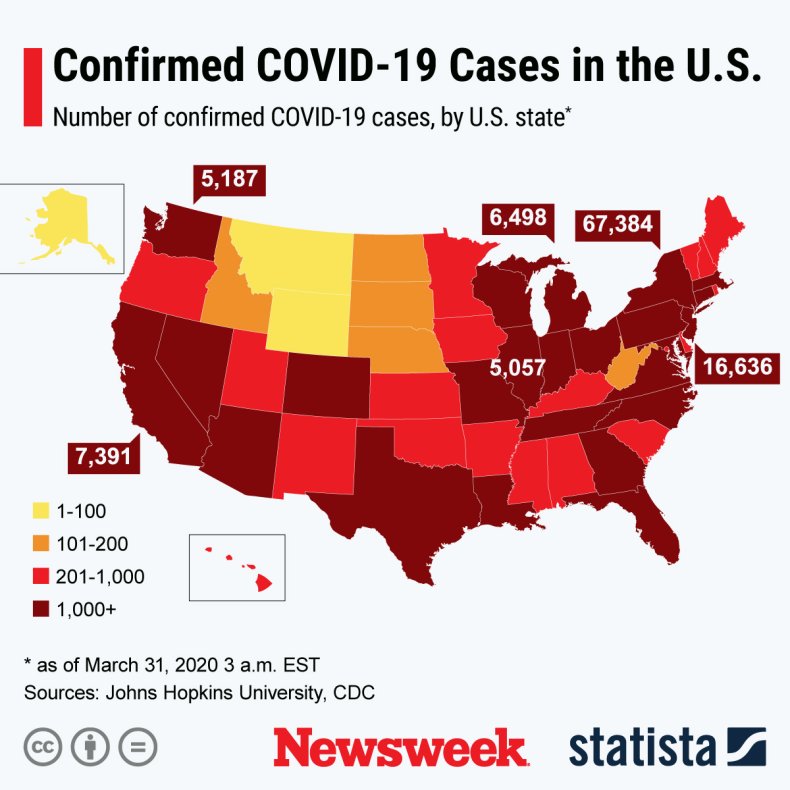 Data on COVID-19 cases is from Johns Hopkins University unless otherwise stated.
World Health Organization advice for avoiding spread of coronavirus disease (COVID-19)Hygiene advice
Clean hands frequently with soap and water, or alcohol-based hand rub.
Wash hands after coughing or sneezing; when caring for the sick; before, during and after food preparation; before eating; after using the toilet; when hands are visibly dirty; and after handling animals or waste.
Maintain at least 1 meter (3 feet) distance from anyone who is coughing or sneezing.
Avoid touching your hands, nose and mouth. Do not spit in public.
Cover your mouth and nose with a tissue or bent elbow when coughing or sneezing. Discard the tissue immediately and clean your hands.
Medical advice
Avoid close contact with others if you have any symptoms.
Stay at home if you feel unwell, even with mild symptoms such as headache and runny nose, to avoid potential spread of the disease to medical facilities and other people.
If you develop serious symptoms (fever, cough, difficulty breathing) seek medical care early and contact local health authorities in advance.
Note any recent contact with others and travel details to provide to authorities who can trace and prevent spread of the disease.
Stay up to date on COVID-19 developments issued by health authorities and follow their guidance.
Mask and glove usage
Healthy individuals only need to wear a mask if taking care of a sick person.
Wear a mask if you are coughing or sneezing.
Masks are effective when used in combination with frequent hand cleaning.
Do not touch the mask while wearing it. Clean hands if you touch the mask.
Learn how to properly put on, remove and dispose of masks. Clean hands after disposing of the mask.
Do not reuse single-use masks.
Regularly washing bare hands is more effective against catching COVID-19 than wearing rubber gloves.
The COVID-19 virus can still be picked up on rubber gloves and transmitted by touching your face.