Hobby Lobby, which purchased a 3,500-year-old tablet determined to contain a portion of the Epic of Gilgamesh, was ordered by a United States district court on Monday to forfeit the artifact due to the illegal nature of the sale.
A London auction house sold the artifact, known as the Gilgamesh Dream Tablet, to Hobby Lobby in a private sale in 2014. The auction house had earlier purchased the tablet along with a false letter of provenance which had been used by dealers several times to traffick the artifact illegally, according to the U.S. government's letter of complaint. The U.S. intends to return the tablet to Iraq, the country standing in the region where the tablet was originally created.
"This forfeiture represents an important milestone on the path to returning this rare and ancient masterpiece of world literature to its country of origin," said Acting U.S. Attorney Jacquelyn M. Kasulis for the Eastern District of New York. "This office is committed to combating the black-market sale of cultural property and the smuggling of looted artifacts."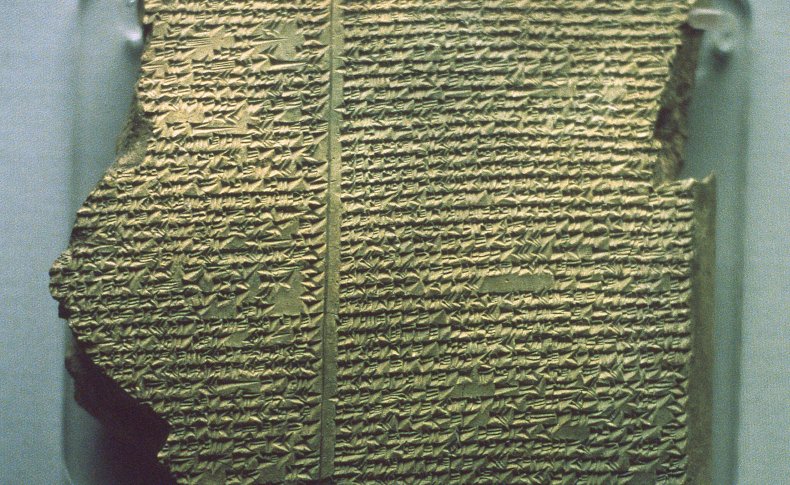 The government's case alleges that a U.S. antiquities dealer bought the tablet in London in 2003 without knowing what it was, and shipped it to the U.S. illegally without declaring it.
After cleaning it, identifying the ancient Sumerian text, Akkadian, and becoming aware of the incredible historical significance of this piece of the Gilgamesh epic, the dealer created a false letter of provenance—an accounting of a historical piece's origins that is required to sell it as an antique. This false letter followed the six-by-five-inch cuniform tablet over several trades.
It is not clear if the London auction house or Hobby Lobby knew about the tablet's falsified documents. Newsweek reached out to Hobby Lobby for comment but did not hear back in time for publication.
Hobby Lobby, which displayed the Gilgamesh Dream Tablet at the Museum of the Bible between 2014 and 2019 when it was seized, consented to the forfeiture, following proof of the tablet's illegal transit into the U.S. in both 2003 and 2014.
"Forfeiture of the Gilgamesh Dream Tablet demonstrates the Department's continued commitment to eliminating smuggled cultural property from the U.S. art market," said Assistant Attorney General Kenneth A. Polite Jr. of the Justice Department's Criminal Division.
"Thwarting trade in smuggled goods by seizing and forfeiting an ancient artifact shows the department's dedication to using all available tools, including forfeiture, to ensure justice."
Following the U.S. invasion of Iraq in 2003, the antiquities market was flooded with ancient Mesopotamian artifacts taken from modern-day Iraq.
"It is so, so easy to fake the provenance," Oya Topçuoğlu, a lecturer at Northwestern University who specializes in Mesopotamian archeology told The Atlantic.
In recent years the U.S. government has been involved in an effort to repatriate these stolen objects.