U.S. Officials Doubt Israeli Claims About Terrorists in Gaza Flotilla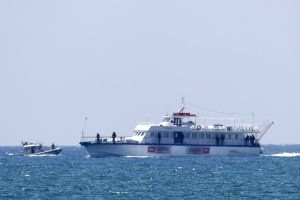 The Obama administration has been circumspect in its official statements about Israel's deadly May 31 commando raid on the Turkish passenger ferry Mavi Marmara. In private, however, U.S. officials are questioning Israeli claims that the Gaza relief convoy's sponsor, the Istanbul-based Islamic charity I.H.H., has ties to terrorist groups.
In a televised speech on Wednesday defending Israel's commando operation, Prime Minister Benjamin Netanyahu described activists on board the ship as "members of an extremist group that … supports the terror organization called Hamas. They brought with them in advance knives, steel rods, other weapons. They chanted battle cries against the Jews." Driving home the point, he added: "This wasn't a love boat, this was a hate boat." Other Israeli officials and pro-Israel groups have gone further, accusing I.H.H. of maintaining ties not only to Hamas, the militant Palestinian movement that controls Gaza but to other violent factions, including Al Qaeda.
Although I.H.H. is reportedly banned by the Israeli government, it is not on any U.S. anti-terrorist sanctions list. The Weekly Standard says I.H.H. is affiliated with the Union of the Good, another Islamic charity that has been on the U.S. Treasury Department's list since 2008 because of the group's alleged support for Hamas. But chief State Department spokesman P. J. Crowley confirmed in his daily briefing on Wednesday that although the government is aware of I.H.H.'s possible radical connections, the group is not subject to counterterrorism restrictions. "We know that I.H.H. representatives have met with senior Hamas officials in Turkey, Syria, and Gaza and over the past three years," he said. "That is obviously of great concern to us. That said, the I.H.H., which stands for the Humanitarian Relief Foundation, has not been designated as a foreign terrorist organization by the United States."
Two U.S. counterterrorism officials, asking for anonymity when discussing sensitive information, tell Declassified that although there is evidence that I.H.H. or some of its personnel had interactions in the past with radical groups beyond Hamas—possibly including Al Qaeda—intelligence available at present does not substantiate a significant connection between I.H.H. and Osama bin Laden's terrorist organization. A third U.S. official, also requesting anonymity, says the Obama administration asked the Turkish government late last year for information about possible I.H.H. links to terrorist groups. Two of the officials say the fact that I.H.H. still isn't on the list is a sign that Turkey's response did not show a substantial connection between I.H.H. and active terrorists. And the Obama administration has no plans at present to add I.H.H. to the list, according to two of the officials. "I.H.H. is sympathetic to Hamas," says one of the officials. "[But] that by itself does not make them terrorists."
The most serious allegation against I.H.H.—that it has ties to Al Qaeda—appears to have been raised first by France's most prominent antiterrorist official, investigating magistrate Jean-Louis Bruguière. He told Declassified this week that he ran across I.H.H. in the late 1990s during a three-year investigation of a suspected network whose participants included Ahmed Ressam. The Algerian-born Ressam was arrested in December 1999 trying to cross from Canada into the United States in a car loaded with explosives and was subsequently convicted on charges of plotting to bomb Los Angeles International Airport to coincide with the millennium festivities. In the course of that investigation, Bruguière learned that Ressam belonged to a Montreal-based radical cell that was involved in transporting forged passports to Europe for use by jihadist infiltrators. According to Bruguière, I.H.H. was "used as a logistical base to support members of a terrorist group" and "a cover for radical Sunnis allied with Al Qaeda"—though at the time, he says, those militants were fighting in Bosnia, not Afghanistan or Pakistan. Bruguière (who retired from the French judiciary three years ago and now helps run a joint U.S.–European Union project to track terrorist finances) says in 1998 he collaborated with Turkish authorities on a search of I.H.H. premises in Turkey during which weapons were discovered.
Bruguière referred to I.H.H. during testimony in Ressam's trial in April 2001. Through a translator, he described the Turkish organization as "a type of cover-up"—apparently meaning front organization—"to obtain forged documents and also to obtain different forms of infiltration for Moujadin [mujahedin] in combat." But the judge ruled his testimony inadmissible on the grounds that it would be excessively prejudicial to the defendant. Bruguière says his most recent information on I.H.H. came in 2005–06, during the investigation of a plot in which someone who had been in contact with I.H.H. also turned up.
I.H.H. could not be reached for comment on the historical allegations, but according to Reuters the group confirms that it has branch offices in Gaza and the West Bank. The wire service also reports that I.H.H. chairman Bülent Yildirim describes group members who died on the Mavi Marmara as "martyrs" and promises the group will continue to send aid ships to Gaza. Allegations linking the group to violent militants are dismissed by I.H.H. as Israeli "propaganda."