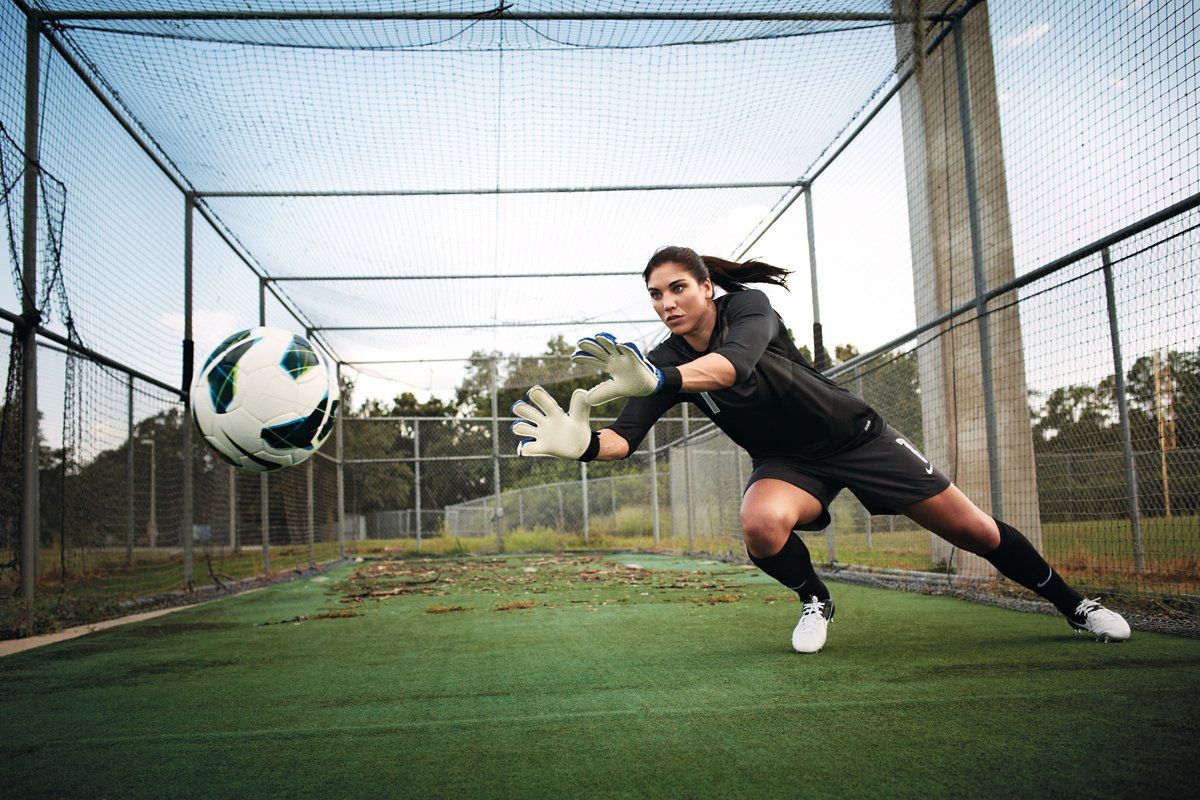 Hope Solo couldn't have slept more than an hour or two last night, so maybe it's that. Or maybe it's the hunger: the only food she's eaten since boarding a red-eye from Seattle—the one with a three-hour layover in Memphis—was a forkful of Cobb salad. Then again, it could be the mimosas. Plural. One at her publicist's hotel right after landing in Tampa this morning and then another here at the Crowne Plaza just a few minutes ago.
Maybe it's all of that. Maybe it's none of that. Either way, Solo—5 feet 9, 150 pounds, with bright blue eyes and the leonine bone structure of a bulked-up Jennifer Carpenter—is getting pretty intense.
Today was supposed to be her day off. One of the last, actually, before the 2012 London Olympics. In 72 hours Solo, Abby Wambach, Alex Morgan, and the rest of the U.S. women's soccer team will embark for England, where the vast swirling vortex of the Games awaits them: the matches, the media, the flashbulbs, the fans. With the latest American league in shambles—Women's Professional Soccer folded in May—the squad will be under a lot of pressure to defend its 2008 gold medal and avenge last summer's narrow World Cup loss, relying on its strength, grit, and experience to counter Japan's technical skill and the graceful, creative play of Brazil and France.
And yet, for some reason, the Face of Women's Soccer in America—a.k.a. the Best Female Goalkeeper in the World—is not spending her last Saturday slumped on the sofa, or steaming at the spa, or scarfing a final plate of pad thai. Instead she's flown 2,525 miles to Florida to film a workout-DVD ad and have her picture taken by a newsmagazine.
For Solo, who will turn 31 later this month, it's all part of being a female athlete circa 2012. "An NFL player never has to do any endorsements, and he's fine," says Solo. (She hawks Gatorade, Bank of America, and Simple skin care, among other things; an autobiography is due out in August.) "But it doesn't work that way for us. My soccer salary would only make me an average living. So we can't just market to little girls constantly. We need to start selling tickets to the masses. To middle-aged men. To all walks of life. At the end of the day, these stupid photo shoots are about bringing more recognition to the game, getting bigger contracts, and putting ourselves on the same level as the men."
And so, in the Crowne Plaza's Treasure Island Ballroom, Solo poses. The goal is to capture her leaping and kicking the ball at the same time, but with her eyes fixed on the lens and her face angled just so and her various limbs arrayed into some sort of elegant airborne geometry. This, it turns out, is nearly impossible. After an hour or so, she throws down her water bottle and starts dribbling the soccer ball between her legs. "Someone coach me," she shouts. No response. "OK," she continues, to herself this time. "I'm guess I'm just going to coach myself through this." On the next pass, she rears back, bounds forward, and boots the ball into one of the photographer's lamps. The bulb shatters, and the contraption collapses.
Everyone laughs. Nervously. Assistants scramble. "I'm totally speechless right now," Solo says, covering her mouth. "This isn't expensive equipment or anything, right?"
Maybe it wasn't the sleep, or the hunger, or the mimosas. Maybe it's just that Hope Solo can't help it. Can't help getting into tricky situations. Can't help pushing herself through them. And can't help making a bit of a mess along the way.
***
The athletes we really root for—the ones we dream about and obsess over and set our DVRs to—tend to belong to one of two sporting breeds. The first is the Superhuman: the flawless freak who earns our admiration by doing things no other Homo sapiens can do. Michael Phelps, the aquatic demigod, is probably the best example on the current U.S. Olympic squad. Phelps has never known the feeling of being the second-fastest swimmer on earth. His genius was apparent by age 10; at 15, he'd obliterated his first world record. It's thrilling to watch such an immaculate alien—someone so unlike the rest of us—at work.
The second type is different. Let's call them the Survivors: the all-too-human athletes whose every achievement is an uphill battle. Nothing is easy. Something is always going wrong. Their struggles remind us of our struggles, and their successes inspire us to imagine what we could be at our best.
Hope Solo might be the most compelling survivor on Team USA. Her biography reads like it was reverse-engineered for one of those tear-jerking videos that always air on NBC at key Olympic moments. There's the ex-con father who left the family early on, spent time in jail for kidnapping Hope and her brother, and later wound up living on the streets, suspected of murder. The unwanted shift from striker to keeper that took years to get used to. The coach who benched her, inexplicably, before a crucial 2007 World Cup match—one the U.S. went on to lose, 4–0—then suspended her when she told reporters she "would have made those saves." The team that ostracized her as a result, and the depression that followed. The potentially career-ending shoulder injury in 2011, and the complex surgery to repair it. The months of grueling rehab. The male partner on Dancing With the Stars who shoved her on camera, upsetting female viewers. And finally, earlier this month, the drug test that detected a banned diuretic in her bloodstream—a substance that would have kept her out of competition in London had the authorities not traced it back to her prescription menstrual-cramp medicine.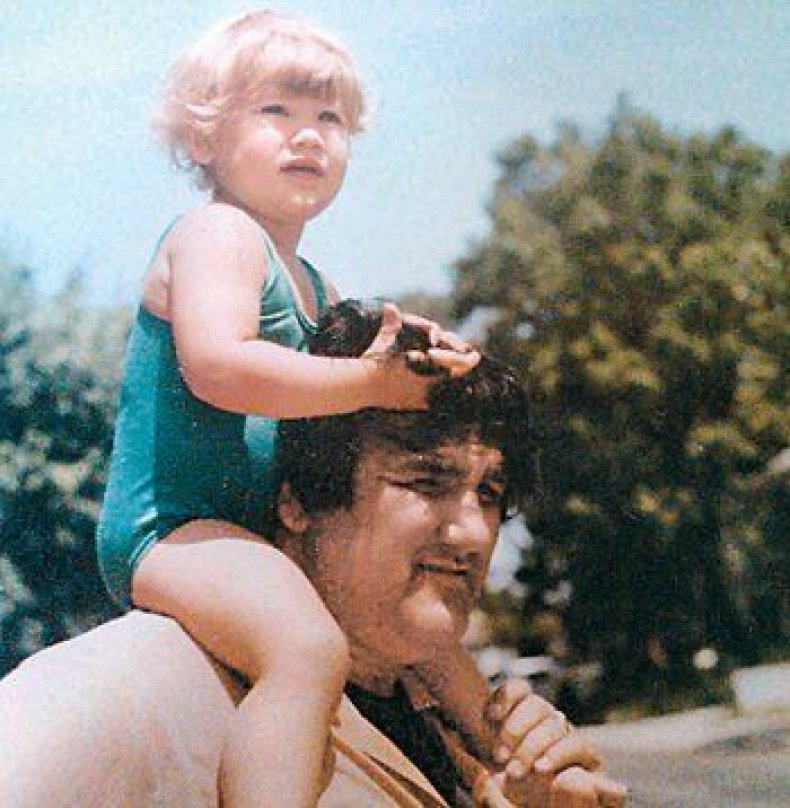 "I made an honest mistake, and I take great pride in being a clean athlete," Solo tells me. "I've been through so much on and off the field, from the time I was young. But every challenge that I've faced, I've been able to conquer and get through—and that's what gives me strength as a player and as a person. It takes a lot to rattle me these days."
Not to get mystical or anything, but at a time when America itself feels increasingly rattled, it makes a certain kind of sense to have a survivor like Solo as our avatar at the Olympics. Perhaps our Phelpsian Period is behind us. We're competing in a globalized game that we can't really dominate. We're not earning as much as we'd like. We're striving, even now, to level the playing field for women. We're struggling to strike the right balance between what's best for us and what's best for the team. And so is Solo.
The question is whether she—whether we—can still win on the world stage, regardless.
***
I'm sitting face to face with Solo in her room at the Crowne Plaza, or would be, if a makeup artist wasn't crouching on the floor between us, dabbing at her forehead. Solo's mimosa flute is almost empty now, which seems about right for someone who dated Seattle party promoter Adrian Galaviz, bedded a celebrity at the 2008 Olympics, appeared "drunk" (her word) on the next morning's Today show, and hosted an all-night pickleball tournament at her Emerald City home.
It doesn't take long for Solo to mention her father. "He kept his secrets and went to the grave with them," she says. "I think there would have been a point in his life when he wanted to show his children who he really was. But that time never came."
Born in the Bronx, N.Y., to Italian parents, Jeffrey John Solo—friends called him Gerry or Johnny—was shuttled from "foster home to foster home" as a kid. After Vietnam, Solo Sr. moved to Boston and then to a small suburb of Seattle, acquiring a second Social Security number along the way. Even now, Hope isn't sure how. "Possibly the witness-protection program," she says. "It was the kind of town a big-city guy like him would never be caught dead in."
Solo went on to marry an environmental scientist employed at the Hanford nuclear site in Richland, Wash. Hope was born a few years later. Solo stuck around for Hope's childhood, coaching her soccer team and drifting from job to job while Hope's mother, Judy, supported the family. But "the daily monotony of life scared him," says Hope, and by the time she turned 7, her parents had divorced.
Solo's last childhood memory of her father is from the following year. One day he reappeared in Richland, begging to take Hope and her older brother Marcus to a nearby baseball game. "Then we just kept driving, over the mountains, all the way to Seattle," she recalls. "We got a hotel room with a pool. We felt like we were living the life. Then I remember waking up one morning, and my dad is like, 'Baby Hope, your mom just called, and she said you can stay another three days.' And I remember being like, 'I didn't hear the phone ring.' Right then, I knew that something wasn't right."
A day or two later, a SWAT team surrounded Solo in a downtown Seattle bank, "put him in the back of a police car, and hauled him off," leaving Hope and Marcus "alone and scared on the streets of a big city," she recalls. Before long, Child Protective Services showed up, and Judy wasn't far behind. But Hope refused to forgive her mother for alerting the authorities. "I remember not talking to her the whole ride home," she says. "My dad was sitting in jail. I was a confused little girl."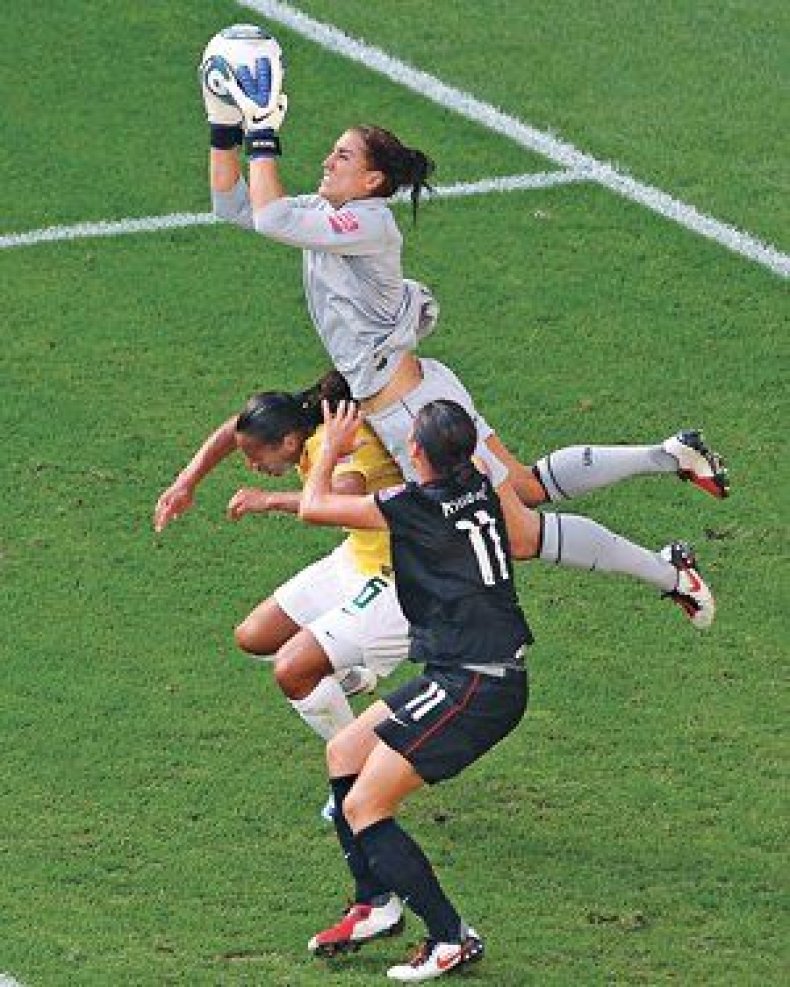 More than a decade passed before Solo saw her father again. And then, by coincidence, she noticed a familiar figure limping through a Seattle park: the shorts, the tattoos, the Italian complexion. "He was walking away, so I approached him," Solo says. They reconnected, and when Solo moved to Seattle to play for the University of Washington, her dad attended every game, walking miles to watch her play. She brought mac and cheese to his green tent in the woods and learned not to be embarrassed when he wore a smelly coat or filled his pockets with food.
It was harder, however, to accept what happened next: "the most bizarre thing our family had ever been through," says Solo. On Jan. 4, 2001, a real-estate agent named Mike Emert pulled into the Kirkland Parkplace shopping center, picked up a prospective home buyer, and drove him to an upscale property for sale nearby; less than two hours later, Emert was discovered face down in the bathtub. He'd been stabbed 19 times. Within days police identified Jeffrey John Solo as a "person of interest" in the case.
From the start, Solo denied any wrongdoing, telling the Seattle Post-Intelligencer on Jan. 9, 2001, "I'm not no murderer." But Solo admitted he wasn't "a nice guy," either: he'd "been in the street for five years," "used a lot of women," and "been in prison," too. (Among the charges: fraud, robbery, conspiracy, forgery, stolen property, threats to bomb.) An "associate of the family," reached in Richland, confirmed Solo's self-assessment. "He's bad news," the man said. "He's lied to his kids for 12 years."
A few months later, the police cleared Solo's name—his alibi checked out—but suspicions lingered until 2011, when investigators finally fixed on an ex-cop as Emert's suspected murderer. (He may have set Solo up.) In Tampa, Hope declines to discuss her father's difficulties; instead she describes him as "a lost soul" with "so much love in his heart." Still, she admits that she always wanted to know more about Jeffrey, or Johnny, or Gerry Solo, and it's hard not to interpret her resilience and drive as a reaction to the life he led: a decision she made, a long time ago, to overcome life's challenges instead of letting them overcome her.
In the spring of 2007, Hope arranged for her father to fly to New York. Finally, he'd get to see her play for the national team. Maybe he'd take her to the Bronx, too, and tell her about his childhood, if there was time. It was a few months before Hope's first World Cup. She was in Cleveland for the NBA championships. They spoke on the phone. "I told him I'd gotten him a hat from the finals," Solo says. "I told him he had to wear it this time, because he used to put his hats on his shelf, in plastic, so they wouldn't get dirty. I told him I'd call him from the hotel." Solo pauses. "And then I didn't call when I got back." A little while later, the line rang in her room, and somebody told Solo that her father was dead.
***
For as long as she can remember, soccer has been Solo's outlet: a way to stay close to her distant father and to show the strength he lacked. "When I was 12 years old, our teacher asked us to write a paper about what you want to be when you grow up," she tells me as the makeup artist finally finishes her ministrations. "And I wrote, 'When I grow up'—it was double-spaced in pencil, big letters—'I want to be a professional soccer player.' I didn't care that there was no such thing as women's professional soccer at the time."
Solo's early career was golden. At recess she was "the only girl to play with the older boys"; she rarely removed her L.A. Raiders sweatshirt or loosened her slicked-back ponytail. "I wasn't too popular with the girls, because they were over there playing ... whatever it is they play," she says, laughing. "I don't even know." Solo's tomboy training soon paid off, helping her score an astonishing 109 goals as a two-time All-American striker at Richland High School. She never learned to "play like a girl."
She also never really learned to play goalkeeper—so when University of Washington head coach Lesle Gallimore began to recruit her for the position, Solo balked. "Who do parents put in goal?" Solo says. "The fat kid. The kid who can't run." But that's exactly why Gallimore was so persistent: she knew Solo's vision and ball skills would elevate her above the second-rate players who were usually parked in net. "Hope was able to stop shots that most kids her age weren't," Gallimore says. "But it was also how she used her feet. The way she moved. She was one of the better athletes I'd ever seen."
Although Solo agreed to attend UW—"Her dad was in this area," Gallimore recalls—it took years for the ex-striker to accept her new role. "On a flight with the team, someone was like, 'Oh, who's the goalkeeper?'" Solo tells me. "I literally put my head down. I hated it. Miserable. I begged to play on the field." But true to form, Solo pushed herself—to "be the first in fitness, the first in everything"—and by graduation she was the top collegiate keeper in the country.
What made Solo such an exceptional goalie? In part it was the same strengths that had distinguished her as a forward. She had a powerful, accurate foot, which meant that she could trigger a sudden counterattack by sending the ball 60 to 80 yards down the pitch. She could dribble, too, and distribute—skills that enabled her to serve as a quarterback of sorts, avoiding pressure in the backfield and setting up runs. Her offensive experience even helped her pull balls out of the air (a Solo signature); anticipating a cross as goalkeeper is a lot like anticipating a cross as striker, only in reverse. At the same time, Solo was also "learning not just to be the shot stopper, but to prevent shots altogether by organizing her defense," says Gallimore. She made her first Olympic squad two years after graduation.
Everything was going right—until the 2007 World Cup in China. The tournament started well enough: Solo recorded shutouts in three of the first four matches, even though she was still grieving for her father. But then, at a team dinner on the eve of the crucial semifinal against archrival Brazil, head coach Greg Ryan summoned her to his room. "I instantly got a pit in my stomach," Solo tells me. "I couldn't eat. I pushed my food away." Ryan had bad news for Solo: he was benching her in favor of veteran keeper Briana Scurry. Publicly, Ryan argued that Scurry was better at making the rapid-fire reflex saves required to stymie Brazil's aggressive strikers, but Solo wasn't convinced. "In his room, Greg made excuse after excuse," she tells me, her voice beginning to break. "Honestly, I don't know if he knows why. The reasons kept changing."
As Scurry surrendered four goals, Solo sulked on the sidelines. "I was playing for my father, with just like a different energy, with so much emotion and passion," she says. "I never imagined that I'd sit on the bench for the biggest game of my career." Confronted by reporters after the match, Solo couldn't contain herself. "It was the wrong decision, and I think anybody [who] knows anything about the game knows that," she said. "There's no doubt in my mind I would have made those saves." When Solo arrives at Tampa's Alonso High School for the outdoor portion of the photo shoot, I ask if she still feels the same. "I do," she snaps. Many soccer fans agree. But back in 2007, Solo's crestfallen teammates didn't care about the hypotheticals. Shocked at his star keeper's behavior, Ryan suspended Solo and sent her back to Seattle alone.
Ryan was eventually sacked, and his replacement, a former Swedish player named Pia Sundhage, asked Solo to return. But Solo was scarred by the scandal. "I f--k-ing went home, lost, like, why am I playing soccer?" she tells me. "My passion was stripped. I was alone in my house. I wasn't taking phone calls. I wasn't eating right." At one point, Solo's teammates refused to share an elevator with her; at another, she was told to stand by herself in the tunnel, off the field, during the national anthem—"like I wasn't American enough," she says.
Solo shakes her head, then stares out at Alonso High School's empty baseball diamond. "For a long time, I still didn't know if I wanted to fight the stupid popularity battles on the team," she finally says. "I just wanted to be an athlete and compete. 'If you don't like me, I don't give a f--k. This is our job.' I would stay in my room. Not go shopping with the team. Not go to bowling parties. And it was always like, 'Hope thinks she's better than everybody. Hope's not a team player.' And I'm just ... I like my time to myself."
Solo says the situation has improved dramatically under Sundhage, and her post-2007 record—only three losses in 66 games, with more shutouts ( 34 ) than goals allowed ( 29 )—proves the point. Her forearm save during the 2008 Olympic final was one of the biggest reasons the U.S. won gold, and the team would not have reached the 2011 World Cup title match without her diving block against Brazil. (Nine months earlier, Solo underwent surgery to fix a devastating 360-degree labral tear in her right shoulder; it was a miracle she could even play.) What's more, Solo says she's finally figured out how to motivate and mesh with her teammates. "Women athletes can be a bit sensitive and emotional, and my tone didn't always help," she admits. "Now I kiss my defenders' asses 90 percent of the time so they'll respond when I'm kicking their asses. I had to learn people's personalities, which was not easy for me."
But even now Solo can still sometimes feel like an outsider in her own sport—and her own gender. When I ask if male soccer players would've responded the way her teammates did after the 2007 Cup, she turns away for a few seconds. "Guaranteed it would be different," she finally says, her voice softer than usual. "With guys, there might have been a couple of shoves into the locker. It would have been like, 'Man, f--k you.' But I don't think there would have been personal attacks. And there definitely wouldn't have been this follow-the-leader thing, where everyone just goes along with the popular players. We're professional athletes. The goal should be to win."
***
Back at Alonso High School, the afternoon storm clouds are flickering like faulty lightbulbs. As I wait for my last few minutes with Solo—the photo shoot is about to wrap—I wonder what to make of her. Is she a defiant diva, happy to play a different game than the rest of the girls? Or does she crave the kind of acceptance—and the kind of leadership role—that has never come naturally to her?
The truth, I think, is that even Solo is still figuring it out. Consider her stint on Dancing With the Stars. During one videotaped rehearsal, Solo's professional partner, Maksim Chmerkovskiy, got so frustrated that he started pushing her around. At first, Solo, ever the tomboy, seemed to excuse his behavior. "You wouldn't want to see me if he wasn't tough on me," she said. But then viewers balked, and Solo realized that she had to speak out. "The public was like, how can you not stand up for women, for abused women?" Solo says now. "And I was like, whoa, whoa. I will always stand up for them." A few days later, she told Ryan Seacrest that she was "a strong, independent woman" who "would never just let [Chmerkovskiy's actions] go unnoticed."
When Solo finally reappears at my picnic table, her hair is tousled and her white tank top is streaked with sweat and dirt—a look, says the photographer, that's meant to blur the line between postgame and postcoital. I ask Solo if she considers herself a feminist. "It's funny," she says. "I'm not like the ultra–'Let's carry a sign' kind of feminist. I wouldn't ... I'm not ... I've never called myself one. But I think a lot of female athletes want to please everybody by saying, 'Oh yeah, we'll take pay cuts.' 'We'll play professionally without health insurance.' And I always say it's not all about pleasing people. It's about looking after yourself as an athlete. To grow the sport, for future generations. That's something that's hard for women sometimes. So yeah, I guess I am a feminist."
What about the Olympics? I ask as Solo gets up from the table. How does London factor in? "It's simple," Solo says. "If we show America that we're a winning team, we're going to have lifelong fans." And if you don't? "People are going to forget all about us."
And with that, Hope Solo is off—into the Florida night, across the Atlantic. As always, she has another game to win, and something else to prove.