U.S. Open 2019: How to Watch Rafael Nadal, Naomi Osaka round of 16 Matches, Start Times, Live Stream
Rafael Nadal and Naomi Osaka are both in action on Monday as the remaining U.S. Open quarterfinalists are set to be determined.
The women's world No.1 and defending U.S. Open champion plays Switzerland's Belinda Bencic, the No. 13 seed, in the day's opening match at the Arthur Ashe Stadium.
After dropping a set in her first match, Osaka has eased through to the round of 16, beating Poland's Magda Linette 6-2, 6-4 in the second round and American teenager Coco Gauff 6-3, 6-0 in the third round.
Nadal, meanwhile, takes on 2014 U.S. Open winner Marin Cilic. The Spaniard is yet to drop a set in the tournament and has had to win only two matches after a walkover in round two.
The 18-time Grand Slam winner has faced just three break points in two matches and is now the bookmakers' favorite to win a fourth U.S. Open crown after Novak Djokovic retired on Sunday night.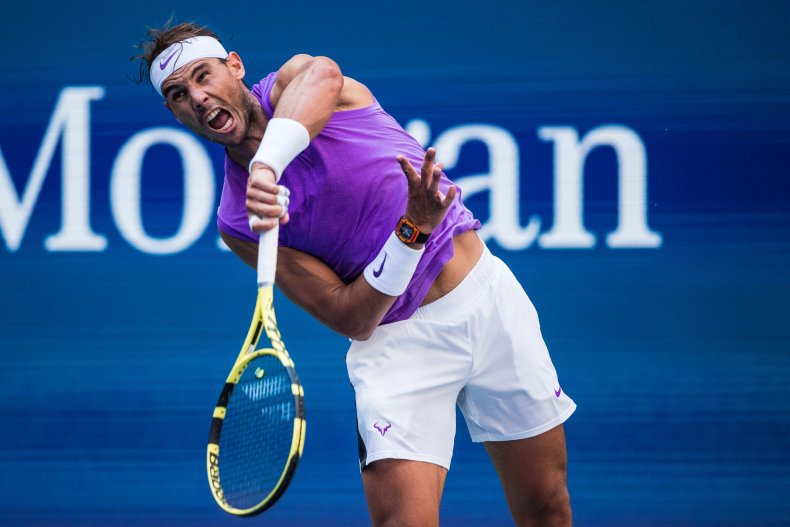 The world No.1 and defending U.S. champion withdrew early in the third set of his round of 16 match against No. 23 seed Stan Wawrinka because of a shoulder injury.
The issue had already affected Djokovic earlier in the tournament and he felt he couldn't continue against the Swiss, who was 6-4, 7-5, 2-0 up by the time the Serb decided to retire.
Djokovic's retirement was met with loud boos by fans packed inside the Arthur Ashe Stadium, with more boos cascading down on the Serb as he made his way off the court.
"I'm sorry for the crowd," the world No. 1 said in his post-match press conference. "They came to see a full match but it wasn't to be."
Djokovic said the shoulder has left him in pain "for a few weeks" and he received treatment on Wednesday night, when he beat Argentina's Juan Ignacio Londero in three sets. The problem seemed to have disappeared as he comfortably swept past Denis Kudla in the third round, but it arose again on Sunday night.
"It is very frustrating. Of course it hurts that I had to retire," said the Serb. "Some days the pain has been higher, some days with less intensity. Obviously I was taking different stuff to kill the pain instantly. Sometimes it works, sometimes it doesn't. You just know when you know, when you feel like you're not able to hit the shot any more."
Roger Federer, meanwhile, cruised through to the quarterfinals by dismantling No. 15 seed David Goffin 6-2 6-2 6-0. The five-time U.S. Open champion had looked rusty earlier in the tournament but was back to his best as he took just 78 minutes to dispatch the Belgian.
In the women's tournament, Serena Williams survived an injury scare to beat No. 22 seed Petra Martic 6-3, 6-4. The 37-year-old rolled her ankle in the second set and needed a medical timeout, before returning to the court and booking her spot in the quarterfinals.
"I just rolled it, I don't know why," the 23-time Grand Slam winner said in her press conference. "I was volleying and it just went over. That was frustrating but I wanted to get it compressed really fast. It affected me a little mentally because I've had a rough year with injuries."
Here's everything you need to know to keep up with the action on Monday.
Round of 16 start time
The action begins at 11 a.m. ET with No 23. seed Donna Vekic taking on No. 30 seed Julia Goerges at the Louis Armstrong Stadium. Play at the Arthur Ashe Stadium, the tournament's main arena, doesn't begin until 12 p.m., when Naomi Osaka plays Belinda Bencic.
Rafael Nadal and Marin Cilic, meanwhile, will open the evening session at the Arthur Ashe Stadium at 7 p.m.
TV channel
The tournament is broadcast exclusively across ESPN channels, with coverage beginning at 11 a.m. and running until 11 p.m. ET on Monday on both ESPN2 and ESPN+.
Live stream
Fans can watch the action online via the WatchESPN app and on ESPN.com and via fuboTV.
Second round full schedule
In the men's tournament, No. 6 seed Alexander Zverev takes on No. 20 seed Diego Schwartzman in the second match of the afternoon session at the Arthur Ashe Stadium, while No. 24 seed Marco Berrettini faces Russia's Andrey Rublev in Monday's second match at the Louis Armstrong Stadium.
No. 13 seed Gael Monfils then takes on Spain's Pablo Andujar in the day's final match on the same court, with play scheduled to begin at around 5 p.m. ET.
Among the women, two Americans hope to join Serena William in the quarterfinals. Taylor Townsend plays No. 15 Bianca Andreescu in the second match of the evening session at the Arthur Ashe Stadium, while Kristie Ahn plays No. 25 seed Elise Mertens in the penultimate match of the day at the Louis Armstrong Stadium.
Meanwhile, No. 23 seed Donna Vekic faces No. 26 seed Julia Goerges to complete the round of 16 picture.
Odds
Djokovic's injury has opened the door for Rafael Nadal and Roger Federer to battle it out for the U.S. Open title. According to BetOnline, the Spaniard is a 6/5 favorite to win the tournament, while Federer is a 2/1 shot.
Among the women, Serena Williams remains a 33/20 favorite, followed by Naomi Osaka and Bianca Andrescu at 9/2.
U.S. Open 2019: How to Watch Rafael Nadal, Naomi Osaka round of 16 Matches, Start Times, Live Stream | Sports