US Open Sexism: Alize Cornet Punished for Taking Off Her Top During Match
The U.S. Open has been hit by a sexism controversy after penalizing a female player for briefly removing her top on court. Alize Cornet was handed a code violation in her opening round loss to Johanna Larsson for taking her shirt off after realizing she had put it on backward.
The incident unfolded on August 28, as the Frenchwoman walked back onto the court after a 10-minute medical break, which players have been allowed to take to cope with the oppressive New York heat.
Upon returning to the court, the 28-year-old realized her top was on backward and instead of returning to the locker room, Cornet quickly turned away from TV cameras to take her top off and put it back on the right way.
While this took no longer than 10 seconds, chair umpire Christian Rask penalized her by announcing a code violation for unsportsmanlike behavior due to the fact Cornet had revealed the sports bra underneath her top.
The number 33 of the Women's Tennis Association (WTA) ranking was visibly perplexed by the decision, which has sparked a sexism row. Under WTA regulations, female players are not allowed to change their outfit while on the court, but the men's circuit (The Association of Tennis Professionals, or ATP) contains no such rule and male players commonly change their shirts on court.
Earlier this week, a host of male players, including Novak Djokovic and Roger Federer, removed their shirts in between sets to put on fresh tops in a bid to offset the extreme heat that is afflicting New York.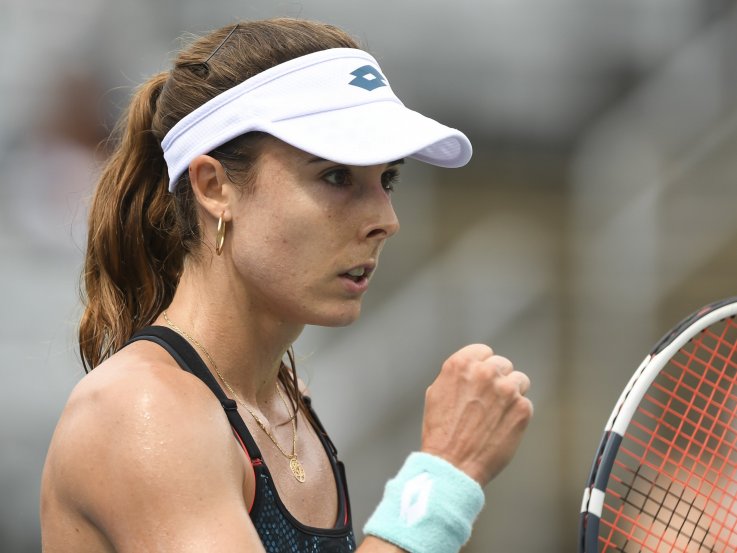 The decision to penalize Cornet was lambasted on social media. Judy Murray, the mother of former world No. 1 and two-time Wimbledon winner Andy Murray, tweeted a clip of the incident, highlighting the disparity in treatment between men and women.
"Alize Cornet came back to court after 10 minute heat break," she wrote on Twitter. "Had her fresh shirt on back to front. Changed at back of court. Got a code violation. Unsportsmanlike conduct… But the men can change shirts on court."
Former Australian player Casey Dellacqua also criticized the penalty, describing it as "ridiculous" in reply to Murray's tweet.
The incident comes just a week after the French Open banned Serena Williams from wearing her unique black catsuit outfit, which she wore earlier this year.
The 23-time Grand Slam winner said she wore the catsuit after suffering life-threatening blood clots following the birth of her daughter last year. Williams also said it she hoped the outfit would be an inspiration to mothers and made her feel like a "superhero."
However, Bernard Giudicelli, the president of the French Tennis Federation, said the suit had "gone too far," and that tennis deserved more "respect."
Williams had the last laugh as she donned a black tutu in her first-round win at the U.S. Open earlier this week. "I feel like if and when they know that some things are for health reasons, then there's no way that they wouldn't be OK with it," she told reporters. "So I think it's fine. When it comes to fashion, you don't want to be a repeat offender."
US Open Sexism: Alize Cornet Punished for Taking Off Her Top During Match | Sports