U.S. Open 2019: When Does Tiger Woods Tee off at Pebble Beach?
Tiger Woods will play alongside Jordan Spieth and England's Justin Rose in the first two rounds of the U.S. Open this week.
The 43-year-old, who won a first major in 11 years when he triumphed at The Masters in April, will tee off at 2:09 p.m. PT (5:09 p.m. ET) on Thursday, June 13.
Brooks Koepka, the defending champion, has been grouped alongside Italy's Francesco Molinari and Norwegian amateur Viktor Hovland for the first two days.
Koepka, who could become the first man in 104 years to win the U.S. Open three consecutive times, will tee off at 1:47 p.m. PT (4:47 p.m. ET).
The 29-year-old successfully defended his PGA Championship title and Woods thinks he will be the man to beat at Pebble Beach, California.
"It's about trying to peak at the right time," Woods said in a press conference on Monday, as per Golf.com. "That's the trick and it's not easy to do. Brooks has done it better than anyone else over the last couple of years.
"He knows what he needs to do and he seems to get his game, mind and body coming together for those big weeks."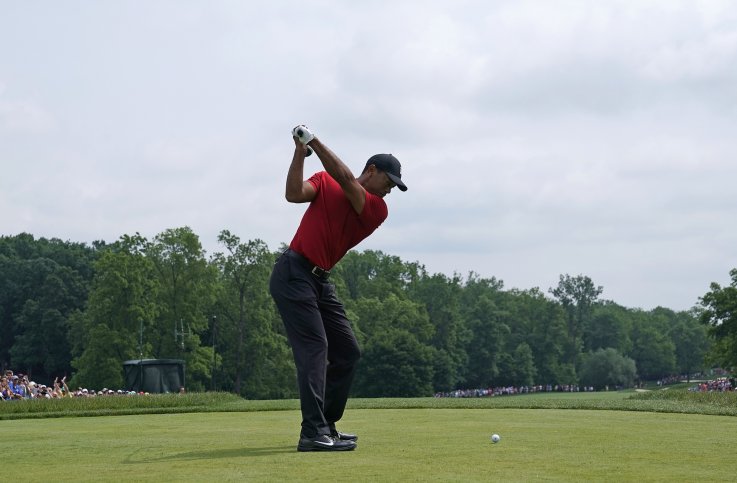 Rory McIlroy, one of the pre-tournament favorites after dominating the Canadian Open over the weekend, will play alongside Jon Rahm and Marc Leishman.
The group will begin from hole number 10 at 7:51 a.m. PT (10:51 a.m. ET).
"Some of the greats of the game have won this trophy. For me to put my name on it is something I'm very proud of,'' McIlroy told ESPN after winning the Canadian Open.
"Part of the reason for playing here was I wanted my game to be in good shape for Pebble Beach, but [it] doesn't mean this tournament doesn't mean anything,'' the 30-year-old added.
The tournament returns to the course for the first time since Northern Ireland's Graeme McDowell won here in 2010.
The 39-year-old will play alongside Dustin Johnson and Phil Mickelson. The trio will tee off from the 10th hole at 8:13 a.m. PT (11:13 a.m. ET).
Justin Thomas, Kevin Kisner, Bryson DeChambeau will begin their tournament from the same hole just over 10 minutes earlier, while Hideki Matsuyama, Sergio Garcia and Tommy Fleetwood will follow Mickelson's group.
Selected tee times for the first two rounds (all times ET)
First round, Thursday, June 13
Tee number one
9:45 a.m.—Sam Saunders, Carlos Ortiz, Marcus Fraser
10:51 a.m.—Zach Johnson, Martin Kaymer, Ernie Els
4:25 p.m.—Paul Casey, Patrick Cantlay, Lucas Glover
4:47 p.m.—Francesco Molinari, Viktor Hovland (a), Brooks Koepka
4:58 p.m.—Tony Finau, Jimmy Walker, Ian Poulter
5:09 p.m.—Jordan Spieth, Justin Rose, Tiger Woods
Tee number 10
9:45 a.m.—Luis Gagne (a), Sepp Straka, Julian Etulain
10:51 a.m.—Jon Rahm, Marc Leishman, Rory McIlroy
11:02 a.m.—Justin Thomas, Kevin Kisner, Bryson DeChambeau
11:13 a.m.—Dustin Johnson, Phil Mickelson, Graeme McDowell
11:24 a.m.—Hideki Matsuyama, Sergio Garcia, Tommy Fleetwood
4:47 p.m.—Webb Simpson, Adam Scott, Matt Kuchar
Second round, Friday, June 14
Tee number one
9:45 a.m.—Nathan Lashley, Renato Paratore, Lee Slattery
10:40 a.m.—Jim Furyk, Henrik Stenson (Swe), Brandt Snedeker
4:36 p.m.—Jon Rahm, Marc Leishman, Rory McIlroy
4:47 p.m.—Justin Thomas, Kevin Kisner, Bryson DeChambeau
4:58 p.m.—Dustin Johnson, Phil Mickelson, Graeme McDowell
5:09 p.m.—Hideki Matsuyama, Sergio Garcia, Tommy Fleetwood
Tee number 10
9:45 a.m.—Rory Sabbatini, Sam Horsfield, Roberto Castro
11:02 a.m.—Francesco Molinari, Viktor Hovland (a), Brooks Koepka
11:13 a.m.—Tony Finau, Jimmy Walker, Ian Poulter
11:24 a.m.—Jordan Spieth, Justin Rose, Tiger Woods
4:36 p.m.—Zach Johnson, Martin Kaymer, Ernie Els
4:47 p.m.—Kim Si-woo, Rickie Fowler, Jason Day
U.S. Open 2019: When Does Tiger Woods Tee off at Pebble Beach? | Sports