U.S. Has These Options to Stop A Missile Coming from North Korea
North Korea has launched two missile tests in the last two days, and Japan believes the regime's intercontinental ballistic missiles (ICBMs) have the potential to reach the U.S.
On Friday, South Korea's Joint Chiefs of Staff reported that an ICBM was launched from North Korea's capital Pyongyang around 10:15 a.m. local time and that it flew about 621 miles east, reaching an altitude of 3,790 miles.
"The ICBM-class ballistic missile launched this time could have a range of over 15,000 km [approximately 9,321 miles] when calculated based on the flight distance of this ICBM," Japanese Defense Minister Yasukazu Hamada said in a statement.
"It depends on the weight of the warhead, but in that case, the U.S. mainland would be included in the range," Hamada added.
The U.S., which called the missile test a "brazen" violation of U.N. resolutions, is analyzing the details of Friday's launch, but it is not the first time intelligence officials have prepared for a strike to make its way across the Pacific Ocean.
Back in 2017, then-Defense Secretary James Mattis said another missile launched by North Korea that year showed its ability to hit "everywhere in the world," including the U.S.
However, there are options to prevent a destructive missile strike from reaching the U.S., and intelligence officials have worked to reinforce such defense systems as North Korea has continued to develop its long-range weapons.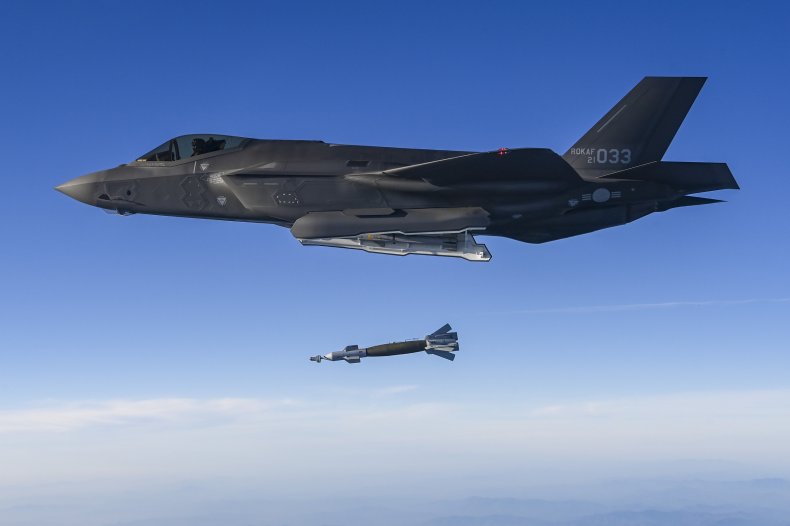 Steve Shinkel, a professor of air and space warcraft at the U.S. Naval War College, told Newsweek that the Department of Defense has 44 Ground Based interceptors (GBIs) located in California and Alaska that have the capability to intercept an ICBM coming from North Korea.
GBIs are anti-ballistic missile components to the U.S.' Ground-Based Midcourse Defense system that are "designed to deter an adversary with a limited number of nuclear weapons, such as North Korea may possess," Shinkel explained.
Although they wouldn't be able to defeat a warhead coming from Russia or China, GBIs can intercept a North Korean ICBM during the mid-course phase of flight outside the atmosphere.
However, Shinkel said the development of hypersonic glide vehicles continues to pose a "significant threat and challenge" because the U.S. has not yet developed a defense for the hypersonic weapon technology that Russia and China have pursued. On March 19, Russian military officials claimed they fired hypersonic missiles for the first time.
Shortly after, General Glen VanHerck, commander of United States Northern Command (USNORTHCOM) and North American Aerospace Defense Command (NORAD), urged the DoD to develop the technology to help "determine whether an attack is underway and provide national leaders with as much time and as many options as possible."
"I cannot defend, nor am I tasked to defend, against a hypersonic glide vehicle attack," VanHerck said in a March 24 statement.
"It is imperative that the Department of Defense develop and field an integrated space-based domain awareness network capable of detecting and tracking ICBMs, hypersonic weapons, and cruise UNCLASSIFIED 17 missiles as quickly as possible," he added.