The Department of Health and Human Services is working to secure 300 million doses of a new coronavirus vaccine, but a recent poll shows about a quarter of Americans aren't interested in being inoculated.
A Reuters/Ipsos poll published on Thursday found 24 percent of Americans weren't interested in taking a vaccine, with 14 percent saying they were "not at all interested." More than 40 percent of the people who weren't interested in getting the vaccine believed it was riskier than the virus itself and half of those people said they were worried about the speed it was being developed.
Vaccine development is moving forward at an unprecedented pace, according to officials, and trials are on target to hit the goal of having one available in early 2021. Some officials are counting on a vaccine to allow America to return to normal life and the government isn't waiting for trial results to ramp up production.
On Thursday, the HHS announced it was collaborating with AstraZeneca, a pharmaceutical company, to make at least 300 million doses of AZD1222, a potential vaccine, available by January. Phase 3 clinical trials are expected to begin this summer and the first doses of the vaccine will be delivered as early as October, according to the HHS.
"Getting a vaccine to the American public as soon as possible is one part of President Trump's multi-faceted strategy for safely reopening our country and bringing life back to normal, which is essential to Americans' physical and mental well-being in so many ways," HHS Secretary Alex Azar said in a statement.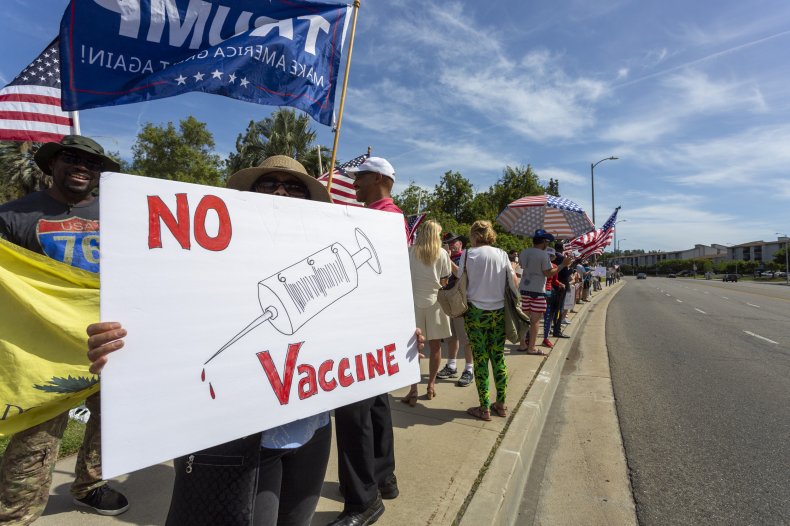 Betting on a vaccine and producing it in mass quantities before it's proven to be effective takes "considerable resources," Dr. Anthony Fauci, director of the National Institute of Allergy and Infectious Diseases, told senators during a committee hearing in May. It's possible the vaccine candidates won't be successful and the doses could be wasted, but by ramping up production early, officials reduce the likelihood there will be delays in being able to administer it.
In acknowledging the basis for proactively producing a vaccine before it's approved, Azar said the Trump administration was working to allow a successful vaccine to "reach the American people without a day wasted."
AZD1222 is only one of many vaccines that are being studied for safety and efficacy, a positive position to be in, according to Fauci. Relating it to taking "multiple shots on goal," Fauci said it not only increases the chances that at least one will be successful, but is also good for "global availability."
When it comes to taking a vaccine, most of the 4,428 adults questioned in the Reuters survey between May 13 and 19 said their belief that the vaccine was safe would be heavily influenced by guidance from the Food and Drug Administration or results from scientific studies. About 36 percent said they would be less willing to take a vaccine if President Donald Trump said it was safe.
To achieve herd immunity, a term used to describe when a large portion of a population is immune to an infection, at least 70 percent of Americans would need to be vaccinated, according to Reuters.