U.S. Overtook OPEC's Saudi Arabia as World's Top Oil Exporter, Market Heading for 'Significant Surplus': IEA
The U.S. briefly overtook Saudi Arabia to become the world's top oil exporter thanks to its expanding shale production, said the International Energy Agency (IEA), adding that the global market is heading towards a "significant surplus" in the coming months.
OPEC, the oil producers cartel of which Saudi Arabia is an important member, is meeting on Wednesday to discuss the options after it slashed the oil demand forecast in its monthly market report for September, citing weakening growth of the global economy.
At the same time, the U.S. shale oil industry is booming. In August, U.S. oil production set its record of 12.5 million barrels per day, data from the Energy Information Administration shows, putting pressure on OPEC countries to cut supply. The below chart, supplied by Statista, shows US crude oil export numbers.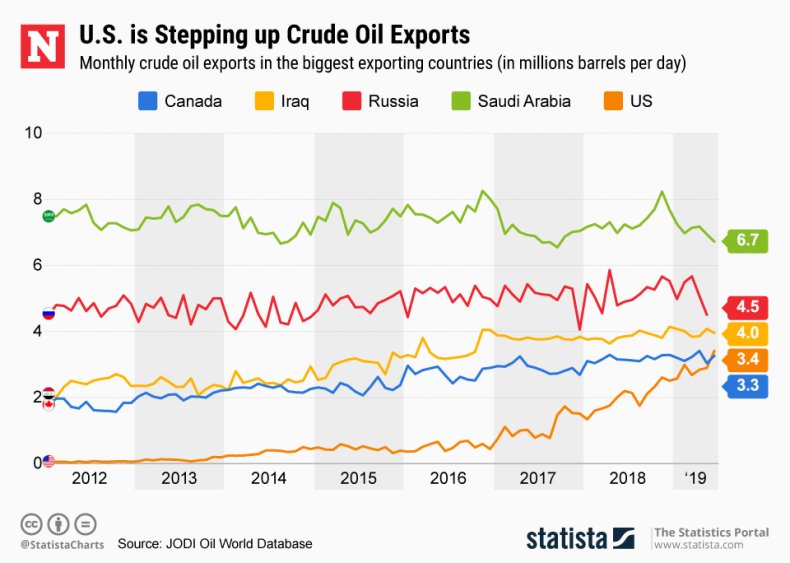 "A reminder to the producers that competition for market share is getting tougher comes from preliminary data showing that in June the US momentarily overtook Saudi Arabia and Russia as the world's number one gross oil exporter," the IEA said in its latest Oil Market Report.
"While the relentless stock builds we have seen since early 2018 have halted, this is temporary. Soon, the OPEC+ producers will once again see surging non-OPEC oil production with the implied market balance returning to a significant surplus and placing pressure on prices.
"The challenge of market management remains a daunting one well into 2020."
According to Reuters, Russia, Saudi Arabia and Iraq are calling on fellow OPEC members to adhere to agreements to cut oil production to support prices as market supply grows. Some are caving into temptation, increasing production to generate revenues for struggling economies.
"Every country counts regardless of its size... every country should live up to its commitment," Prince Abdulaziz bin Salman, the Saudi energy minister, said.
U.S. President Donald Trump has repeatedly needled OPEC over the price of oil, urging its member countries to increase their production. Trump argues that oil prices are too high.
"Very important that OPEC increase the flow of Oil. World Markets are fragile, price of Oil getting too high. Thank you!" Trump tweeted back in March. He followed up in April: "Spoke to Saudi Arabia and others about increasing oil flow. All are in agreement."
In its September report, OPEC noted that slower economic growth would hamper demand for oil in the next year.
"Nevertheless, this is expected to be outpaced by the strong growth in non-OPEC supply. This highlights the shared responsibility of all producing countries to support oil market stability to avoid unwanted volatility and a potential relapse into market imbalance," the report said.