The United States and Pakistan have decades of complex history between them. Ties have soured since President Donald Trump came to office, but his first-ever meeting with Pakistani Prime Minister Imran Khan could prove a major opportunity for both men.
Trump met Khan Monday at the White House, where a bilateral meeting was scheduled ahead of a working lunch. Among the many issues likely to come up during their time together were counterterrorism, the war in Afghanistan, economic assistance and the growing influence of China.
Washington and Islamabad have long criticized one another's approach to securing the region, but Trump took this a step further by openly accusing Pakistan of housing Islamist militants and the president last year by cutting some $300 million in military aid. Trump said in February 2018 that Pakistani leaders had given the U.S. nothing "but lies & deceit" in return for more than $30 billion in aid, while Khan later called the U.S. president "ignorant and ungrateful" for his remarks and accused him of attempting to make Pakistan a "scapegoat" for U.S. foreign policy failures.
More recently, however, Trump has signaled that he was keeping an open mind when it came to talks with Khan. In March, Trump told reporters that he thought his administration's "relationship right now is very good with Pakistan," though Monday's meeting would test these words.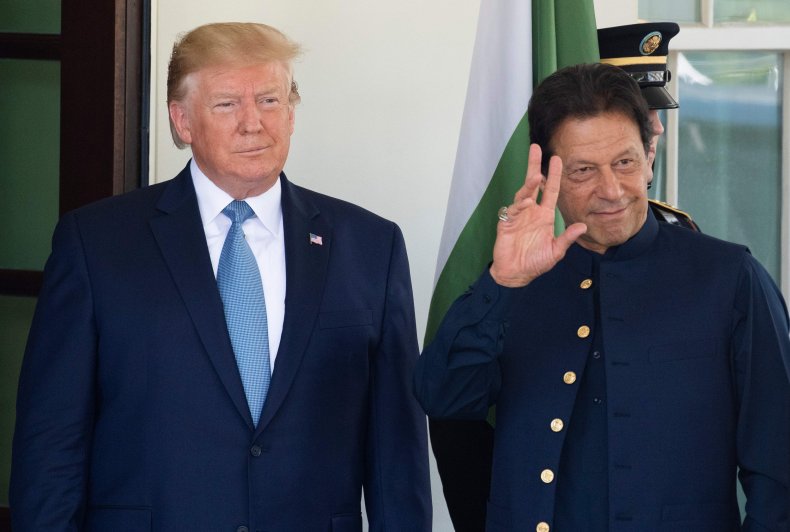 Many have struck up comparisons of Khan and Trump, two men with celebrity backgrounds prior to their political careers. Unlike the U.S. president, however, Khan has been in politics for two decades since retiring as a star cricket player and founding the centrist Pakistan Tehreek-e-Insaf party whose coalition has a 20-seat majority in the lower house of parliament and a 24-seat minority in the upper house.
Trump, whose Republican Party also has a mixed standing in Congress, has been largely focused this year on crises in Latin America and the Middle East, but the importance of the South Asian region briefly took international headlines in February when India responded to a deadly suicide bombing targeting its troops by conducted cross-border strikes against suspected militant positions in rival Pakistan, which just a week later shot down an Indian jet during a dogfight over the disputed region of Kashmir.
The Indian pilot survived and landed in Pakistan, but was later returned at Khan's behest. A day before the release, Trump said he had "reasonably attractive news from Pakistan and India" and that "we've been involved in trying to have them stop" their skirmishes, which he said were "going to be coming to an end."
Elsewhere in the region, Pakistan has eyed a larger role in solving the crisis in neighboring Afghanistan, where the longest war in U.S. history has failed to reverse growing gains by the Taliban militant group. Under Trump, Washington has facilitated talks between the government in Kabul and Taliban representatives but violence continued and the U.S. has sought to push Pakistan to use its influence with the militant group to advance the process.
Complicating this, however, was the fact that other regional countries have sought to get involved too as prospects for a U.S.-led peace in Afghanistan waned. Russia, China, India and Iran have all made inroads as well in making contacts to discuss the 18-year conflict there between a government and a U.S.-led coalition backing it on one side and the Taliban on the other. Earlier this month, the U.S, Russia and China said they "welcomed Pakistan joining the consultation and believe that Pakistan can play an important role in facilitating peace in Afghanistan" in a joint statement signed alongside Islamabad.
Hours before Trump and Khan's meeting, Republican Senator Lindsey Graham met with the Pakistani leader and said that "he and his government represent the best opportunity in decades to have a beneficial strategic relationship the US. This will help us secure Afghanistan and the region long-term."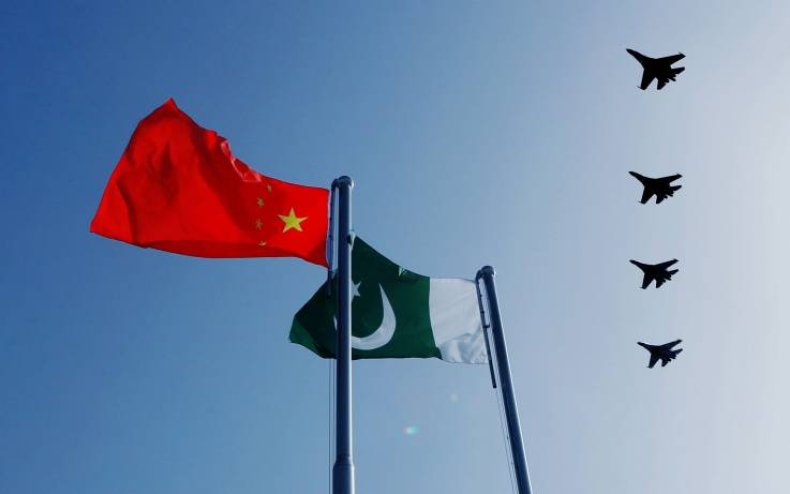 Though the 2001 U.S.-led invasion following the 9/11 attacks sought to defeat the Afghan insurgents, the U.S. initially supported the mujahideen rebels that would later form the basis for the Taliban in a bid to defeat a pro-communist Soviet intervention in the 1980s. Pakistan backed this initiative and was a partner of the U.S. in its Cold War with the Soviet Union, which fostered close ties with India.
Moscow and New Delhi's ongoing relations were still apparent today and manifested themselves last year with India's purchase of the S-400 surface-to-air missile system, a move opposed by Washington. As for Pakistan, the South Asian nation has expanded military cooperation with China and has become a key node in Chinese President Xi Jinping's Belt and Road Initiative, a transcontinental series of infrastructure and energy projects that the U.S. fears may challenge its own economic footprint in Asia, Africa, Europe and beyond.
The U.S. has struggled at times struggled to convince countries of its argument that the ambitious Chinese plan was subpar to its own business opportunities and threatened to trap developing countries in debt. The State Department has also angered both Beijing and Islamabad with a recent report criticizing the human rights practices of both countries and Trump himself hosted religious refugees from various countries, including Pakistan.
Khan too, however, has displayed skepticism toward his country's intimate ties with Beijing amid growing debt and Khan could appeal to Trump directly for U.S. support. On Wednesday, Pakistan arrested Hafiz Saeed, the long-wanted suspected mastermind behind the 2008 Mumbai Terror attacks. Trump personally praised and tweeted: "Great pressure has been exerted over the last two years to find him!"—again hinting that the two governments may once again be coordinating at higher levels.