More than 7 in 10 Americans say they approve of President Joe Biden's handling of COVID-19 as U.S. public concern about the ongoing pandemic hit its lowest point since February 2020.
Just shy of half of Americans say they are even somewhat worried that they or a family member could be infected with coronavirus, a nearly 20 percent drop from the 70 percent who expressed that concern one month ago. The latest AP-NORC poll released Monday shows a vast partisan divide in regard to both Biden's handling of the virus as well as general pandemic concerns. Among Democrats in the survey, 69 percent say they have at least some concern that they or relatives could be infected, compared with 33 percent of Republicans who said the same.
The two-thirds of Republican respondents who say COVID-19 concerns are over also gave Biden correspondingly poor approval ratings as president overall.
A 73-point partisan divide exists between Republican and Democrat respondents in terms of Biden's approval rating. This latest AP-NORC poll conducted between April 29 and May 3 showed a whopping 96 percent of Democrats approve of the job Biden is doing as president, compared with just 23 percent of Republicans who say the same.
The partisan pandemic divide comes as vaccine availability concerns have been replaced by public health fears that a large portion of the country is refusing to get vaccinated at all. Social distancing and mask-wearing support has also declined by double-digit percentages, across numerous April to May polls.
Biden's handling of the economy elicited an even wider partisan divide, with 91 percent of Democrats saying they approve of his economic stewardship, compared with only 19 percent of GOP voters who said the same.
Taken together alongside independent voters, Biden's overall approval rating from the latest AP-NORC poll puts him at 63 percent.
An NBC News poll released Sunday found that the percentage of Americans who currently say the U.S. is generally headed in the "right direction" nearly doubled since former President Donald Trump left the White House. However, 56 percent of Americans still say the country is "off on the wrong track" in the NBC poll. And Biden's approval rating sat just above the majority line at 53 percent.
According to the latest NBC News poll, 54 percent of Americans say the country is headed in the right direction.
The Associated Press pollsters noted Monday that poll results of Biden's first 100 days in office were primarily based off his handling of the country's vaccination program, which they described as being "now viewed enviably by much of the rest of the world."
Newsweek reached out to the White House for any response to the AP-NORC poll released Monday.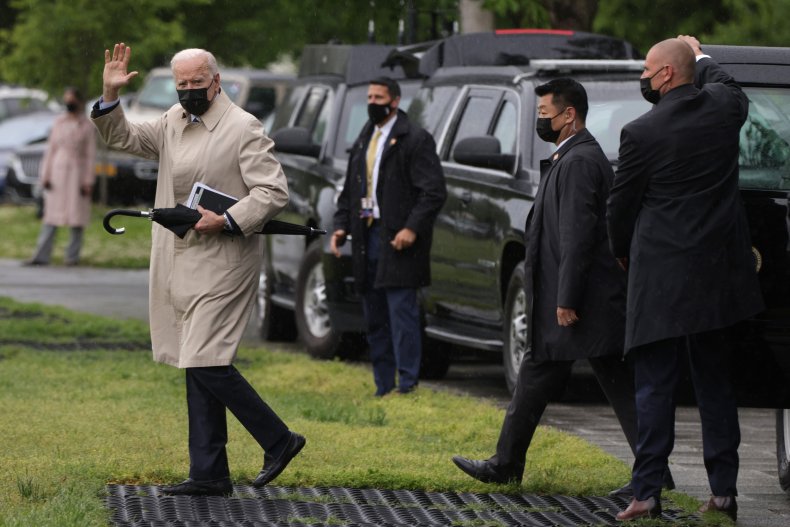 About the writer
Benjamin Fearnow is a reporter based out of Newsweek's New York City offices. He was previously at CBS and Mediaite after working as a news curator at Facebook. Fearnow has pieces published in The Atlantic as well as stories published about him in Wired and The New York Times. He attended the Columbia University School of Journalism after graduating from Indiana University-Bloomington. Email: b.fearnow @ newsweek [dot] com.