To be eligible to compete in the Paralympic Games, going on through September 5 in Tokyo, an athlete must have at least one of 10 impairments. Some Paralympians were born with these conditions, while others acquired them through disease or accident.
Three Team U.S.A. Paralympians are members of a third group: those who experienced life-changing violence. Their individual stories and circumstances are different, but each of them has endured nightmares that easily could have destroyed them to become elite athletes competing at the top of their respective sports.
Haven Shepherd, 18
Swimmer
Carthage, MO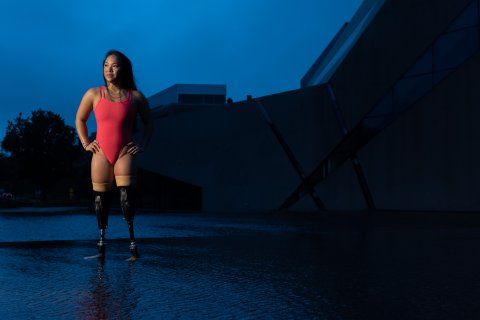 "I was born in Vietnam to two parents that were married to other people and they had an affair and had me. The story that we're told is that they thought the only way they could be together was to commit a family suicide and they strapped bombs on themselves in a thatched roof hut and held me. They died but I survived with all the damage done to my lower legs. It happened when I was 14 months old. I was with my maternal grandparents after that and then was adopted when I was 20 months old by Gary and Shelly Shepherd from Missouri. They were with a foundation called Touch a Life and they just wanted to come with their friend Pam to rescue this little girl who needed to come to America for medical treatment. They fell in love with me in the process and adopted me.
All the family pictures I have start from my first Christmas back in Carthage. I had a normal American childhood in a place I really love and would describe as a Hallmark movie town. I have four sisters and two brothers. I'm the youngest and the only one that's adopted in my family so I get to say I'm the favorite. All of them are also athletes.
I got into swimming when I was 10 years old. I did track for a long time but I realized that I hated it, I was hot, I was sweaty, so my mom put me in a swimming clinic and I fell in love with it. I swim about nine times a week for two hours per session and lift weights three days a week. I don't have to wear my legs in the pool which is so special because I have to drag around my legs every day. It's just such a hassle. I look forward to these hours in the pool that make me feel so free."
Shepherd competed in the finals of the women's 200-meter individual medley relay SM8 on August 28, finishing fifth and setting a new personal best in the event with a time of 3 minutes, 3.59 seconds. She also competed in the preliminaries of the women's 100 meter-backstroke SB7 on September 1, finishing fourth.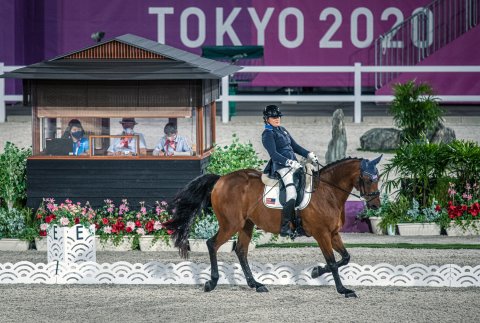 Beatrice de Lavalette, 22
Dressage Equestrian
Loxahatchee, Florida
"When the bombings at Brussels Airport happened on March 22, 2016, I was on my way to Florida during my spring break from high school [coordinated attacks in Brussels killed 35 people and injured 340. ISIS claimed responsibility]. My dad had gotten a job in Belgium a couple of years earlier. I never made it past the check-in. I don't remember the explosion itself, but I remember the feeling of being lifted off the ground.
When I woke up from a medically induced coma a month later, both my legs had been amputated below the knees and I had suffered a spinal cord injury. I stayed in the ICU for four months then was in an in-patient rehab. I was mentally a total wreck. My mom came to my room and said, 'I have a surprise for you downstairs.' I said, 'I'm not getting up. There's no chance I'm moving.' She finally said, 'Okay, fine. It's your horse.'' I transferred over to my wheelchair and we went downstairs in the drizzle. DeeDee came out of the trailer with her ears perked up like, 'I'm very proud of myself. I'm here to compete.' Then she turned her head towards me and recognized me instantly. I was still red from the burns. I had no hair and I was in a wheelchair and had no legs. She slowly walked toward me and put her head against my chest, her way of giving me a hug.
I had gotten into dressage when I was 12, years before the bombings. And a year after, I rode in my first para-equestrian competition. DeeDee is semi-retired now and enjoying life in Florida. The horse I have in Tokyo is named Clarc.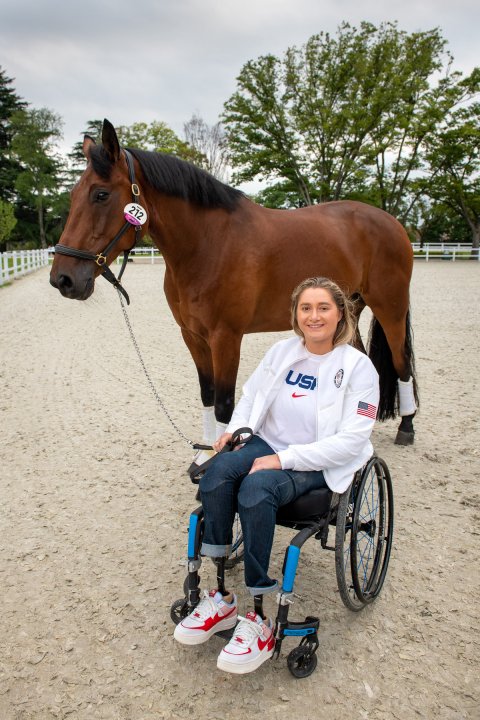 I wear my two prosthetics for balance and a custom-built saddle with blocks of hard foam with Velcro that I can adjust to keep my legs in place. We had a hand-hold added to the saddle so if I lose my balance I have something to hold on to. I maneuver the horse around with two dressage whips which do basically what my legs would do. I have the reins in my hands and I also use voice commands, clucks for walk, little pops for trot and kisses for canter.
With DeeDee prior to the bombings, some days I had bad days and some days I had good days and my dressage coach said, 'You have to learn to manage your emotions because that horse is an emotion sponge. She will feel anything that is going through your mind and body.' That's when I learned to center myself before getting on the horse.
de Lavalette competed in the women's dressage individual test grade II event on August 26, finishing fifth. She also competed in the freestyle grade II test on August 30, finishing sixth.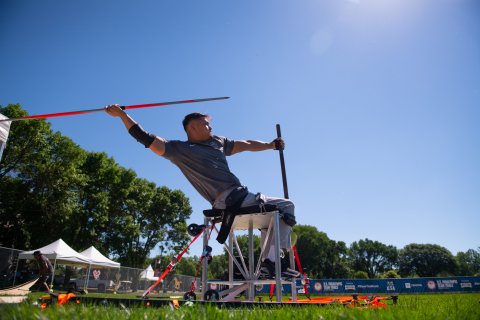 Justin Phongsavanh, 24
Javelin
Chula Vista, CA
"In high school I did football, wrestling, track, rugby and was on my way to being a journeyman electrician. That's now out of the cards due to the disability. In October of 2015 my friend and I were in Ankeny, Iowa, getting a bite to eat at a McDonald's before we went camping. When we were leaving, unbeknownst to us, an individual followed us out, went to his car to grab his gun, then pistol whipped my friend across the forehead without saying a word. I got in between to help my friend and he pointed the gun at me. Luckily the perpetrator's wife came out and stopped the situation. They went back to their car and I tended to my friend. When I went to the other side of our car to call the police, the individual opened his car door and began firing a total of five shots. My friend got hit once and I got hit in the leg and upper arm. Then he left and turned himself in to the police and bailed himself out that same night. He did two years in prison and now he's out and lives about six minutes away from my house. He had a bad case of PTSD from the military and the jury gave him lesser charges instead of two counts of attempted murder. My friend is physically 100 percent but still battling mental issues from the event and I have a T2 complete spinal cord injury.
When I was in the hospital, I broke down my options. I could sit and wallow, take my own life and not know what could be, just scared of the unknown, or, I could just dive in, get out of my comfort zone and live life to the fullest. That's what I did.
In 2017 I went to a training camp in Wisconsin, the Great Lakes Adaptive Sports Association where I met my now coach Erica Wheeler. In 2018 I hit my first national standard and was invited to the US Olympic training center in Chula Vista.
The physique that it takes to throw the javelin, how the javelin flies, how far it goes, and just the grace of actually releasing a long, 600-gram spear is sexy, it's an art. To do it, I strap myself in an 18x18 inch throwing metal chair that has a pole attached. I hold onto the pole, lean back, my left arm acts like my legs and my right arm throws the javelin. It's a lot of arm strength and it's also about positioning and technique. You don't have to be the strongest guy on the field to throw the javelin the furthest, you have to be the most technically sound.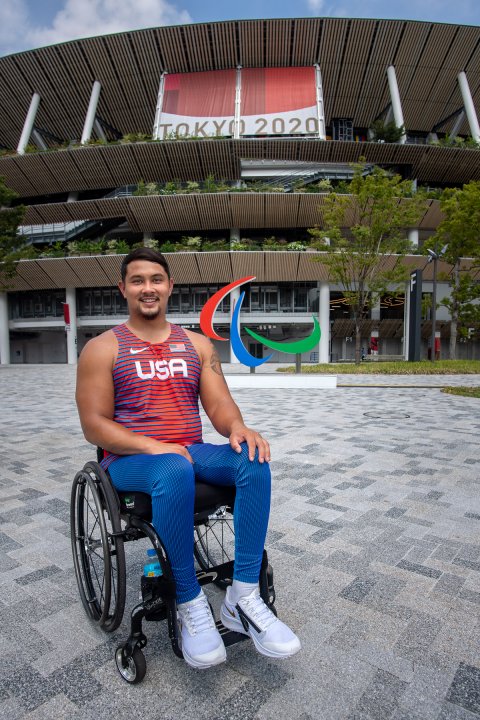 At the Paralympic trials I threw 33.29 meters, which is the current World Record in the F54 Men's Seated Javelin category. It's great to be coming into the Tokyo Paralympics as number 1 but I've been ranked that before and fallen short so I just want to do my best, to take all this in and enjoy every minute of it and try not to put too much pressure on myself. In the Paralympics it's six straight throws then the next guy's up. I hope it's a tight competition but when it comes down to it, it's just me versus me. It's an individual sport. I live for this. No matter the situation, nobody has to sit on the sidelines in any scenario whether it's in sports, whether it's a job, whether it's life."
Phongsavanh is scheduled to compete in the men's javelin throw F54 final on September 3.
More images from the Tokyo Paralympics are on Instagram @MarkEdwardHarrisPhoto