U.S. Park Police Chief Says No Tear Gas Was Used on Washington D.C. Protesters Before Trump's Church Visit
Acting Chief Gregory T. Monahan of the United States Park Police said officers did not use tear gas against protesters near the White House on Monday, according to a statement released Tuesday.
Reports of officers using tear gas against protesters in Lafayette Park circulated Monday, with many saying the demonstrators were expelled from the area to make way for a photo opportunity by President Donald Trump at St. John's Episcopal Church.
According to Tuesday's statement, the USPP was assisting the United States Secret Service with the installation of temporary fencing inside the park. Protesters, however, "became more combative, continued to throw projectiles, and attempted to grab officers' weapons."
While pepper balls and smoke canisters were used against the protesters, "no tear gas was used by USSP officers or other assisting law enforcement partners to close the area at Lafayette Park."
Protests in Lafayette Park began to turn violent at 6:33 p.m., according to the USSP. President Trump delivered his remarks at 6:43 p.m. according to a transcript of his address found on the White House website.
Newsweek reached out to the United States Park Police for further comment. This story will be updated with any response.
Bishop of the Episcopal Diocese of Washingon Mariann Budde said in a Monday statement that Trump's visit to St. John's was "a backdrop for a message antithetical to the teachings of Jesus and everything that our church stands for."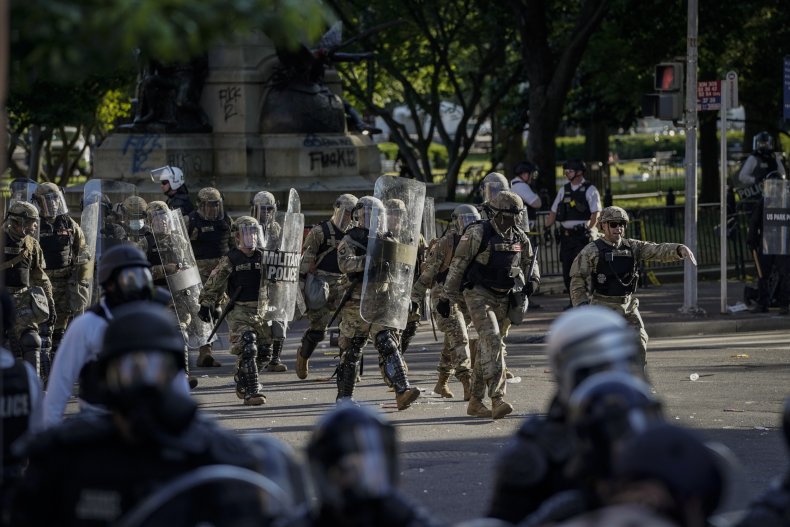 Trump said Monday that he would not hesitate to deploy National Guard troops to assist cities beset by violent demonstrations sparked by the death of Minneapolis man George Floyd. Floyd, an African American, died after a white police officer knelt on his neck for nearly nine minutes. The incident was caught on video which was then posted to social media.
Other demonstrations have taken place protesting the deaths of Kentucky EMT Breonna Taylor, who was shot as Louisville police officers attempted to serve a no-knock warrant, and Georgia jogger Ahmaud Arbery who was killed in an allegedly racially motivated shooting in February.
In the course of protests, demonstrators have looted businesses, set fires and clashed with police officers.
"These are not acts of peaceful protest," Trump said Monday. "These are acts of domestic terror. The destruction of innocent life and the spilling of innocent blood is an offense to humanity and a crime against God."
While many decried Trump's calls to use U.S. military troops against Americans, Republican Senator John Cornyn of Texas told Fox News on Tuesday that Trump was "sending a strong and correct message" to demonstrators.
"Not only should we demand justice for George Floyd," Cormyn said, "we should demand justice for these innocent victims of this agitation, this chaos, and the looting we are seeing, the violence around the country."