U.S.-Pledged Mi-17 Helicopters Arrive in Ukraine With 11 More to Go
The Pentagon has delivered five Mi-17 helicopters to Ukraine's armed forces but is still working on transferring 11 more of the promised aircrafts along with other military aid.
A senior U.S. defense official told Foreign Policy that the five Soviet-era helicopters are in Ukrainian hands. The delivery comes months after the White House first signaled it would send the helicopters to Ukraine, later committing more in a recent aid package.
White House press secretary Jen Psaki said in January that it intended to deliver Mi-17 helicopters to Ukraine as Russia amassed troops along the country's border. The helicopter can be used as a twin-turbine transport copter and an armed gunship.
The helicopters were originally purchased to help prop up Afghanistan's military. But after the country fell to the Taliban, the White House identified the Russian-made aircrafts as a good option to help Ukraine's military.
Earlier in the conflict, the U.S. committed the five copters, as well as over 600 Stinger anti-aircraft systems, 2,600 Javelin anti-tank systems as well as other weapons to help Ukraine.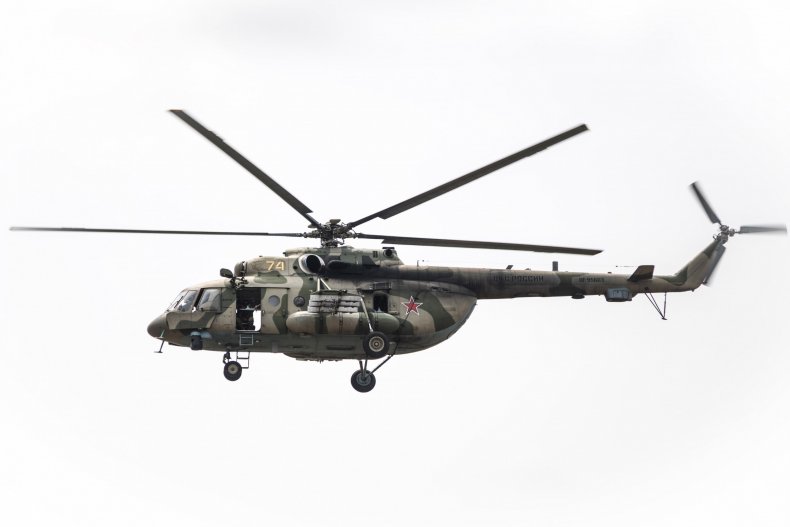 The Pentagon in April approved another $800 million military aid package to help Ukraine as Russia pivoted to the country's east and west after failing to take capital city Kyiv. That package committed another 11 of the Mi-17 copters, along with other weapons.
"We're doing the best we can to make sure that Ukraine has the capabilities it needs in the moment, right now with the fighting in the Donbas in the south, to better defend their sovereignty," Pentagon spokesman John Kirby told reporters during a briefing Monday.
The five Mi-17s were in Ukraine for overhauls under a NATO Support and Procurement Agency contract, Pentagon spokesman Marine Corps Lieutenant Colonel Anton Semelroth told Newsweek in an email. The helicopters were officially transferred in February, he said.
While the remaining 11 copters are scheduled to be delivered as part of last month's military aid package, Semelroth did not provide an exact date for when they'll be passed to Ukraine's military.
The Pentagon says that as of April 22, the U.S. had committed more than $4 billion in military aid since President Joe Biden took office. That includes $3.4 billion since Russia began its invasion on Ukraine on February 24.
House Speaker Nancy Pelosi, Secretary of Defense Lloyd J. Austin and Secretary of State Antony Blinken have visited Ukraine to show support.
Kirby said on Monday that a majority of the 90 of its 155mm howitzer artillery weapons promised to Ukraine had been delivered.
House Minority Leader Kevin McCarthy last month criticized the Biden administration for not providing weapons to Ukraine sooner.
"This is going to get stronger and rougher and what really needs to happen is, Ukraine is not asking for American men and women to fight, all they're asking for is the weapons to defend themselves," McCarthy said in an interview on Fox News Sunday. "If we would have taken those actions earlier instead of waiting till after Russia invaded, they probably never would've invaded had we done that sooner."
Update 5/4/22, 4:30 p.m. ET: This story has been updated with comment from the Pentagon.