U.S. Political Refugee From Iran Raises Nearly $600,000 for Synagogue Shooting Victims
A graduate student living in the U.S. as a political refugee from Iran has managed to raise nearly $600,000 for the victims of Saturday's shooting at a Pittsburgh synagogue.
As of Monday morning, Shay Khatiri's fundraiser had raised nearly $595,000, which is slated to go directly to the Tree of Life congregation, where a gunman fatally shot 11 people and injured at least six others.
Khatiri, a 29-year-old student at the John Hopkins School of Advanced International Studies, told the Associated Press that he had received generosity from the Jewish community in the U.S. and wanted to return the kindness.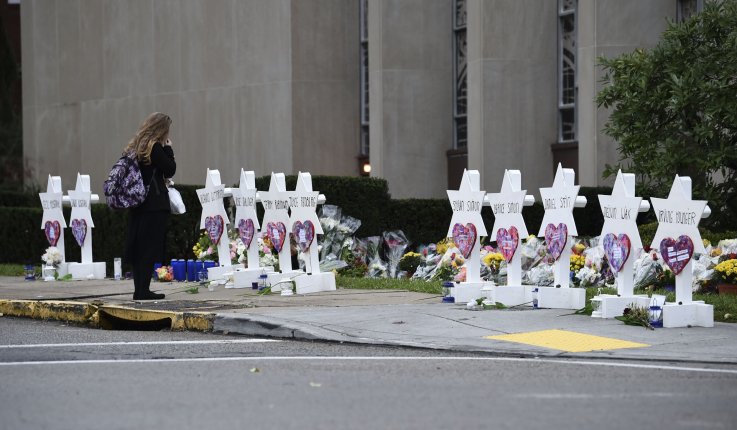 On the GoFundMe page he set up in support of victims, the political refugee wrote that he hoped that the funds would be used to "help the congregation with the physical damages to the building, as well as the survivors and the victims' families."
"Respond to this hateful act with your act of love today," he wrote.
The 29-year-old had originally set out to raise just hundreds of dollars for the Tree of Life community. But now, he has set his goal to $1 million after seeing its quick success.
After the fundraiser neared the $100,000 mark on Sunday, Khatiri wrote: "Wow...You can't underestimate the generosity of this Nation and Her people."
"When I look at the name of the donors, there are Steins and Bergs, and there are Mohammeds, there are generic American names, and there are Asian ones," the 29-year-old wrote. "It is only fitting that Americans of all backgrounds — immigrant, native-born, Jewish, atheist, Buddhist, Hindu, Christian, Muslim, etc —are uniting against this hateful act. America is beautiful!"
Read more: "Vote, vote" chant break out during Pittsburgh's Tree of Life synagogue memorial service
Khatiri has not immediately responded to a request for comment from Newsweek.
His fundraiser comes as the U.S. grapples with the Saturday shooting, which is believed to be the deadliest attack on the Jewish community in American history, according to the Anti-Defamation League.
The man suspected of carrying out the shooting, 46-year-old Robert Bowers, faces 29 charges in connection with the incident, including 11 counts of using a firearm to commit murder and multiple counts of two hate crimes, including obstruction of exercise of religious beliefs resulting in death and obstruction of exercise of religious beliefs resulting in bodily injury to a public safety officer.
U.S. Political Refugee From Iran Raises Nearly $600,000 for Synagogue Shooting Victims | U.S.