Donald Trump Would Be Only 5th President in 100 Years to Not Win Re-election—These Were the Other Four
Donald Trump could this week become the first U.S. president to fail to win re-election for nearly three decades, national opinion polls suggest.
Should Democratic challenger Joe Biden, former Vice President under Barack Obama, win on November 3, he will become the 46th person to hold the highest political office in the country.
Such a result would also mark the first time an incumbent president has failed to win a second four-year term since George H.W. Bush was beaten by Democrat Bill Clinton in the 1992 election.
In fact, in the last 100 years only four White House occupants have faltered when bidding for re-election.
George H.W. Bush
The last president to fail to win re-election was Republican George H.W. Bush, who lost to his Democratic rival Bill Clinton in 1992.
Clinton, the former Governor of Arkansas, won 43 percent of the popular vote and carried states in every region of the country, amassing 370 electoral college votes. Bush, meanwhile, scooped only 37.3 percent of the popular vote and 168 electoral college votes.
But after eight years of Clinton as president, the White House was once again occupied by a member of the Bush family in the year 2000, when George H.W.'s son and fellow Republican, George W. Bush, won office against Democratic candidate Al Gore.
George W. Bush would go on to serve two full terms before being succeeded by President Barack Obama, a Democrat, in 2008.
Jimmy Carter
Democrat Jimmy Carter faltered in his 1980 bid for re-election, losing out to his Republican rival Ronald Reagan.
Carter's loss was the first time in U.S. history that two presidents in succession had failed to win a second term. Carter had beaten his predecessor, Republican Gerald Ford, in an election held four years earlier.
Gerald Ford
Gerald Ford, who took over the presidency after fellow Republican Richard Nixon resigned in the wake of the Watergate scandal, lost out to Jimmy Carter in a 1976 poll. Ford's unique path to office and defeat in the vote meant he never actually won an election.
Herbert Hoover
Republican Herbert Hoover only served one term as president, occupying the White House from 1928 before being resoundingly defeated by Democratic challenger Franklin D. Roosevelt in the 1932 election.
Hoover's tenure in office was overshadowed by the devastating 1929 Wall Street Crash, which triggered the onset of the Great Depression, a prolonged economic downturn that unleashed major consequences in both the U.S. and overseas.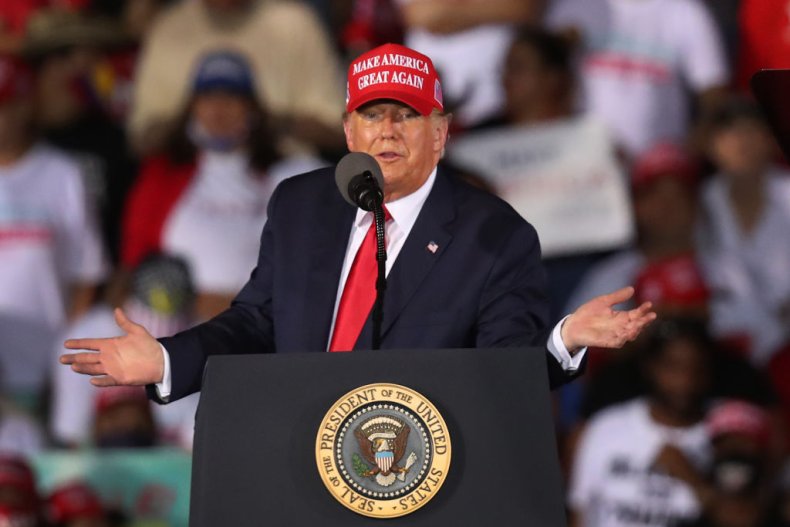 William Howard Taft
Two decades before Hoover's failed re-election bid, fellow Republican William Howard Taft also faltered in his push for a second term.
Taft, the only person to have held the office of president and chief justice of the U.S., was defeated by Democratic candidate Woodrow Wilson in a 1912 poll, four years after the former won a race for the White House which saw him pitted against William Jennings Bryan.
Grover Cleveland
Democrat Grover Cleveland failed to win re-election in 1888, despite scooping the largest share of the popular vote, losing out to Republica Benjamin Harrison. However, not to be deterred after four years in the White House, Cleveland would come back to defeat his successor in an 1892 poll.
Benjamin Harrison
Republican Benjamin Harrison won the presidency in an 1888 election, pipping incumbent Democrat Grover Cleveland to the White House. After serving in office for four years, the pair's fortunes were reversed and Cleveland won the presidency back from his successor in an 1892 poll.
Martin Van Buren
Martin Van Buren, a founder of the Democratic Party, failed to win re-election in 1840 after serving a four-year term in the White House.
He was defeated by William Henry Harrison, an American military officer and politician. However, Harrison would only lead for 31 days before he died aged 68, becoming the first president to die in office and also the shortest-serving in history.
John Quincy Adams
The sixth president, John Quincy Adams failed to win re-election in an 1828 election which saw Andrew Jackson voted into the White House instead. At the time, Adams was only the second president to be voted out of office after one term. The other was his father, John Adams.
John Adams
John Adams served as the second president in U.S. history and was the first to fail to win re-election, losing a poll in 1800 which resulted in Thomas Jefferson assuming the nation's highest political office. Adams had been the first vice president in U.S. history, serving under founding father George Washington.