U.S. Popularity Plummets in China, Spikes in Europe After Joe Biden Inauguration: Poll
The U.S. has seen its favorability ratings improve significantly in at least a dozen countries since President Joe Biden took office, although ratings have plummeted in China, according to a new poll.
In a Morning Consult survey published on Tuesday, U.S. favorability ratings had improved in 12 out of 14 foreign countries since Biden's January 20 inauguration.
China was the only country that recorded a significant drop in U.S. favorability, with unfavorable ratings climbing from 65 to 74 percent and favorable ratings dropping from 21 to 17 percent. South Korea saw a small 2 percent increase in those who viewed the U.S. unfavorably but there was no difference among those who viewed the U.S. favorably.
The U.S. saw a net increase towards favorability that exceeded 20 percent in the U.K., Germany, France, Spain and Italy. Opinions of the U.S. also improved significantly in Canada, where unfavorable ratings dropped from 65 to 47 percent and favorable ratings rose from 26 to 40 percent.
Additionally, favorability ratings in Japan increased from 36 to 55 percent, while smaller gains were seen in Australia, Brazil, Russia and India.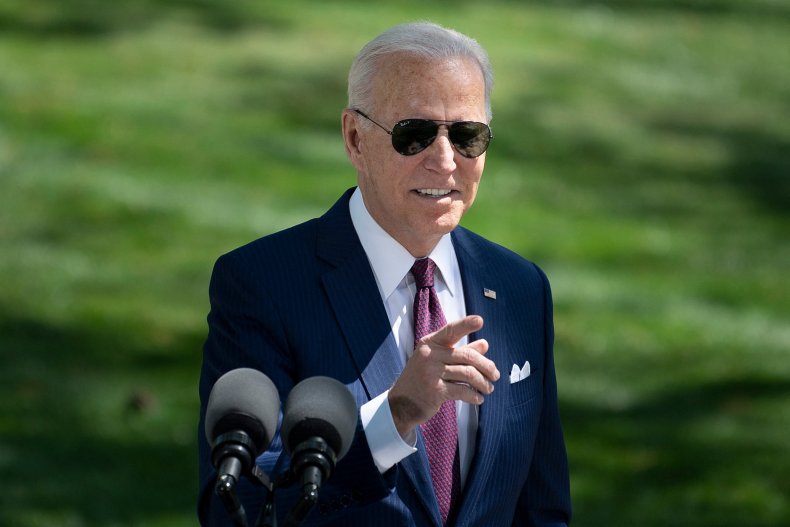 "International opinion of the United States, in many nations, is genuinely contingent on American actions," Dr. David Farber, a University of Kansas professor and editor of the book What They Think of Us, said in a Morning Consult release.
"People in many nations around the world are, I think, hopeful, that the election of Joe Biden marks a rejection of Trump's 'America First' bullying and go-it-alone international policies and a return to a more collaborative, pro-democracy approach to international affairs."
The largest positive overall shift of opinions on the U.S.—a net change of 47 percent—was seen among respondents in Germany. Favorable ratings nearly doubled from 24 to 46 percent since Biden took office, while the number of those who held unfavorable views of the U.S. fell from 62 percent in January to 37 percent in April.
The recent poll was conducted among at least 1,100 respondents in each country between April 16 and April 25. It was compared to a poll conducted among the same number of respondents in each country taken between January 11 and January 20. Margins of error for the polls ranged from 1 to 3 percent.
Dr. Christian Welzel, vice president of the World Values Survey Association, said that Biden's policies are "widely considered as a more than welcome relief" to the policies of former President Donald Trump in Western Europe.
Welzel cited Biden moving the U.S. back into the Paris climate agreement and "his administration's attempt to recover the transatlantic bond" as reasons for the change in European views.
"Most Western Europeans, and Germans are most emblematic here, dislike a hawkish U.S. foreign policy, for which reason George W. had pretty bad approval ratings," Welzel said. "With Trump, this effect just exponentiated."
The drop in favorability among Chinese respondents was reflective of an overall decline in U.S.-China relations that was evident during the Trump administration, becoming particularly fraught with the emergence of the COVID-19 pandemic and continuing after Trump's term expired.
Biden has used different rhetoric than Trump concerning the virus and China, but his administration has not taken a softer policy stance on the country, with issues including accusations of Chinese human rights abuses fueling tensions.
Newsweek reached out to the White House for comment.