U.S. Postal Worker Attacked by Dirt Bikers on New York Street
Authorities are asking for the public's assistance in identifying the individuals involved in an assault of a U.S. postal carrier in New York.
The New York Police Department (NYPD) said the attack happened at 6 p.m. on Monday near McGuinness Boulevard and Nassau Avenue in Brooklyn.
The 57-year-old postal worker was delivering mail on his route when the individuals approached him from behind driving dirt bikes. The individuals then punched the postal worker several times in the face with closed fists, causing broken facial bones and lacerations.
After the assault, the attackers got back on their bikes and fled southbound on McGuinness Boulevard.
The victim was taken by Emergency Medical Services (EMS) to NYC Health + Hospitals/Woodhull in Brooklyn in stable condition. The victim's name has not been released by authorities.
A 30-second surveillance video captures an unidentified individual riding up on a dirt bike behind the postal worker, who appears to swing at the individual in anticipation. The individual then gets off his bike and begins punching and kicking the mail carrier.
After a few seconds, a second individual appears in the frame and begins attacking the postal worker. Both individuals punch the man for a few seconds before someone else steps in and appears to try to stop the fight. The two attackers then flee the scene on blue motorbikes.
Anyone with information is asked to call the department's Crime Stoppers Hotline at 1-800-577-TIPS or for Spanish, 1-888-57-PISTA. Tips can also be submitted by logging onto the Crime Stoppers website at crimestoppers.nypdonline.org, on Twitter @NYPDTips.
All calls are confidential, and there is a reward up to $3,500.
The U.S. Postal Inspection Service told Newsweek it's aware of the incident and is coordinating and working jointly with the NYPD to solve the crime.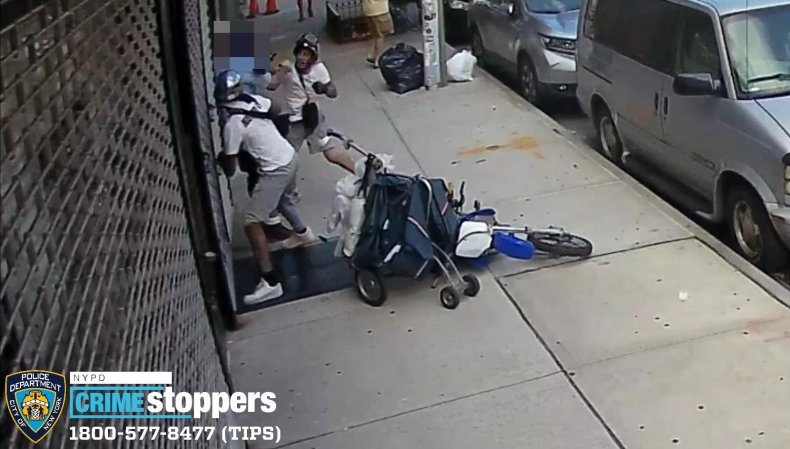 NYPD statistics show crime in New York City was 22 percent higher last month than in May 2020. Felony assault saw a 20.5 percent increase compared to May 2020, and shooting incidents rose 73 percent.
The department said it remains acutely focused on reducing violence across the five boroughs as the summer months approach.
Earlier this month, a Syracuse man was indicted for assaulting a U.S. Postal Service employee. Javon Mayo, 29, was charged with assault for allegedly striking a letter carrier in the face while the carrier was performing his official duties.
This case is being investigated by the U.S. Postal Inspection Service and the Syracuse Police Department and is being prosecuted by Assistant U.S. Attorney Thomas Sutcliffe.
If convicted, prosecutors said Mayo could face up to 20 years in prison, a $250,000 fine and up to three years of supervised release.
Update (6/30/2021, 4:15 p.m. Eastern): This story was updated to include information from the U.S. Postal Inspection Service.