U.S. Prepares for North Korea Chemical Weapon Attack in 'Warrior Strike 6' Drills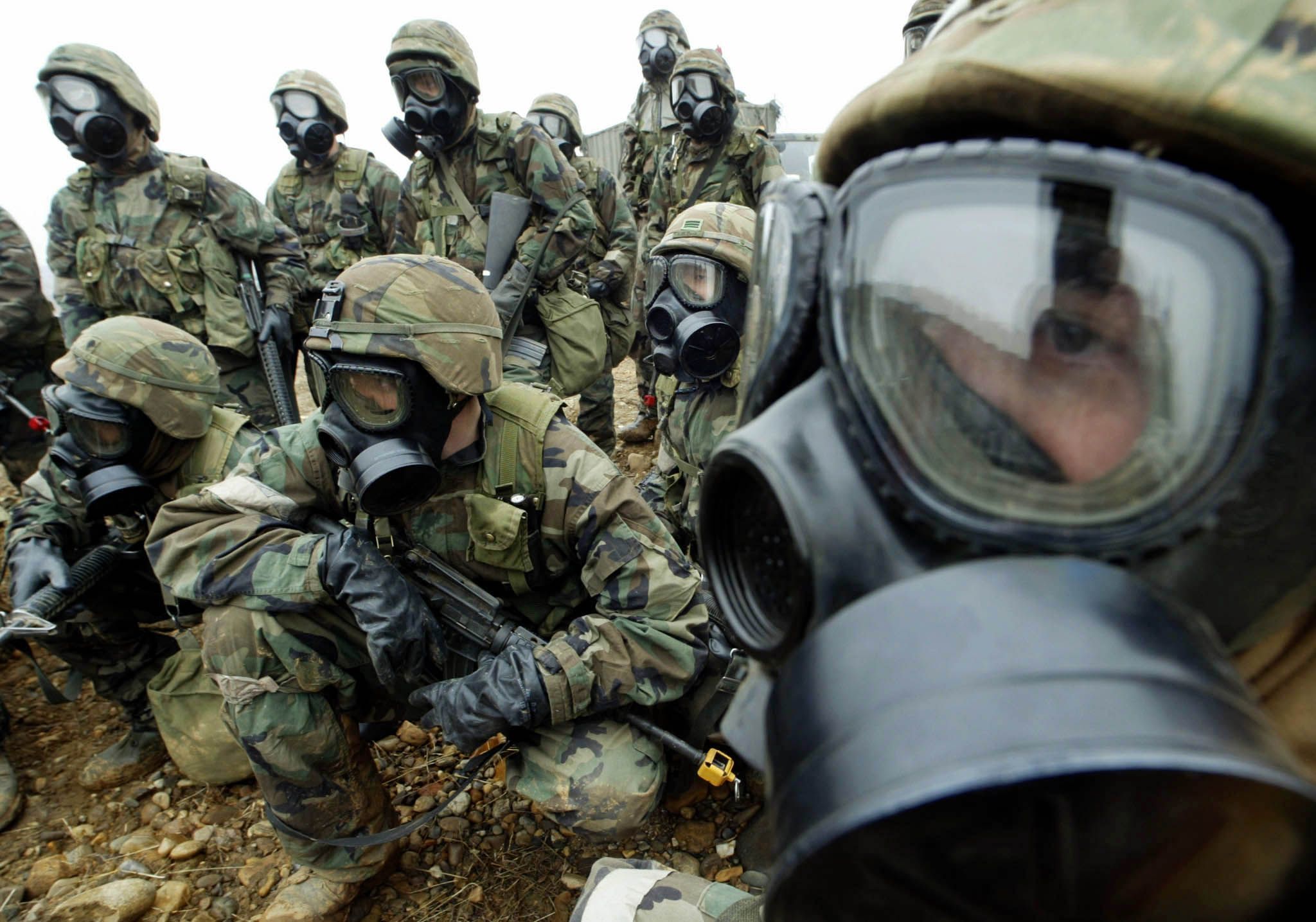 U.S. and South Korean soldiers finished a two-day drill Wednesday that simulated an assault on North Korean chemical weapons laboratories as Washington and Seoul continued their massive, annual joint military exercises on the volatile Korean Peninsula.
Beginning Tuesday, the "Warrior Strike 6" drill saw the 1st Armored Brigade Combat Team, 1st Infantry Division drop from Black Hawk and Chinook helicopters to meet South Korean troops and storm an imitation village loaded with fake sarin gas facilities. While the military has units specifically tasked with identifying and destroying chemical weapons agents, infantry units were expected to first secure the perimeter, according to 1st. Lt. Stephanie Hetland, an officer in the Army's chemical branch. The mock site was littered with traps, emphasizing the danger of the lethal agents.
"They kill very quickly with very small amounts, and the means to make them has been pretty widespread for a long time," Hetland told Washington-based military newspaper Stars and Stripes.
North Korea was thought to possess one of the largest chemical weapons arsenals in the world, second only to the U.S. and Russia. The reclusive, authoritarian state was estimated to possess up to 5,000 tons of chemical weapons and could possibly manufacture up to 12,000 tons, according to a 2015 report by Washington-based nonprofit organization Nuclear Threat Initiative, which has opposed the proliferation of weapons of mass destruction. Pyongyang, which has denied it possesses chemical weapons, has signed the Geneva Protocol, prohibiting the use of chemical weapons in combat, but not the Chemical Weapons Convention, restricting their production. North Korea has also accused the U.S. of dropping shells loaded with chemical agents during the Korean War.
Tensions have been especially high in the region as Secretary of State Rex Tillerson concluded a tour of Japan, South Korea and China earlier this week. The diplomat, speaking on behalf of President Donald Trump, said Washington would take "a different approach" to Pyongyang's rogue nuclear weapons program and did not rule out military action. The visit further angered North Korea, which had already expressed fierce opposition to the ongoing military exercises—known as "Foal Eagle"—being held by Washington and Seoul miles from Pyongyang's territory.
North Korea and South Korea have technically remained at war since conflict broke out in the early 1950's and Pyongyang has threatened a nuclear response to any violations of its sovereignty.