U.S. Prepares 'Proportionate' Response to Top Diplomats' Expulsion From Venezuela
The U.S. will respond in kind to Venezuela's expulsion of its two top diplomats in the country, Secretary of State Mike Pompeo told the House Foreign Affairs Committee on Wednesday.
"We will respond appropriately, certainly reciprocally, but perhaps more than that, perhaps proportionately," Pompeo said, quoted in the New York Times.
Venezuelan President Nicolas Maduro ordered the expulsion of U.S. Chargé d'Affaires Todd D. Robinson and his deputy Brian Naranjo, who were accused of conspiring against the socialist government and given 48 hours to leave the country on Tuesday.
The Venezuelan leader did not present further evidence to support the conspiracy claim, but referred to new economic sanctions that President Donald Trump signed into law on Monday, a day after Maduro was re-elected to power in elections the U.S. condemned as "unfair and unfree."
"Neither with conspiracies nor with sanctions will you hold Venezuela back," Maduro said, quoted in Reuters.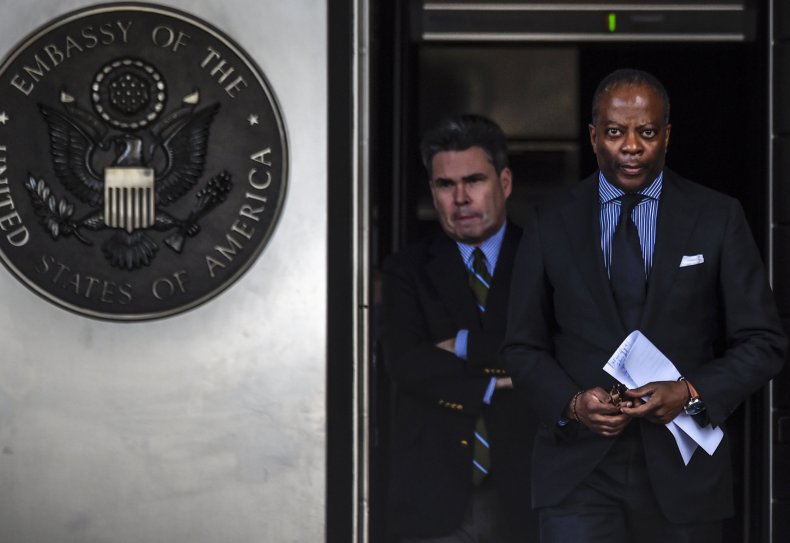 Robinson learned of Maduro's order while on a visit to the western state of Merida and strongly rejected the accusations. "This is my first visit but it won't be my last visit to Merida or to Venezuela," he said, quoted in the Associated Press, speaking at an event streamed live on Facebook by local media.
The career diplomat has extensive experience in Latin America, having worked in Colombia, Bolivia, El Salvador, and the Dominican Republic before taking on the role of ambassador to Guatemala in 2014. He was appointed charge d'affairs in Venezuela in December—the U.S. has not had an ambassador in the country since 2010.
Robinson met with representatives of the Venezuelan institutions last week as part of his continuing efforts to release U.S. citizen Joshua Holt, held in the infamous Helicoide prison in Caracas where a riot broke out last week to demand the release of political prisoners.
The State Department did not respond to a request for comment from Newsweek about the future of the diplomatic mission in the country.