As U.S. Pressure Mounts, China and Iran See Chance to Transform Their Ties
Iranian President Ebrahim Raisi has begun a series of high-profile meetings in Beijing as part of what's expected to be a critical trip for the Islamic Republic's foreign policy. In meeting his Chinese counterpart Xi Jinping, Raisi is seeking to shore up ties as economic and security woes at least partially linked to a deteriorating relationship with the West plague his country.
The visit also represents an important opportunity for China. The People's Republic faces intensifying competition with the United States while seeking to fortify its status in the Middle East, just off the heels of the historic China-Arab States Summit held in Saudi Arabia in November.
Fan Hongda, a professor at Shanghai International Studies University's Middle East Studies Institute and a prominent expert on Iran studies, outlined what's at stake for both nations.
"I think Iran's main purpose is to strengthen economic cooperation with China," Fan, who is currently in Tehran, told Newsweek. "Developing the economy is currently the most urgent matter for Iran, because the weak economic development has seriously affected the stability of the country and its regime."
As for China, Fan said that Beijing, "for a long time, has been pursuing balanced diplomacy in the Middle East," interpreting Xi's overture to Saudi Arabia late last year as a sign that his administration was avoiding choosing sides in the regional rift between Tehran and Riyadh.
"Both Iran and Saudi Arabia are key Chinese partners in the Middle East," Fan said. "Therefore, although China's deepening of relations with Iran may cause Saudi Arabia's vigilance, and deepening relations with Saudi Arabia may make Iran unhappy, in fact, China's balanced diplomacy in the Middle East has not changed until now."
He also noted that the hardening position of the West, which continues to come primarily from Washington, would likely also factor into the two men's talks.
"Both Iran and China are currently facing some international pressure," Fan said, "and the two countries may also communicate in response to international pressure."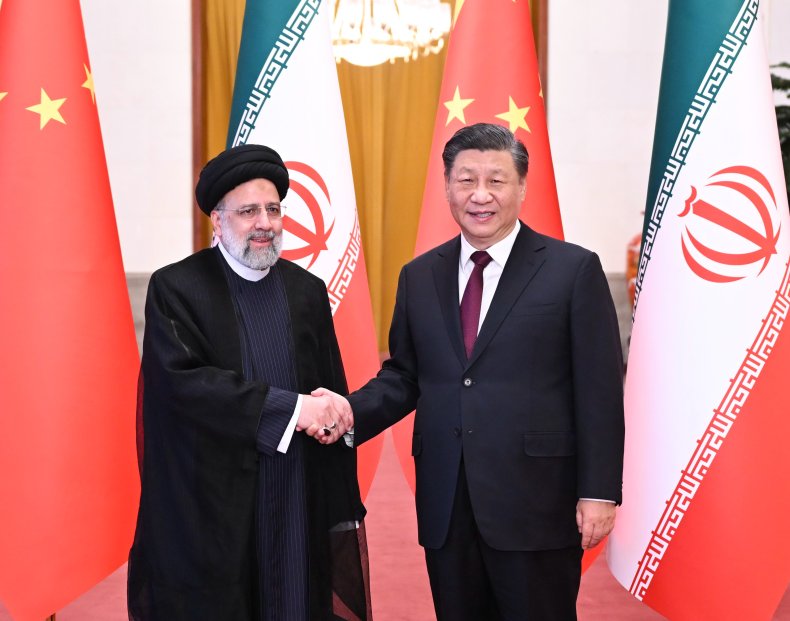 Ever since the U.S. departure in 2018 from the Joint Comprehensive Plan of Action (JCPOA), a historic nuclear deal forged in 2015 alongside major powers, Tehran has sought to shore up ties outside the West with powers such as China and Russia, both of which remain committed to the accord.
"Although the JCPOA is not perfect and even has some problems, it is undeniable that it is still the best choice to solve the Iranian nuclear issue and maintain stability in the Middle East," Fan said. "Therefore, Chinese officials have always expressed their support for the full restoration of the implementation of the JCPOA, and it is likely that this issue will also be involved in the Iranian president's trip to China."
And while Fan sees the main focus of this meeting being economics, considering what's believed to be the focus of the 25-year strategic cooperation agreement forged by the two countries in March 2021, he noted other areas in which better ties with Beijing could benefit Tehran.
This comes as pressure on Iran is increasing from ongoing economic sanctions as well as potential physical escalation seen in attacks inside the country attributed to Israel, such as a drone strike conducted against an Iranian Defense Ministry site last month.
"Of course, if the external environment facing Iran does not improve or even continues to deteriorate, the two countries may also strengthen cooperation in diplomacy and security," Fan said. "The positive effect of China's support on Iran, which is under siege by the West, is obvious."
"However, it should be noted that, fundamentally speaking, Iran's current difficulties may not be resolved by deepening relations with China and Russia," he added.
Tehran's growing relationship with Moscow has already riled U.S. officials, especially as Iranian loitering munitions, also known as "kamikaze" or "suicide" drones, have emerged in recent months as a key part of Russia's arsenal in its nearly yearlong war in Ukraine. Iranian officials have also announced deals to acquire Russian weapons such as Su-35 fighter jets, which could impact the shifting power balance in the Middle East, especially if paired with further advanced systems.
But Shen Shiwei, a journalist and analyst with a background in Chinese business dealings in Africa and the Middle East, emphasized that Beijing was not looking to become mired in the geopolitical quagmire of Middle Eastern rivalries, much less an "alliance" with Tehran.
"When you look at China's inclusive partnerships in the Middle East, Beijing has good relationships with all of them," Shen told Newsweek. "That's why, in decades, China has been a good partner to communicate among the Middle East countries, whose relations are very complex and sensitive."
This sensitivity was on full display when a controversy emerged over the inclusion of a phrase referring to a decadeslong dispute over three Persian Gulf islands controlled by Iran but claimed by the United Arab Emirates, in a joint statement by China and the Gulf Cooperation Council, which includes both Saudi Arabia and the UAE. The move led to a "visit" by China's ambassador to meet with the Iranian Foreign Ministry, where an official expressed "strong dissatisfaction" over what Tehran viewed as a red line being crossed.
Chinese and Iranian officials have since expressed their commitment to working together. Beijing has also been careful to portray its inroads in the region as not constituting an effort to displace the U.S. as its own influence waned among traditional partners.
"For a long time, China has mainly participated in the economic affairs of the Middle East," Shen said. "China's diplomacy in the Middle East has never asked regional countries to take sides between China and the U.S., and China is cautiously avoiding being dragged into the geopolitical battleground with the U.S."
"The U.S. elites should have a clear mind that China is a partner rather than a rival in the Middle East," Shen added.
Shen argues that this same Chinese position applies to the conflict in Ukraine, where Beijing has avoided taking sides, despite its unique "comprehensive strategic partnership of coordination for a new era" with Moscow.
"Some analysts claimed that China and Iran are facing pressures from Western nations over their positions on Russia-Ukraine conflicts," Shen said. "But if you carefully read the documents, China and Iran have different stands."
Rather, Shen argued, the "Iranian president's China visits have witnessed several cooperation documents in agriculture, trade, tourism, culture, etc."
But, given the array of challenges his nation currently faced, Raisi may be seeking more from his current trip to China, prior to which the Iranian president consulted with Supreme Leader Ayatollah Ali Khamenei.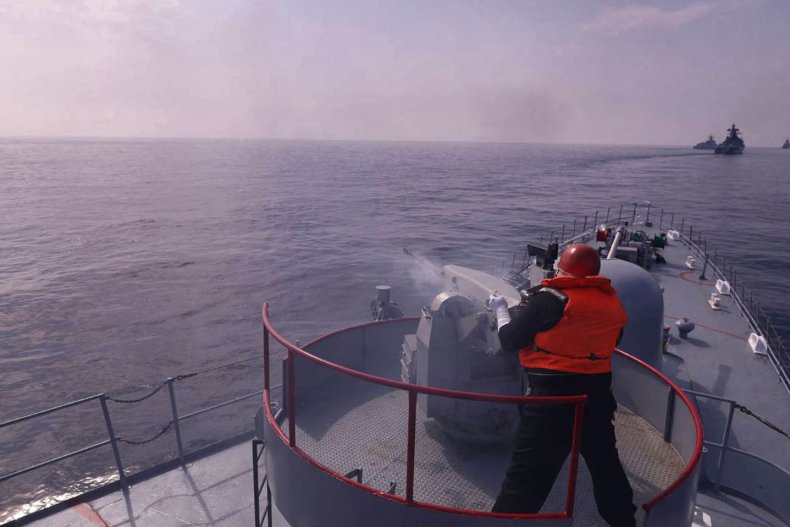 Signals of Iran's quest for greater cooperation with China on other fronts can be seen in the Islamic Republic's successful bid to join the Shanghai Cooperation Organization (SCO), already consisting of China, India, Kazakhstan, Kyrgyzstan, Pakistan, Russia, Tajikistan and Uzbekistan, which hosted the bloc's latest leaders' summit in September. Iran has also expressed interest in becoming an official partner of BRICS, which is currently comprised of Brazil, Russia, India, China and South Africa and, like the SCO, has opened to bringing on additional participants.
On the military level, China and Iran have engaged in joint military exercises alongside Russia as well.
"Iranian security cooperation with Beijing has also increased over the last number of years, and President Raisi is likely to be looking to expand that," Ali Ahmadi, a scholar of sanctions and geoeconomics who serves as an executive fellow at the Geneva Centre for Security Policy, told Newsweek.
But he too noted the uncertainty surrounding how Beijing would respond. Ahmadi said "China has long sought to avoid being engulfed in the region's geopolitics, and by all accounts, seems to view this approach as successful for its interests."
"Obviously, the events of recent weeks and Western saber-rattling against Iran over the last 20 years have made protecting Iran's airspace a marquee priority, but it's not clear how China can help Iran with that issue at the moment," Ahmadi said. "Iran's arms sales to Russia are mainly motivated by the desire to expand strategic cooperation with Russia and secure the sale of high-value aerial capabilities that Moscow has been thus far hesitant to sell to Iran due to Western pressure."
And, while China may not be on the verge of supplying weapons to Iran, something it has thus far been unwilling to do for Russia amid the Ukraine conflict, Xi could potentially give greater credence to Raisi's eastward shift as diplomacy toward reviving Western cooperation through the JCPOA flounders.
"Ultimately, the most important issue is for President Raisi to secure tangible economic cooperation agreements with Beijing and to show a domestic audience that his 'look eastward' policy is credible," Ahmadi said, "at least so far as providing Iran with leverage when dealing with the West."
"Furthermore, he has to show that Iran's new level of participation in organizations like the Shanghai Cooperation Organization is not just about elevating the country's prestige," he added, "but will also have tangible economic and security benefits. Certainly, China, a key leader of the SCO, will have an interest in that as well."
Ahmadi also pointed out that, for all the attention drawn in international media, China and Iran's 25-year deal has yet to offer a clear glimpse into specific bilateral projects.
Amir Mohammed Esmaeili, an author and researcher currently pursuing a Ph.D. in international relations at Shanghai International Studies University, said the "main goal" of Raisi's trip to Beijing "is to finalize mechanisms for implementing" this deal, which may include security and defense collaboration in addition to joint development, economic and trade endeavors.
"While specific details of the agreement are unknown, seemingly it refers to strengthening political and parliamentary ties, the recognition and pursuit of mutual strategic interests, increased cooperation in defense training, equipment, technology, increased cooperation in counterterrorism and counter-narcotics, and expanded economic ties, especially in finance, mining, energy, agriculture, culture and infrastructure," Esmaeili told Newsweek.
"In case of full implementation," he added, "the agreement can greatly help Iran's infrastructure development in the following years."
Infrastructure has been the core element of Xi's Belt and Road Initiative, an intercontinental network of projects involving nearly 150 nations across the globe. To realize these endeavors and other interests, however, China has also emphasized the need for stability, a tenet addressed collectively by the SCO.
Esmaeili said that among the areas in which Beijing and Tehran align, "strategic interests include efforts to achieve prosperity and stability in the region, and jointly pursuing the Belt and Road Initiative cooperation," which, along with the SCO, "will give Iran and China more space for interactions."
"It is foreseeable that after this meeting, China-Iran relations will step forward to a new stage of cooperation," Esmaeili said.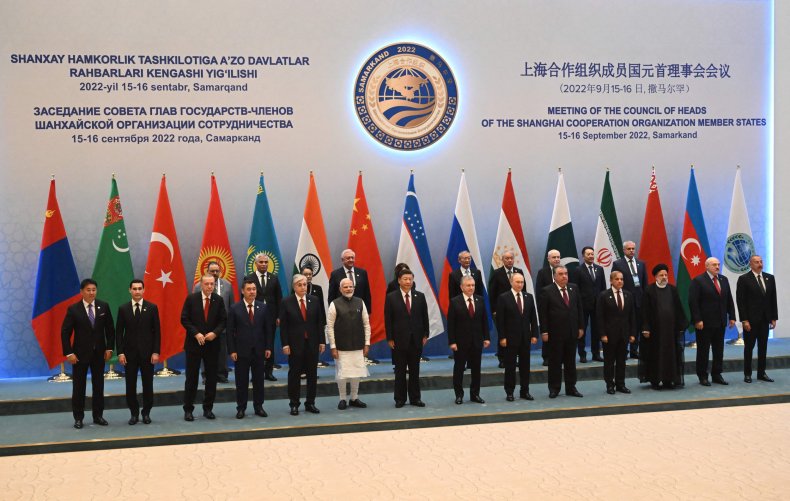 Readouts of Raisi and Xi's meeting on Tuesday expressed mutual praise for the efforts made thus far to boost bilateral ties, as well as anticipation of further gains.
Xi was said to have declared a "new chapter of China-Iran friendship" in which Beijing "supports Iran in safeguarding national sovereignty, independence, territorial integrity and national dignity" as well as "in resisting unilateralism and bullying," according to the Chinese Foreign Ministry. China also "opposes interference by external forces in Iran's internal affairs [that] undermines Iran's security and stability."
Xi made a point to highlight the importance of stability in the region, saying that "maintaining stability in the Middle East is related to the well-being of countries and people in the region, and is crucial to maintaining world peace, promoting global economic development and ensuring stable energy supply."
The Chinese leader also said Beijing was "willing to strengthen communication and coordination with Iran on multilateral platforms such as the United Nations and the Shanghai Cooperation Organization, practice true multilateralism and safeguard the common interests of developing countries," and that "China will continue to participate constructively in negotiations on the resumption of implementation of the JCPOA, support Iran in safeguarding its legitimate rights and interests, and promote the early and proper settlement of the Iranian nuclear issue."
Raisi, for his part, portrayed China and Iran as partners in a common fight against outside foes, saying that "despite the opposition of the enemies of the Islamic Republic of Iran and China to the consolidation and development of the relations between the two countries, these relations have taken great steps with the favorable management of the two sides," according to his office.
Raisi took aim specifically at Western nations, who he said have "once again made a miscalculation regarding the Islamic Republic of Iran, unaware that Islamic Iran and its brave nation are more steadfast than ever before in the path of development and progress."
And he made clear there was much more to be achieved in bringing Tehran and Beijing closer together.
"The development of relations between Iran and China has been moving forward, but what has been done is far from what should be done," Raisi said, "and to compensate this backwardness, we should take greater steps."