Vice President Kamala Harris on May 16 led a high-level delegation (including Secretary of State Antony Blinken, Defense Secretary Lloyd Austin and CIA Director William Burns) to the United Arab Emirates (UAE) to offer condolences on the passing of the Gulf Arab nation's President Sheikh Khalifa bin Zayed Al Nahyan. Harris met with Mohamed bin Zayed, the country's de facto ruler for many years, who has now assumed the presidency upon the death of his half-brother.
Very rarely do so many high-level officials travel together on such occasions. President Joe Biden's decision to send four cabinet officers to Abu Dhabi was intended to send an unmistakable signal: The United States wants to reset relations. The traditionally strong bilateral relationship has suffered numerous setbacks over America's attempts to resuscitate the Iran nuclear deal and end the war in Yemen, Abu Dhabi's close ties with Russia and Syria and its deepening cooperation with China.
U.S efforts to improve relations with the UAE face significant challenges partly because of a natural divergence in the interests of the two longtime allies and partly because of policy course change in Abu Dhabi, which seeks to hedge its bets against a perceived lack of U.S. commitment by courting Moscow and Beijing. Such actions are not in the interest of either side and will not help the UAE to realize its goals; if anything, they will make matters worse.
Abu Dhabi's efforts to counter Iran's expected regional resurgence in the aftermath of a revived Joint Comprehensive Plan of Action (JCPOA) in the making are totally understandable. The UAE, along with Saudi Arabia, have lost confidence in the United States, their traditional security provider, over what they see as Washington's retreat from the Middle East to deal with broader global challenges in Europe and the Pacific. Abu Dhabi's moves to forge closer relations with China and Russia, however, are likely to backfire. Far from strengthening Emirati security, they will only serve to embolden hostile and predatory autocrats and to alienate the United States.
In response to price hikes caused by Russia's invasion of Ukraine. the U.S. Department of Energy announced May 24 that it would release 40 million barrels of crude oil out of planned 180 million barrels over a six months period from the Strategic Petroleum Reserve (SPR), which represents the largest such amount ever released. At a time when the United States has tapped into its SPR and is leading international efforts to impose sanctions on Russia's energy sector, the UAE on March 28 announced the Russian Federation will "always" be part of OPEC+. The UAE Energy Minister Suhail Al-Mazrouei said, "Unless someone is willing to come and bring 10 million barrels, we don't see that someone can substitute Russia."
Earlier, on March 18, Syria's President Bashar al-Assad traveled to the UAE and was warmly welcomed by the Emirati leadership. A day earlier, UAE Foreign Minister Abdullah bin Zayed was in Moscow and met with his Russian counterpart Sergei Lavrov to discuss ways in which the two countries could cooperate on energy security. This visit to Moscow came at a time when the Kremlin's war machine is engaged in the destruction of Ukraine, which has elicited unprecedented sanctions from the West. Abu Dhabi's foreign minister's trip took place soon after the UAE decided to abstain in the vote on the U.N. Security Council resolution condemning the Russian invasion of Ukraine.
Abu Dhabi's actions undermine American efforts to contain the Kremlin at the most significant geopolitical moment since the collapse of the Soviet Union. While UAE's motives and objectives may be understandable, its actions and timing risk hurting Abu Dhabi's own national security interests and those of the Gulf. Even if Russia was not invading Ukraine, Moscow is in no position to be a substitute for Washington in the Middle East, and neither is Beijing, at least for now.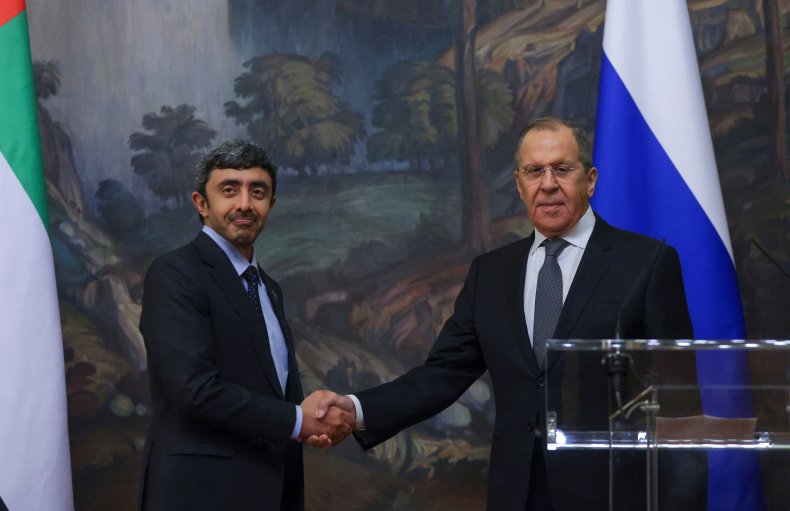 But in the wake of Russia's naked aggression Kremlin-coddling becomes exponentially more problematic. If the UAE wants to be a regional leader and global player, it should not be doing business with the Kremlin whose hands are covered in blood of the innocents, rendered millions as refugees and pulverized entire cities. Similarly, UAE should not be embracing the Syrian leader who, backed by Russian President Vladimir Putin, destroyed his own country just to remain in power, and has the blood of hundreds of thousands on his hands.
There is logic in the argument that the Assad regime remains a reality and represents the fulcrum in Iran's Middle Eastern strategy. The UAE is therefore trying to prevent Assad from becoming a vassal of the Iranians—at a time when Damascus cannot expect Moscow's full support any longer because of the Ukrainian bog-down. Abu Dhabi, however, is unlikely to pull Assad from the Iranian orbit. The Syrian president has survived by playing various actors off one another and will not abandon the Iranians.
In the meantime, UAE efforts to play with Syria and Russia is poisoning its much more strategic relationship with the United States. The UAE's convergence of interests with Russia in Libya, where both recently supported the warlord Khalifa Haftar, whom the United States has condemned for offensives that have undermined international peace efforts, is a case in point. A crisis in U.S.-UAE relations is precisely what the Iranians and the Russians want and will try to exploit.
The UAE is trying to get the U.S. to address its concerns. But it is unlikely to achieve this objective by hobnobbing with Putin, Assad, or Chinese President Xi Jinping. The only way forward for the Emiratis and the Americans is to return to their strong bilateral cooperation in order to resolve real and painful differences.
Kamran Bokhari, PhD, is the director of analytical development at the New Lines Institute for Strategy & Policy in Washington and a national-security and foreign-policy specialist at the University of Ottawa's Professional Development Institute. Bokhari has served as the coordinator for Central Asia Studies at the U.S. Department of State's Foreign Service Institute (FSI). Follow him on Twitter @KamranBokhari.
The views expressed in this article are the writer's own.