U.S. Rapper Tyler, the Creator 'Banned From Entering the U.K.'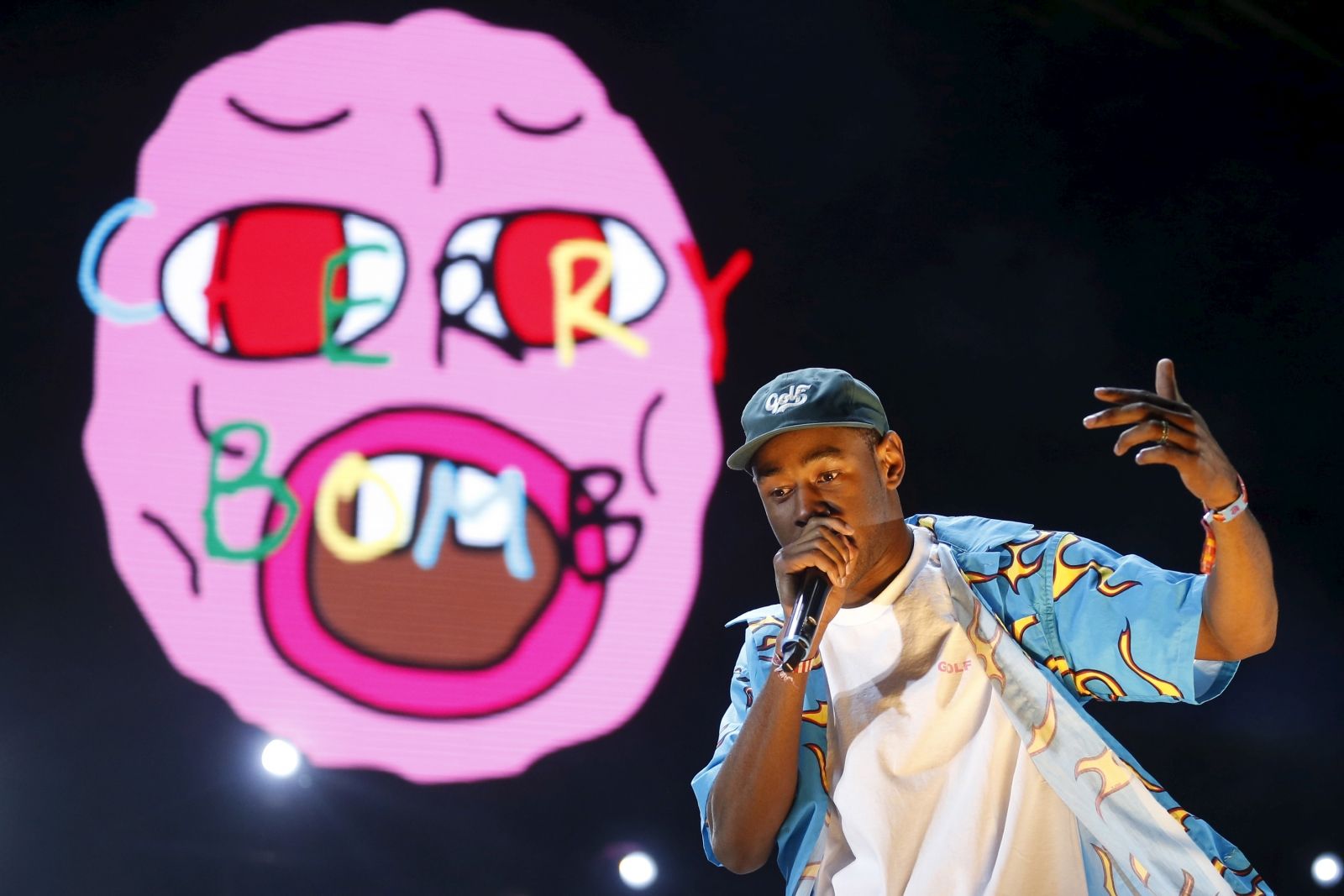 U.S. rapper Tyler Okonma, who goes by the stage name "Tyler, the Creator" says he has been banned from entering Britain due to offensive lyrics he wrote in 2009. The U.S rapper was due to play four dates in the UK and Ireland this month, including at Reading and Leeds Festival, but claims he was forced to cancel shows after reportedly receiving a letter from the Home Secretary.
L.A.-born Tyler took to Twitter on Wednesday to apologize to fans and explain why he had cancelled upcoming shows. "Based on lyrics from 2009 I am not allowed in the UK for three-five years (although I was there eight weeks ago) that is why the shows were cancelled," he wrote.
His manager, Christian Clancy, also published a blog post on Wednesday, saying that the ban relates to a "broader issue of free speech."
"Tyler has been banned from entering the UK for somewhere between three to five years per a letter from the secretary of state for the home department of the United Kingdom," Clancy wrote. "The letter specifically cites lyrics he wrote six to seven years ago for his albums Bastard and Goblinthe type of lyrics he hasn't written since."
Tyler, who co-founded rap-group Odd Future, has received criticism in the past for his lyrics which have been labeled as sexist and misogynistic in the past. According to music website Pitchfork, Tyler was forced to cancel shows on his Australian tour in July this year after feminist group Collective Shout campaigned for the government to reject Tyler's visa application on the basis that his "songs advocate rape and extreme violence against women."
In June Collective Shout wrote an open letter to Australia's Minister for Immigration and Border Protection asking that Tyler's visa be revoked. A total of 2,134 people added their signatures to the letter and on August 9 Frontier Touring, the company behind Tyler's Australian tour, announced the cancellation of Tyler's Australian dates, despite previously stating on Facebook that his visa application was in fact still open.
British freedom of speech advocates have condemned Tyler's reported ban. Jodie Ginsbery, CEO of Index on Censorship, an international organization that campaigns for freedom of speech, told Newsweek, "The British government has talked repeatedly in recent months about the importance of free expression and yet shown again and again through its actions that this commitment is half-hearted. Free expression includes allowing those whose speech others find offensive to express themselves. Tyler, the Creator, should be allowed to perform."
Jo Glanville, director of English PEN, a group that work to promote freedom of expression, says that banning Tyler will backfire on the government. "Members of the public who have never heard of him will now be searching for his lyrics online to find out what the fuss is about. There is nothing new about offensive, misogynist or homophobic rappers, censorship never works and is a self-defeating exercise."
A Home Office spokesperson says that it won't comment on individual cases, but sent a statement saying, "Coming to the UK is a privilege, and we expect those who come here to respect our shared values. The Home Secretary has the power to exclude an individual if she considers that his or her presence in the UK is not conducive to the public good or if their exclusion is justified on public policy grounds."