Pentagon Press Secretary John Kirby said on Monday that there are no orders to deploy U.S. troops to Eastern Europe yet, but the U.S. preparedness to do so sends a "clear signal" to President Vladimir Putin if Russia invades Ukraine.
"No decisions have been made to deploy any forces from the United States at this time," Kirby announced during a press briefing.
He also said that Defense Secretary Lloyd Austin has placed an array of military units in the U.S. on a "heightened preparedness" to be deployed. This means that the U.S. is ready to provide forces if NATO should activate its Response Force team (NRF).
He added that the number of forces that Secretary Austin has placed on "heightened alert" is up to 8,500 personnel.
Kirby confirmed that U.S. troops are intended for the NRF, and therefore their deployment would be activated by NATO.
He told reporters that this helps protect Ukraine as "it sends a very clear signal to Mr. Putin, that we take our responsibilities to NATO seriously and we are also working inside the international community to implement severe consequences for Mr. Putin" if he were to go into Ukraine.
"It's very clear that the Russians have no intention right now of de-escalating," Kirby said.
"In the event of NATO's activation of the NRF or a deteriorating security environment, the United States would be in a position to rapidly deploy additional brigade combat teams, logistics, medical, aviation, intelligence, surveillance and reconnaissance, transportation and additional capabilities into Europe," he added.
Kirby said that this is meant to reassure and "bolster" NATO allies with capabilities they might need.
He also noted that placing U.S. troops on a high alert means that they would move faster in the case of deployment orders.
"So in some cases, units would go from say 10 days [of being] prepared to deploy, now they're at five days," he said.
He added that this is not the case for every unit that is placed on high alert, but "some are simply more ready and postured that way than others."
"The idea though is that all of these units that [Secretary Austin] is putting on prepare to deploy will be ready to go on a shortened time frame," Kirby said.
Secretary Austin will still consult with President Joe Biden and coordinate with allies and partners "as [the U.S.] continuously reviews our force posture and make decisions regarding movement of forces into and within Europe."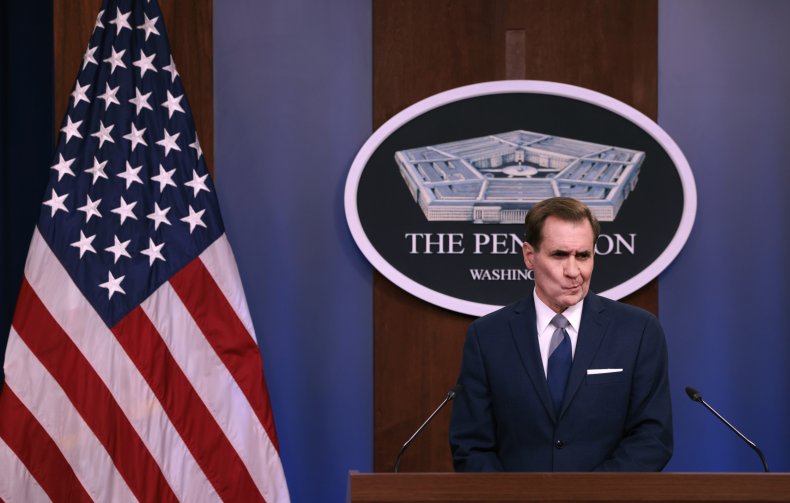 The Pentagon's remarks come amid rising tensions between Russia and Ukraine and a fear of a potential Russian invasion.
Russia recently told the U.S. to stop providing military aid to Ukraine, warning it had "almost completed" assembling 127,000 troops at the Ukrainian border.
The Russian Embassy in Washington said if the U.S. was "truly committed to diplomatic efforts to resolve the internal Ukrainian conflict" it would "abandon plans to supply new batches of weapons for the Armed Forces of Ukraine."
Meanwhile, the U.S. State Department authorized a voluntary departure of personnel from the U.S. Embassy in Kyiv, Ukraine's capital.
"Authorized departure gives these employees the option to depart if they wish; their departure is not required," the State Department said in a statement, adding that the ordered departure for family members requires that family members leave the country, effective immediately.