U.S. Records Largest Budget Deficit in History in April
The U.S. has broken another economic record amid the coronavirus pandemic, recording the nation's largest monthly budget deficit in history in April.
The Treasury Department reported on Tuesday that the national budget deficit jumped by $738 billion last month, dwarfing the previous record set in February of last year when it rose by $234 billion. The news came amid the sharpest economic downturn in U.S. history due to the coronavirus pandemic and as the U.S. has deferred annual tax payments from April to mid-July.
Newsweek has reached out to the Treasury Department for further comment.
In April, the federal government spent nearly $980 billion, an increase of about $600 billion from the same month last year. Of that money, about $46 billion went to unemployment benefits, just over $140 billion went to states and local governments and some $217 billion in stimulus payments went to consumers.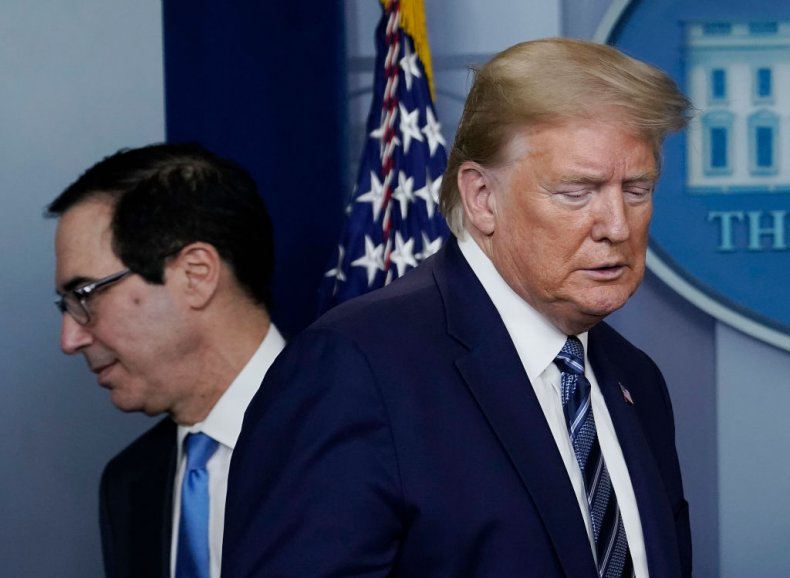 Federal revenues totaled just $242 billion, nearly $300 billion less than in April 2019. That disparity is largely due to the deferment of tax payments, which normally would have largely been paid last month.
The country is also on track to break its yearly budget deficit record. In 2010, amid the economic fallout of the Great Recession, the U.S. yearly budget deficit rose to $1.5 trillion. But 10 years later in 2020, the Congressional Budget Office has projected the country's deficit will be an estimated $3.7 trillion.
Meanwhile, the U.S. has also seen massive surges in unemployment, recording multiple weeks of record-breaking numbers of jobless claims in March and April. More than 30 million Americans have filed for unemployment since lockdown measures were implemented across the country starting in mid-March. The Department of Labor's April jobs report set the official unemployment rate at 14.7 percent.
Congress has already passed three large rounds of stimulus funding to address the simultaneous public health and economic crises unfolding in the nation. Among these packages was the $2.2 trillion Coronavirus Aid, Relief, and Economic Security Act, which shored up unemployment, provided direct payments to most Americans and provided loans for struggling businesses.
Democrats in the House of Representatives on Tuesday unveiled their proposal for an even bigger economic stimulus package, projected to cost more than $3 trillion. The package would provide additional funding for state and local governments, more direct payments to individual Americans, money to expand testing and contact tracing for the novel coronavirus and student loan relief, among other proposals.
But Republicans have expressed greater caution about a fourth stimulus package after the first three pieces of legislation passed relatively swiftly with wide bipartisan support.
"That will not pass. It's not going to be supported," Senator John Anthony Barrasso of Wyoming, who chairs the Senate Republican Conference, said of the Democratic proposal.