U.S. Refuses to Ground Boeing 737 Max 8—Here's How to Find Out If You're Booked to Fly On One
Passengers who want to avoid flying onboard a Boeing 737 Max 8—the aircraft that has crashed twice in the past five months—may have to pay for the privilege after the two U.S. airlines that use the Max 8 ruled out concessions for customers who want to change their tickets.
After Sunday's Ethiopian Airlines crash that killed all 157 people onboard, countries including Malaysia, Norway and China, as well as the European Union, grounded the Max 8 pending further investigation.
But the Federal Aviation Authority has not done the same. Two U.S. carriers use the aircraft: Southwest Airlines, with 34 of the planes, and American Airlines, with 24, The New York Times reported.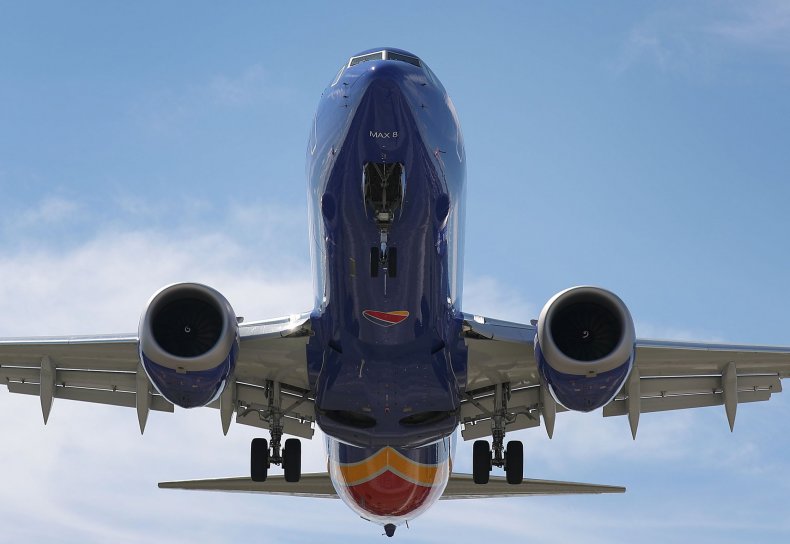 The type of aircraft for a specific flight is usually shown on the web page after a trip is booked, along with the flight number. FlightAware.com, however, told Market Watch that there was "no set timeline as to when aircraft types are posted for flights."
Travelers can also use such websites as FlightView.com and FlightAware.com, which list the aircraft for specific flights. Since Sunday, these websites have reported a spike in searches.
Passengers can also contact the airline directly or check such websites as seatguru.com, Expertflyer.com and flightstats.com.
Paul Hudson, the president of consumer advocacy group FlyersRights.org, said that as long as the FAA and Boeing backed the safety of the planes, the onus was on the passenger to pay for any flight change.
This could be around $200 for a domestic flight, or more for an international voyage.
"As long as the FAA and Boeing are standing behind the 737 Max 8, airlines not only have cover, at least some are at a competitive disadvantage if they were to take action on their own," he told Market Watch.
Henrik Zillmer, the chief executive of air passenger consumer group AirHelp, told The New York Times that passengers would not be entitled to compensation.
"Travelers can cancel their flights, but would not be eligible to claim compensation if they decide to do so. They do not have a right to compensation or reimbursement for tickets purchased, as it is technically their decision to cancel."
Southwest said in a statement it had confidence in the safety of the 737 Max 8.
"Additionally, we are not issuing refunds of nonrefundable fares, though we are working with customers individually who wish to rebook their flight to another aircraft type," it stated.
Southwest said on Twitter it would not offer any special deals for people to change their flights, and that "if you would like to change your flight, there would be a difference in fare that would need to be collected for doing so."
A Southwest spokesman reiterated to MarketWatch that it was confident in the safety of its fleet, and that it didn't have any changes planned for its operational policies or procedures.
The spokesman added that the airline was responding individually to customers' requests, and that there was a "no-change fee policy" in which customers would pay the fare difference.
American Airlines said in a statement that it would closely watch the crash investigation and that it had "full confidence in the aircraft.
"Our standard policies regarding changes to an itinerary would still apply," the statement read.
Other carriers, such as FlyDubai and Silk Air, also plan to keep using the Boeing plane, as is Air Canada, The Globe and Mail reported.