U.S. Relocating Ukraine Embassy From Kyiv Amid Warnings About Russia Attack
The United States said Monday it is relocating its Ukraine embassy from the capital of Kyiv to the city of Lviv because of concerns about an "imminent" invasion by Russia.
Secretary of State Anthony Blinken said his department is temporarily relocating its operations to the western part of Ukraine "due to the dramatic acceleration in the buildup of Russian forces." He added, "These prudent precautions in no way undermine our support for or our commitment to Ukraine. Our commitment to Ukraine's sovereignty and territorial integrity is unwavering."
The move comes as U.S. officials have warned that more than 100,000 Russian troops have amassed on the eastern border of Ukraine and that an invasion could happen as soon as Wednesday. In recent weeks, the U.S. and its NATO allies have scrambled to prepare for an imminent attack by Russia, ordering their citizens to leave Ukraine as soon as possible.
In his statement Monday, Blinken said, "We also continue our sincere efforts to reach a diplomatic solution, and we remain engaged with the Russian government following President Biden's [Saturday] call with President Putin and my discussion with Foreign Minister Lavrov."
He continued, "The path for diplomacy remains available if Russia chooses to engage in good faith. We look forward to returning our staff to the Embassy as soon as conditions permit."
Blinken also said the decision was made because of safety concerns for remaining embassy personnel. Most staffers have already departed Ukraine.
The State Department has also ordered the destruction of computers in its embassy in Kyiv, which is located roughly two hours from Ukraine's northern border with Belarus. Lviv, where the department will relocate its operations, is roughly 50 miles from Ukraine's western border with Poland.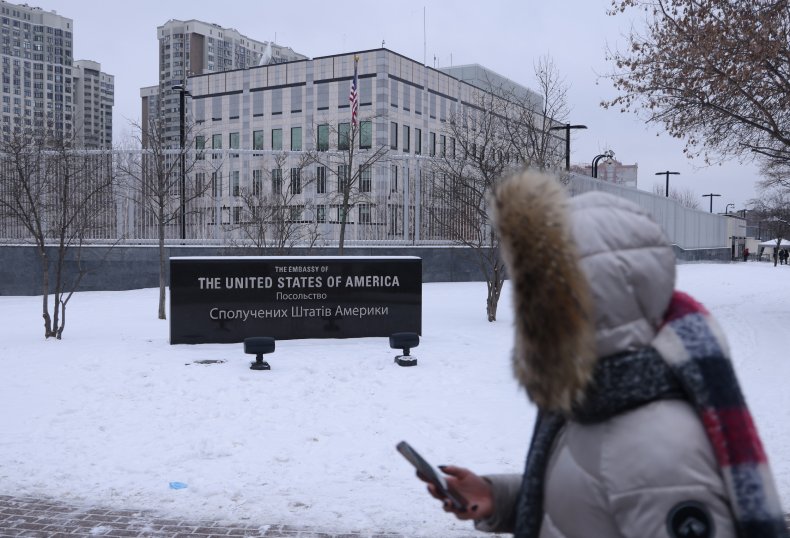 On Saturday, the State Department announced that it was moving its staff out of Kyiv and ending consular services for Americans, urging U.S. citizens to leave the country.
The State Department said the staff being moved to Lviv will remain engaged with the Ukrainian government.
"Russia, if it sought to do so, has failed in its goal of dividing the United States and our allies and partners. If anything, we are more united as we confront Russia's threats and aggression," department spokesperson Ned Price said on Monday. "We are intensifying our efforts to deter Russia and to impose costs should Moscow decide to go ahead with military action."
He added, "Whatever happens next, we are resolute in our support for Ukraine sovereignty, for Ukraine's territorial integrity, and we will continue our assistance to the people of Ukraine."