U.S. Rep. Bobby L. Rush Calls For a Hearing on Systemic Racism in the NFL
The NFL has already felt a year's worth of offseason just three days after the Super Bowl matchup was set. There was Tom Brady retiring, former Dolphins coach Brian Flores suing the league and three teams for racial discrimination, and now a U.S. Congressman calling for a hearing on the NFL's hiring practices for qualified Black applicants.
The Super Bowl is on February 13, but the offseason beyond that has already kicked off.
U.S. Representative Bobby L. Rush, a Democrat from Illinois, wrote a letter about hiring minority coaches in the NFL to fellow Illinois Democrat Rep. Jan Schakowski (D-Ill.), who's Chair of the Energy and Commerce Committee's Subcommittee on Consumer Protection and Commerce. That committee oversees professional sports. Here's what the letter stated.
"While 70 percent of National Football League [NFL] players are Black, it is unacceptable and reprehensible that, after the recent firing of Houston Texans Head Coach David Culley and Miami Dolphins Head Coach Brian Flores, we are left with only one Black head coach in the NFL out of the 32 head coaching positions," Rush wrote, according to NBC Sports.
"Incredibly, there has never been a Black owner of an NFL team," the representative continued. "I am afraid that this lack of diversity is not a coincidence or a mere accident, but more systemic in nature. Simply put, this is bold-faced racism. Coach Flores is risking his career to raise allegations of racism against the NFL, as did Colin Kaepernick when he protested police violence against Black men and boys. The firing of David Culley and Brian Flores are not unique. These are allegations that surface time and time again.
"It is the responsibility of this Subcommittee—given our jurisdiction over professional sports—to shine a bright light on these allegations and to thoroughly investigate these concerns. As such, I urge you to swiftly hold a hearing on the issue of systemic racism in the NFL, especially as it relates to ownership, coaching, and general management positions."
Flores was fired by the Miami Dolphins last month for alleged "poor collaboration" with the club, even though he had back-to-back winning seasons in Miami. On Tuesday, Flores filed a lawsuit in the Southern District of New York, alleging the "NFL remains rife with racism," particularly around hiring Black head coaches, general managers and top coordinators.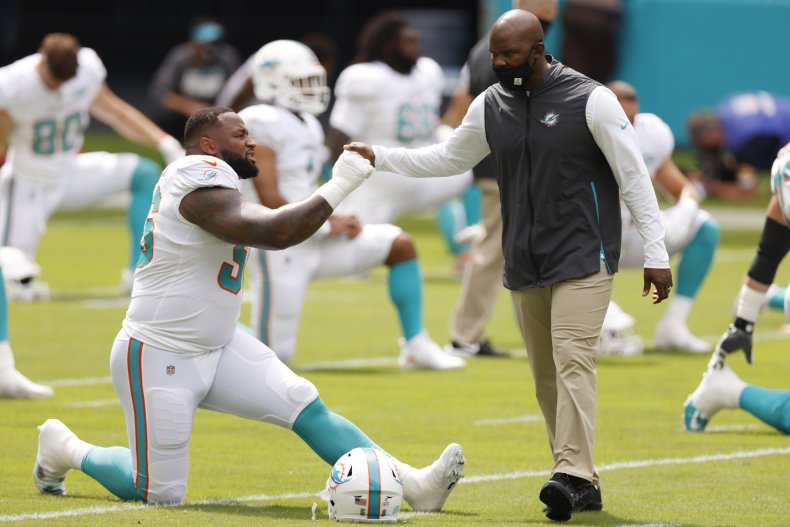 Flores went on to say the Dolphins offered him $100,000 per loss in the 2019 season so the team could improve its draft status. Flores also accused the Denver Broncos (from 2019) and New York Giants (2022) of only offering him an interview to satisfy the league's Rooney Rule, which is an NFL policy requiring every team hiring a new coach to interview at least one minority candidate.
With Flores' firing last month, Mike Tomlin of the Pittsburgh Steelers is the only Black head coach among the 32 NFL franchises.
Flores' 58-page lawsuit states that the NFL is comprised of 70 percent Black players, which is disproportionate with the front offices among teams and the league itself.
"The owners watch the games from atop NFL stadiums in their luxury boxes, while their majority-Black workforce put their bodies on the line every Sunday, taking vicious hits and suffering debilitating injuries to their bodies and their brains while the NFL and its owners reap billions of dollars," the lawsuit read.
The NFL disputed any hiring mispractice.
"The NFL and our clubs are deeply committed to ensuring equitable employment practices and continue to make progress in providing equitable opportunities throughout our organizations," the NFL said in a statement. "Diversity is core to everything we do, and there are few issues on which our clubs and our internal leadership team spend more time. We will defend against these claims, which are without merit."
There are no NFL games this weekend, other than the league's Pro Bowl game. Super Bowl 56 will be February 13 at SoFi Stadium in Los Angeles between the Cincinnati Bengals and the Los Angeles Rams.