U.S. Rep Cawthorn Hit With Charge for Allegedly Driving on Revoked License
Representative Madison Cawthorn (R-N.C.) is potentially facing 20 days in jail after being charged for allegedly driving on a revoked license.
News of the charge was first reported on Wednesday and stems from an incident that allegedly took place on March 3 in Cawthorn's home state, according to law enforcement records. Cawthorn was pulled over by a state highway patrol officer after his Toyota truck was seen crossing the center line of traffic in Cleveland County, law enforcement said.
"The driver was identified as David Madison Cawthorn, 26 years old of Hendersonville, N.C.," said State Highway Patrol Spokesperson Sergeant Marcus Bethea in a statement. "During the course of the investigation it was determined that the driver's license was in a state of revocation and he was subsequently charged with driving while license revoked."
The trooper who pulled over Cawthorn described the congressman as "polite and cooperative" during the traffic stop.
If found guilty and convicted on the revoked license charge, Cawthorn could be put behind bars for up to 20 days on the class-3 misdemeanor.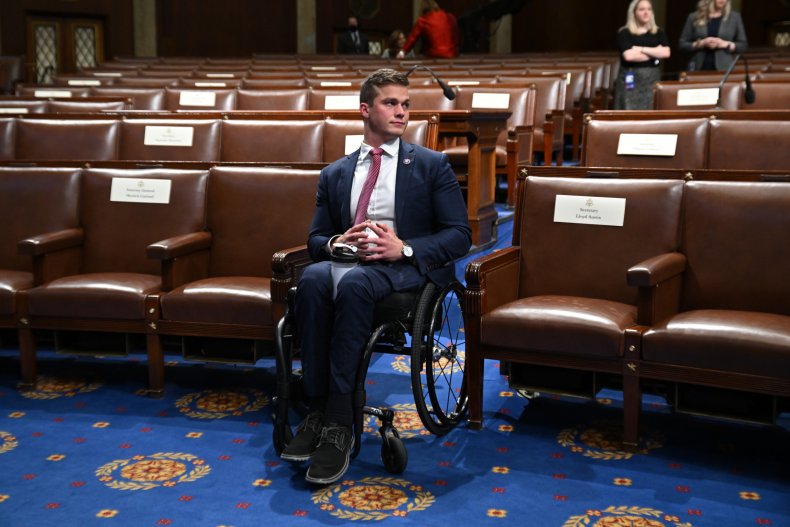 Along with the misdemeanor charge of driving on a revoked license, Cawthorn is also facing two additional charges related to speeding. State law enforcement officials confirmed the three citations were accrued by Cawthorn in different counties.
The first of these two speeding stops occurred in Buncombe County on October 18, 2021. Cawthorn was pulled over for allegedly driving 89 mph in a 65 mph zone.
A second stop occurred this past January 8 in Polk County. Cawthorn was accused of driving 87 mph in a 70 mph zone.
Unlike his stop for the revoked license, police said that Cawthorn had been driving a Dodge "passenger vehicle" during the stops related to his speed.
Cawthorn is due in court for the revoked license charge on May 6, and for the speeding charges on April 18 and May 3.
This is not the first time that Cawthorn, the youngest member of Congress who has become well-known for his outspoken stances on conservative values, has been involved in legal troubles. In 2017, prior to being elected, he was similarly charged with driving on a suspended license, but court records show the charge was ultimately dropped.
Throughout the course of his 2020 campaign, Cawthorn was also accused of sexual misconduct ranging from harassment to sexual assault. This includes a group of 150 women at Cawthorn's former school, Patrick Henry College, who accused him of "predatory behavior" in a letter.
Beyond this letter, an investigation from BuzzFeed News in February 2021 also spoke with "more than three dozen people...who described or corroborated instances of sexual harassment and misconduct on campus, in Cawthorn's car, and at his house near campus."
"Four women told BuzzFeed News that Cawthorn, now a rising Republican star, was aggressive, misogynistic, or predatory toward them," the investigative report said.
Cawthorn has not been charged with any crimes related to these sexual allegations.
Newsweek has reached out to Representative Cawthorn's office for comment.