U.S. Reports New Single-Day Coronavirus Case Record for Fourth Time in A Week
The United States set another record for new coronavirus cases in a day on Tuesday, the fourth record-setting day in just a week.
On Tuesday, the U.S. had 48,000 new cases, according to a New York Times database. The previous record of 45,498 cases, per the Times, was set on Friday, June 26, and Dr. Anthony Fauci, the nation's top epidemiologist, warned America could reach shockingly high increases of new cases per day if the outbreak isn't curbed.
"We can't just focus on those areas that are having the surge, it puts the entire country at risk," Fauci told a Senate Committee on Tuesday. "We are now having 40 plus thousand cases a day. I would not be surprised if we go up to 100,000 a day if this does not turn around."
America broke 40,000 new cases in one day for the first time since the outbreak began on Thursday, June 25, when the Times reported 41,156 new cases. One day earlier, the record high was set at 37,014 new cases.
There's no question that cases of a new coronavirus are on the rise in the U.S., but the exact increase varies based on the source. The Times reported 45,498 cases on Friday, while the Centers for Disease Control and Prevention (CDC) reported 44,602. The Johns Hopkins tracker reported about 45,300 new cases for that same day. For Tuesday, June 30, the tracker reported 44,800. The CDC hasn't released Tuesday's numbers.
Newsweek reached out to the Centers for Disease Control and Prevention for comment but did not receive a response in time for publication.
The United States leads the world in COVID-19 infections and at least 29 of 55 domestic jurisdictions are seeing increases in cases, according to Dr. Robert Redfield, director of the CDC. Hospitalizations are on the rise in 12 states, and California, Florida, Texas and Arizona are seeing troublesome spikes in new cases.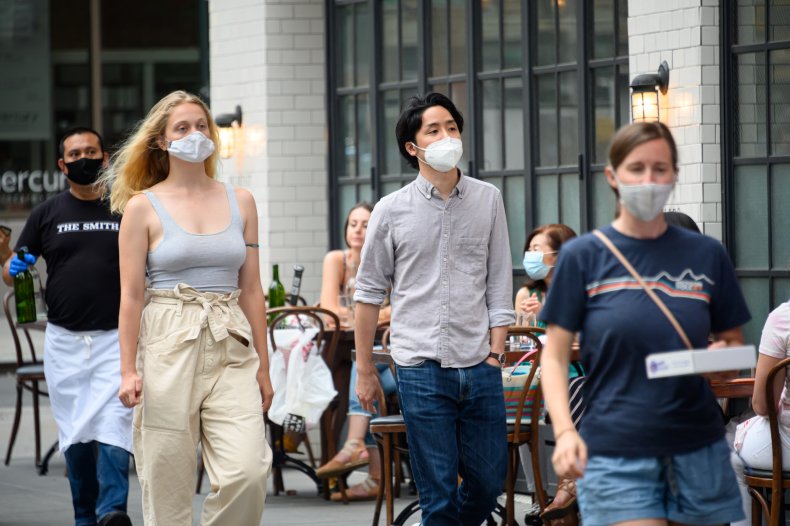 On Tuesday, California, Arizona and Texas saw a record-high number of new cases, according to the Times, of 8,158, 4,797 and 7,97 respectively. Fauci expressed concerns about people being photographed not wearing masks at places where social distancing cannot be maintained. In an attempt to curb the outbreak, Arizona, Texas and Florida closed bars statewide and California Governor Gavin Newsom shuttered bar doors in seven counties.
"What we saw visually in clips and in photographs of individuals [was an] all or none phenomenon, which is dangerous," Fauci said on Tuesday. "What I mean by all or none phenomenon is either be locked down or open up in a way where you see people at bars not wearing masks, not avoiding crowds, not paying attention to physical distancing."
While the spotlight is on states where cases are increasing, Fauci said a surge anywhere in the country puts the entire nation at risk. It's a point Governor Andrew Cuomo raised during a Monday briefing when he reminded people New York isn't an island wholly interdependent from the rest of America.
International travelers helped contribute to the spike in New York City back in March and Cuomo said it could happen again. Although life has significantly changed, New York remains a travel hub and travelers from states with high infection rates could "wind up increasing the spread and infection in New York."
If the spread occurring in other states comes to New York, Cuomo said, "we could have to do this all over again."
New York, once the epicenter of the outbreak, reported only 524 new cases on Tuesday, a percentage positive rate of only one percent. Cuomo is requiring travelers from 16 states to quarantine for 14 days once they arrive in New York.
Cuomo and New York City Mayor Bill de Blasio received Fauci's seal of approval for listening to experts and allowing guidelines to dictate their reopenings. Having seen what happened in other states, Cuomo said he was reevaluating reopening restaurants to indoor dining, a decision that's expected to come on Wednesday.
Younger people are large drivers of the increase in cases and although they're considered on the lower end of the risk spectrum, Fauci noted they aren't invulnerable. There have been cases of young people being hospitalized and even dying of the virus. Fauci told the Senate Committee young people being careless pose a risk to others. They could easily pass the infection to someone, who passes it to someone else, who gives it to an elderly or immunocompromised person or even a child with Leukemia, all people considered at serious risk.
Therefore, he emphasized that every single person has a role to play in curbing the outbreak, adding, "We've got to contain it together."