U.S. Threatens 'Swift Response' Against Venezuela If Opposition Leader Harmed, Government Warns of 'Illegal Interference'
Vice President Mike Pence warned that the United States would take action should Venezuela's opposition leader be harmed upon his return to the crisis-stricken country, but the vice president's counterpart in Caracas struck back.
National Assembly leader Juan Guaidó arrived Monday at Caracas's international airport after a South American tour designed to drum up support for his political challenge to the legitimacy of Venezuelan President Nicolás Maduro, whom he called upon to step down amid an economic collapse and accusations of corruption and human rights abuses. The U.S. and a number of its allies backed the move, warning Maduro not to intervene against Guaidó.
Pence, who met with Guaidó during his tour, tweeted that the opposition leader's "safe return to Venezuela was of the highest importance to the U.S." He added: "Any threats, violence, or intimidation against him will not be tolerated & will be met with swift response. The world is watching—Interim President Guaido must be allowed to re-enter Venezuela safely."
Venezuelan Vice President Jorge Arreaza fired off his own tweet minutes later, however, apparently referring to a report last month by Germany's parliament that criticized fiery language used by U.S. officials in regard to Venezuela. Arreaza said that "European governments and the U.S. still continue to blatantly interfere. This crime should be raised to illegal interference-warmongering."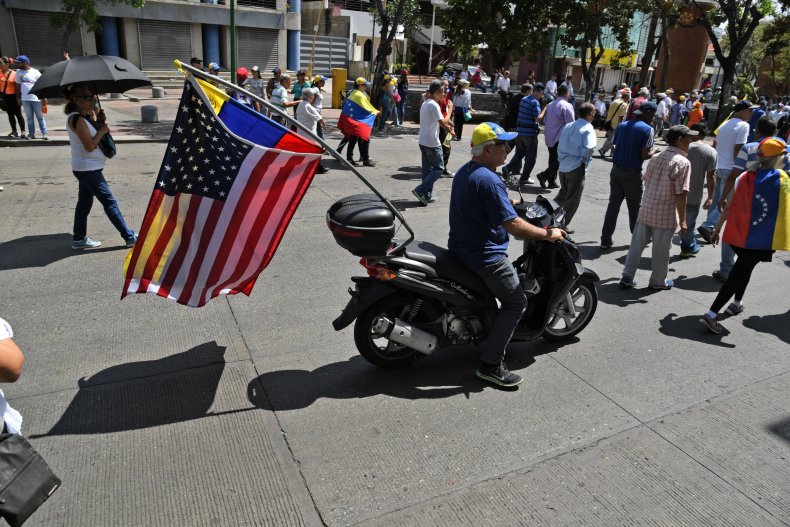 Before his arrival, Guaidó tweeted that he had left "clear instructions" to friendly governments as to what to do in the event of his arrest and then told followers via Periscope that any efforts made by Maduro's government to "kidnap" him would be "one of the last mistakes it makes." After landing in Caracas, he confirmed that he had successfully passed through immigration and upon exiting the airport, was met with thousands of supporters as well as a number of European diplomats who have endorsed his role as acting president.
Maduro has been comparatively silent on Guaidó's return, simply inviting his own Twitter followers to join in on the festivities being held to commemorate the annual Carnival national holiday. The Venezuelan president, supported by the armed forces, defied a deadline last month to allow international aid into the country, claiming that the U.S. and other hostile nations were using caravans as a ploy to equip opposition forces, a suspicion shared by some of his foreign backers, including Russia and China.
Arreaza, on the other hand, had previously struck back at another U.S. official, using bellicose language against the Venezuelan government. White House National Security Adviser John Bolton, a vocal foreign policy hawk, told CNN over the weekend that President Donald Trump's administration was "not afraid to use the word[s] 'Monroe Doctrine'"—President James Monroe's 19th-century strategy of expelling European colonies from Latin America—to enforce Washington's reputed vision of "a completely democratic hemisphere."
The Venezuelan vice president accused Bolton of "superb colonialism," arguing that "he is proud to raise the anachronistic and illegal Monroe Doctrine of 1823 for our America today." Arreaza continued: "For the Latin American peoples this has been and will always be unacceptable. But we see several governments thank and even celebrate it."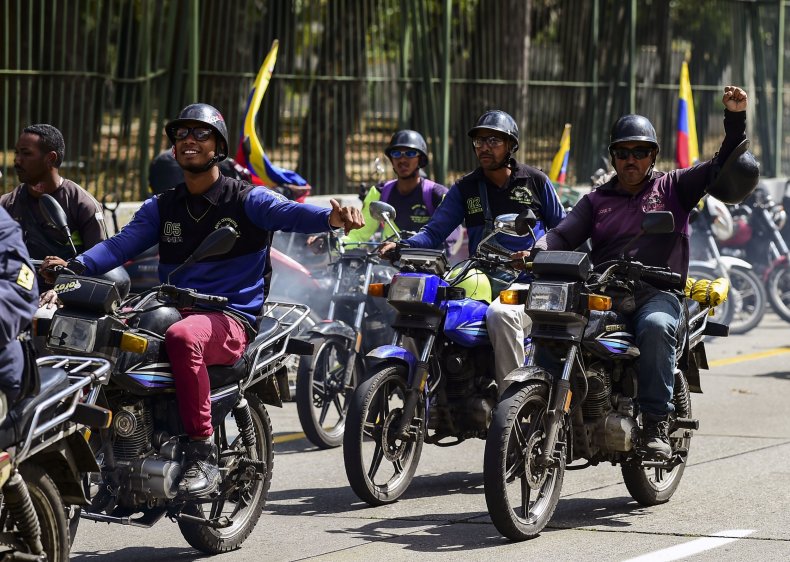 The U.S. has intervened across the region for decades, ultimately expediting the expulsion of imperialistic European powers and then imposing its own agenda. Washington's involvement in Latin America grew especially violent amid efforts to suppress socialist and left-wing movements throughout the Cold War with the Soviet Union.
Bolton's words appeared to be aimed at Moscow's backing for Maduro, and Russian Foreign Minister Sergey Lavrov formulated his own response to Bolton's remarks. The top diplomat told reporters," I believe that Latin American states will react to John Bolton's statement. He mentioned that the Monroe Doctrine could be used in Venezuela, insulting the entire Latin America."
While much of Latin America has so far backed the U.S.-led effort to bring Guaidó to power, socialist allies Bolivia, Cuba and Nicaragua were among those that continue to support Maduro. Guaidó's other backers included the European Union, Albania, Australia, Canada, Georgia and Israel. Those who still recognized Maduro included Belarus, Cambodia, Cuba, Bolivia, China, Iran, Nicaragua, North Korea, the Palestinian National Authority, Russia, Turkey, Serbia, South Africa, Suriname and Syria.