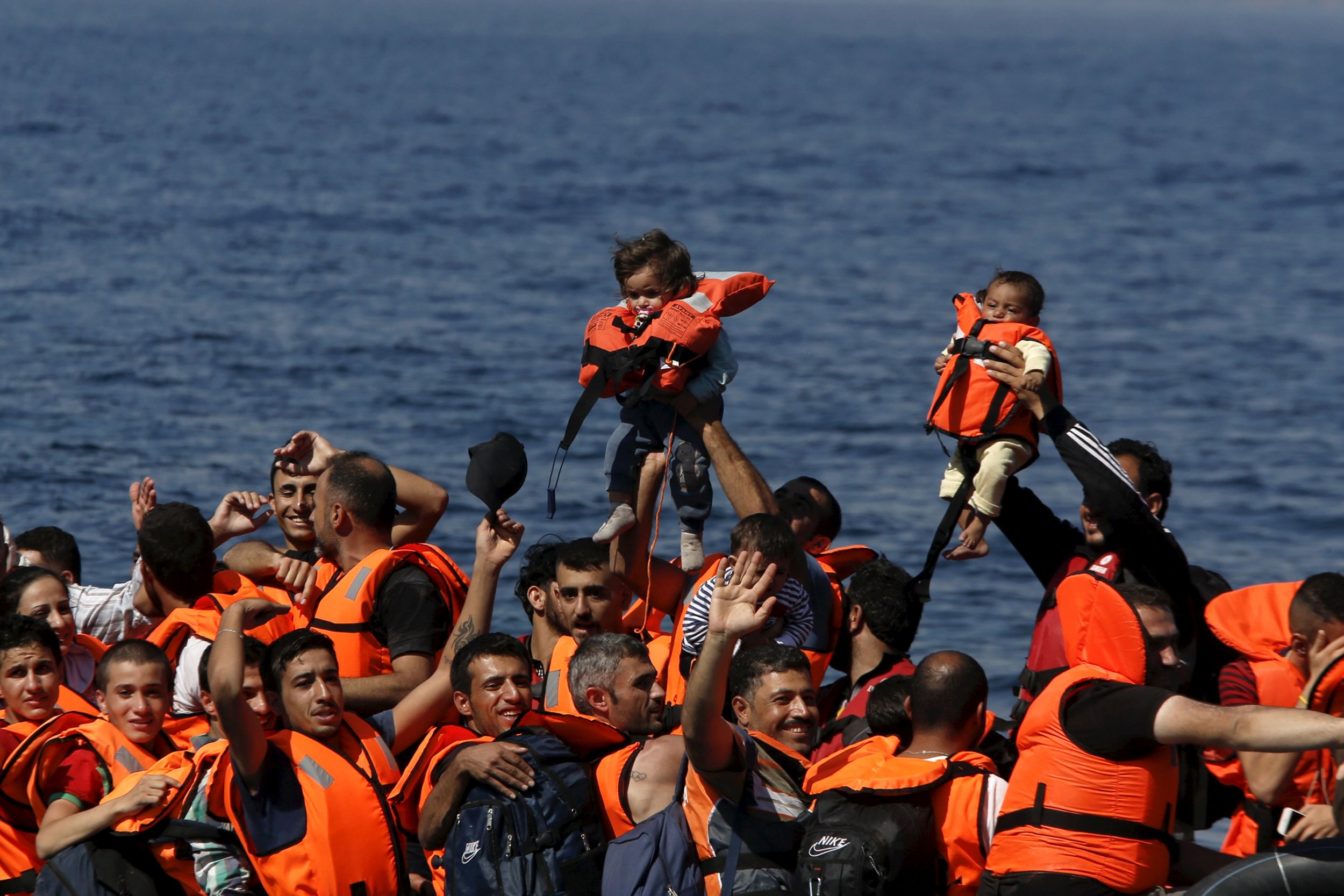 The U.S. is not standing up to its "historic responsibilities" of resettling large numbers of people fleeing war-torn countries and should consider taking in 100,000 Syrian refugees, according to David Miliband, president and CEO of the International Rescue Committee (IRC) and a former British foreign minister.
Speaking Monday from the Greek island of Lesbos—where more than half of the 500,000 refugees and migrants entering Europe have passed through this year—Miliband said that while the U.S. shouldn't be expected to take the numbers of Syrian refugees who have fled to neighboring Lebanon and Jordan since the civil war broke out in 2011, it should take at least 65,000 refugees to maintain its role as a leader in responding to the crisis.
"Historically, the U.S. has been a leader in refugee resettlement, and sadly it has not been leading in the Syria crisis," Miliband told Newsweek by phone on Monday. "Only 1,500 Syrians have been resettled in the U.S. in the first four years of the crisis, and while the 10,000 number is a step forward from the previous commitment of 8,000, it's obviously far from adequate given the scale of need."
The White House announced last week that the U.S. will accept 10,000 Syrian refugees in 2016, a slight increase over the previously proposed number of between 5,000 and 8,000. At 70,000 a year, the U.S. resettles more refugees than any other country, according to the State Department. The Obama administration's plan was met with swift criticism for its relatively low resettlement number, including that from the IRC, which said the U.S. should accept 65,000 Syrians. Democratic presidential candidate Martin O'Malley has also said the U.S. should resettle 65,000.
Miliband, who was Britain's foreign minister from 2007 to 2010, told the BBC that Britain's pledge to resettle 20,000 Syrians from refugee camps in the countries bordering Syria over five years is also inadequate.
More than 4 million refugees have fled Syria since 2011, with nearly 2 million living in Turkey, 1 million living in Lebanon and 680,000 living in Jordan. Millions remain internally displaced inside Syria, at risk of death and serious injury from airstrikes, barrel bombs and persecution by ISIS. On Tuesday, Frontex, the European Union border agency, released new official figures showing that more than half a million migrants and refugees entered Europe in the first eight months of 2015, compared with 280,000 in all of 2014.
Earlier this month, United Nations High Commissioner for Refugees António Guterres said the European Union should accept 200,000 refugees. Based on those numbers, the U.S. should consider resettling 100,000 Syrians in order "to maintain its historic leadership role," Miliband said.
"The U.S. response has not been that of a world leader with refugee resettlement, and we're very committed to the idea that the U.S. has historic responsibilities to live up to," said Miliband, who moved to New York to head the IRC in 2013 after running for leader of the U.K.'s Labour Party and losing to his brother, former Labour Party leader Ed Miliband.
Miliband, who met with refugees and IRC workers on Lesbos on Sunday and Monday, said between 2,000 and 3,000 people a day are transiting through the island, which he calls "the eye of the storm," en route to Northern Europe. On Sunday, 34 people, including four babies and 11 young children, drowned off the coast of the Greek island Farmakonisi after a wooden boat carrying around 130 refugees and migrants sank, German broadcaster Deutsche-Welle reports. Syrians, including families and children, make up around half of the arrivals on Lesbos, while another 15 to 20 percent are from Afghanistan, Miliband said.
"The story that sticks in my mind is the man who said, 'Aleppo is hell. What alternative is there?' I think there's a degree of desperation, there's a high level of fear, there's also some elation when they finally make it onto dry land," he said. "But they're exhausted and they are elated and they're frightened all at the same time."
The island has managed to clear the backlog of refugees waiting to be transferred to mainland Greece, said Miliband. Instead of waiting a week, refugees are now registered within 24 hours. Most of the refugees he spoke with want to go to Germany or Sweden, he said.
Miliband's trip also coincided with the announcement from Germany that it would reinstate border controls to slow down the number of arrivals to its borders after receiving 13,000 refugees and migrants in one day over the weekend. Meanwhile, Hungary imposed strict border controls on Tuesday that make it a criminal offence to cross into the country illegally. Austria, Slovakia and the Netherlands have also set up border controls in the past few days.
"Fences are not going to solve this problem," said Miliband. "The point about fences is that it enriches criminal gangs that spend more money and charge more money to get round or over or under the fences."
During an emergency meeting on Monday, European Union interior ministers failed to come up with a plan that would force other EU countries to resettle 120,000 asylum seekers. The ministers did agree to take in 40,000 refugees living in the entry points of Italy and Greece, but countries would accept them only on a voluntary basis, The New York Times reports.