U.S. Restaurants, Bars Bill Customers COVID-19 Surcharge to Stay Afloat Amid Pandemic
A few restaurants and bars have been criticized on social media for including a COVID-19 surcharge on their bills.
While some social media users accused the restaurants of exploiting a pandemic for extra money, the restaurant owners say the charges are necessary to pay rising food costs and make up for income lost from their shuttered dining rooms during the ongoing epidemic.
Last Thursday, Goog's Pub & Grub in Holland, Michigan began adding a $1 "COVID Charge" on customer receipts to be transparent about the eatery's rising operational costs.
"When this started, we were running about $50 for a case of burgers and then it was up to $55, $62, $66, $72 last week and they just told me next week it'll probably be up to $88 a case, so almost double what we were paying," said Goog's owner Brad White.
"Other places are just raising their price and not telling you," White added. White thinks other restaurants will raise prices too when they adjust to the new reality of increased costs from food industry suppliers.
Since COVID-19 has shut down many restaurants' dine-in service—reducing income from bar and dessert sales—he has had to reduce his restaurant staff from 35 employees to 16. He raised their hourly wage from $6 to $10, but the reshuffling of resources and increased costs have made it harder for his business to succeed.
Palmer White, Goog's general manager, said the COVID-19 charge isn't to make the restaurant wealthy, and he adds that people have generally been supportive and "very understanding" of the restaurant's new charge.
"We just want to see our staff is taken care of, make sure people are fed, make sure our lights are on," he said.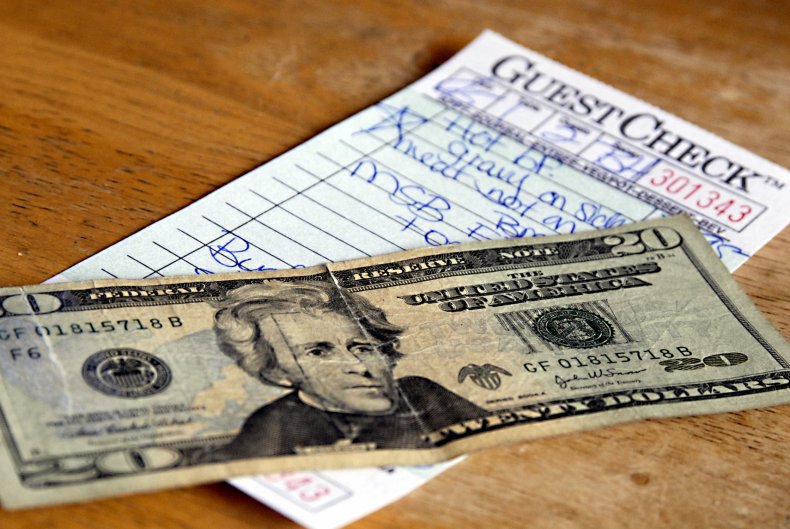 Another restaurant, Kiko Japanese Steakhouse in West Plains, Missouri, wrote in a Monday Facebook post that people have been harassing their employees since an image their restaurant's receipt went viral. The image upset some social media users because of its inclusion of a $2.19 COVID-19 surcharge.
"Please understand we are not doing this to take advantage of you guys!" the restaurant wrote in its Facebook post. "We are doing this hoping we can adjust the surcharge weekly rather than just raise all of our prices on our menu."
The steakhouse explained that the surcharge occurred due to increased prices from their supplier of meat, poultry, seafood and produce.
"Almost all [local restaurants] here getting our supply through the same supplier. So why are we the one that being harassed??!! Stop calling names to my employees!!" the post implored readers.
Nevertheless, the steakhouse pledged to remove the surcharge from its system and apologized for deciding to raise its prices instead.
Newsweek reached out to Kiko Japanese Steakhouse for comment. This story will be updated with any response.