Why U.S. is Revealing Location of Bradley Fighting Vehicles to Russia
The U.S. military might be sharing details and photographs of military shipments leaving for Ukraine to publicly show that Washington's commitment to Ukraine is real, according to a military analyst.
On Monday, Twitter account OSINTtechnical shared images of Bradley Fighting Vehicles being loaded onto the ARC Integrity in North Charleston, South Carolina. The account linked to the Defense Visual Information Distribution Service, which is backed by the Department of Defense.
Social media users questioned the level of detail shown about the transportation of the vehicles, with one commenting: "Fancy showing the actual ship."
"[Please] delete this picture—too much intel being provided," another wrote. Another Twitter user, however, posted that it had "been done before so it's not really that big of a deal."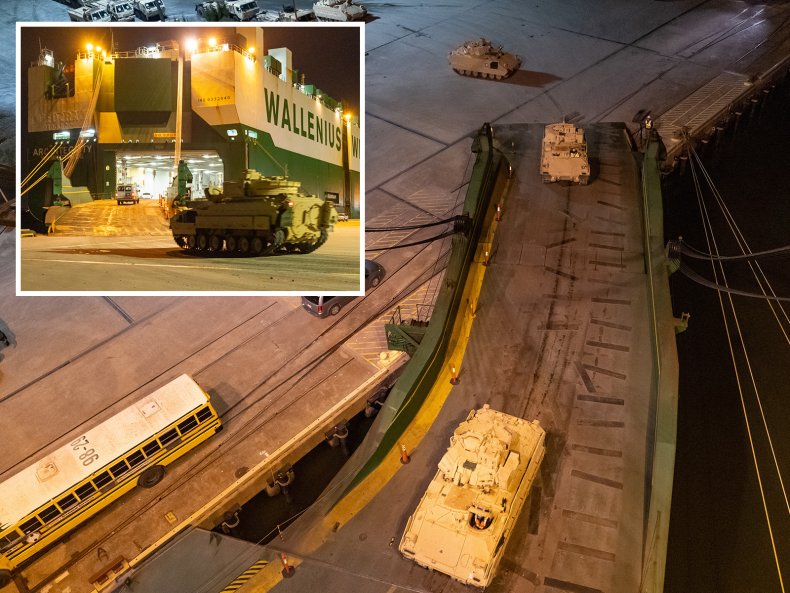 Retired Colonel Mark F. Cancian, of the Center for Strategic and International Studies think tank, suggested that there might have been a rationale behind releasing the photographs and information into the public domain.
"I think the purpose is to show that the U.S. commitment is real and that the shipment of Bradleys is moving forward, even if it will take time for the training to complete," he told Newsweek.
"The Bradleys will not go directly to Ukraine but will go to a European port, then by rail to the staging base in Poland, then handed over to the Ukrainians," Cancian added.
OSINTtechnical is an independent Twitter account run by a user who says they are an analyst at the Center for Naval Analyses think tank, but who says the views expressed are their own.
Retired Colonel Hamish de Bretton-Gordon, who has commanded U.K. and NATO chemical, biological, radiological and nuclear defense (CBRN) forces, said the information about the transportation being public was a "double-edged" move.
He told Newsweek it "sends a great message to the Russians that all this kit is coming," but added that it could pose issues for operational security around the delivery.
"Once the decision's been made, one would expect things to go very quiet," he argued. "We don't really want to be telling the enemy exactly what we're doing and where our vehicles are going."
The ARC Integrity, carrying the Bradleys, is expected to arrive in the English port of Southampton on February 7, according to tracking data.
The Defense Department said on January 5 that Bradley Fighting Vehicles would be featured in military aid destined for Ukraine. Bradley Fighting Vehicles are used to transport infantry in combat areas, and the U.S. has about 4,000 vehicles, according to Reuters.
The tracked, medium-armored vehicles are operated by a three-person crew, and are fitted with a 25mm gun. There are several variants of the Bradleys, and the fully digital M2A4 Bradley can transport up to seven troops in a combat zone, according to the U.S. Army. They can also be equipped with a TOW missile system to target tanks and a 7.62 coaxial machine gun.
Pentagon Press Secretary Air Force Brigadier General Pat Ryder said the armored vehicles offer a "level of firepower" and protection that "will bring advantages on the battlefield."
Army Lieutenant Colonel Rebecca D'Angelo of the 841st Transportation Battalion said the Bradley will enhance Ukraine's ability "to provide forward advancement in the battlefield and regain lost grounds, by having equipment that matches or exceeds what the Russians have."
On January 6, the Defense Department said 50 Bradley Fighting Vehicles would be part of a new military assistance package worth more than $3 billion.
The Bradleys will be sent with 500 TOW anti-tank missiles and 250,000 rounds of 25mm ammunition, the department added.
On January 25, an updated Defense Department count showed that 109 Bradleys had been earmarked for Ukraine since the start of the Biden administration.
Update 2/7/23, 4:20 a.m. ET: This article was updated to clarify that OSINTtechnical is a Twitter account run independently from the Center for Naval Analyses think tank.
Update 2/2/23, 12:38 p.m. ET: This article was updated to add comments by retired Colonel Hamish de Bretton-Gordon.