Is the U.S. Right to Seek Tougher North Korea Sanctions? Even Nikki Haley Does Not Seem to Think They'll Work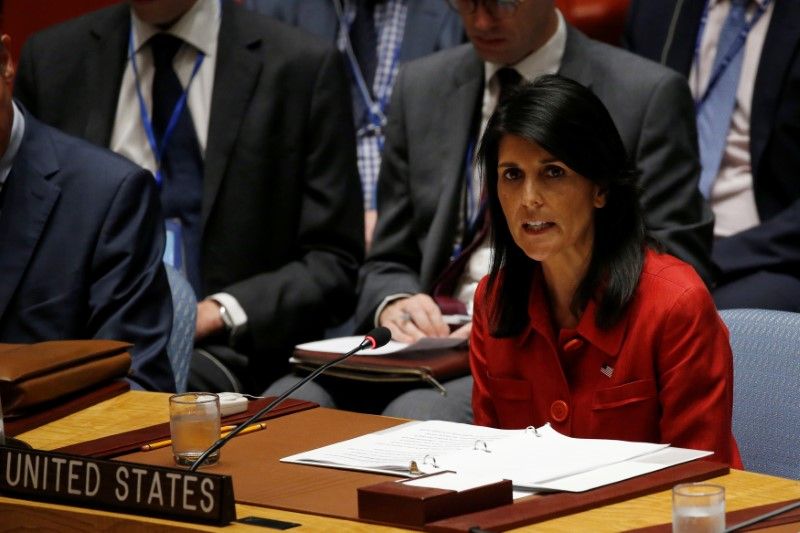 The U.S. ambassador to the United Nations says she backs further sanctions against North Korea even though she believes they may not work.
"Do we think more sanctions are going to work on North Korea? Not necessarily," Ambassador Nikki Haley told the American Enterprise Institute think tank in Washington, D.C., on Tuesday. "But what does it do? It cuts off the revenue that allows them to build ballistic missiles."
The U.S. is seeking to increase diplomatic pressure on the rogue state following last weekend's nuclear test, the most recent conducted by the regime of Kim Jong-Un. The sanctions imposed on North Korea by the international community are aimed at pressuring Pyongyang to give up its nuclear weapons.
Experts have questioned how much impact they are likely to have on the state's nuclear program.
The U.S. claimed sanctions imposed unanimously by the 15-member U.N. Security Council in August would cost North Korea around $1 billion annually.
The sanctions prohibited export of North Korean coal, iron, iron ore, lead, lead ore and seafood—industries accounting for about a third of all of North Korean exports. They also prohibited new foreign investments in North Korean ventures, and cap the number of workers the country can send abroad.
August's sanctions did not target North Korea's oil imports, vital for its economy to function, or completely ban North Korea exporting labor, with remittances sent home from North Korean workers vital for funding its nuclear program.
Warning that North Korea is "begging for war," the U.S. is reportedly pressing Russia, China and other security council members to cut off oil and other fuel supplies to North Korea, in a move that could devastate North Korea's economy.
Like all previous rounds of sanctions imposed on the state, the role played by Russia and China will be key.
Most of North Korea's oil imports come from Russia and China. Industry sources told Reuters in April that China supplies about 520,000 tonnes of crude a year to North Korea through an old pipeline. Bilateral Russia-North Korea trade doubled to $31.4 million in the first quarter of 2017 from a year ago, Reuters reported in August. Most shipments were oil, coal and refined products.
"If the Chinese and the Russians both would be prepared to limit, or suspend outright, oil deliveries to the north, that's a very consequential step. It may have a much, much more potent effect than all of these issues related to sanctions," Jonathan Pollack, a senior fellow at Brookings Institution, told CNBC.
But Beijing is believed to be unwilling to court the instability on its border that further economic pressure on North Korea could provoke—potentially opening the way for U.S.-backed South Korea to incorporate the entire Korean peninsula. President Vladimir Putin of Russia Wednesday signaled his opposition to further measures, called sanctions imposed on North Korea "useless" after a BRICS summit in China Tuesday.
Emil Dall, Research Fellow in Proliferation and Nuclear Policy at the Royal United Services Institute in London, warned of the unexpected consequences of such a sanctions package.
"We have to remember that sometimes complete isolation may not result in the policy outcomes that they think they will. I don't think complete isolation is going to work in our favor in this instance," he told Newsweek, calling for existing sanctions to be properly enforced before a new round is added.
"You can be worried about this overreaction by North Korea if they feel backed into a corner where something so vital to their daily operation is cut off," he said.
China has cast doubt on whether oil import sanctions would curtail North Korea's military belligerence.
"If China completely cuts off the supply of oil to North Korea or even closes the China-North Korea border, it is uncertain whether we can deter Pyongyang from conducting further nuclear tests and missile launches," said Communist Party-linked Global Times in an unsigned Sunday editorial.
Putin ON Wednesday said cutting off oil supplies to North Korea would be more likely to affect the country's civilian population.
"Without political and diplomatic tools, it is impossible to make headway in the current situation; to be more precise, it is impossible," Putin said during a joint news conference with President Moon Jae-in of South Korea
Dall said sanctions had to be accompanied by negotiations in order to be effective, drawing a comparison with Iran, where economic pressure was accompanied by intensive behind-the-scenes negotiations ahead of the country's agreement to allow increased international inspection of nuclear sites in 2015.
"That [Iran sanctions] was accompanied by a structured and clear negotiating process on the side and that is not what we are seeing even the slightest suggestion of in the North Korean situation—that additional sanctions would be accompanied by another diplomatic tool—and I find that problematic," he said.