U.S., Russia Agree Life Has Gotten Worse for Syrians, But Blame Each Other
The United States and Russia both bemoaned a worsening humanitarian crisis over the past year in Syria, but ultimately blamed one another for fueling the deterioration in the country's living conditions during a United Nations session on Monday.
Citing U.N. figures, U.S. Secretary of State Antony Blinken told a virtual U.N. Security Council that "13.4 million people—two in every three Syrians—are in need of humanitarian assistance" and "12.4 million people in Syria are food insecure."
He then accused the Syrian government of targeting a hospital last week and its top military partner, Russia, of having struck that same day "near the only U.N.-authorized border crossing with Syria, killing a civilian, destroying humanitarian supplies, putting the most effective way of getting aid to the Syrian people at risk."
Blinken argued that the needs of the Syrian people could not be met by Syrian President Bashar al-Assad, and urged the U.N. Security Council to immediately reopen two additional border crossings. Both were closed last July after a resolution failed to pass due to vetoes from fellow permanent members Russia and China, who argued the moves violated the Syrian government's right to control its own international boundaries.
"Some may argue that reauthorizing humanitarian crossings and providing cross-border aid would in some way infringe on the sovereignty of the Syrian regime," Blinken said Monday. "But sovereignty was never intended to ensure the right of any government to starve people, deprive them of lifesaving medicine, bomb hospitals, or commit any other human rights abuse against citizens."
The vetoes from Moscow and Beijing last summer came shortly after Washington passed a set of intensive sanctions geared toward putting pressure on Assad's administration for alleged human rights abuses. In his remarks Monday, however, Russian Deputy Foreign Minister Sergei Vershinin argued these restrictions were not only unlawful but had a "dramatic negative impact on Syrians themselves" as well as international agencies.
He also claimed to have received information "that American convoys carry oil and grain out of Syria into Iraq, every day."
"It's clear that while Syria is suffering from a severe lack of goods, including bread and oil," Vershinin argued, "there's a tide of contraband of Syrian natural resources leaving the U.S.-controlled area beyond the Euphrates and, in parallel, there's an economic suffocation of the country as a result of unilateral sanctions, which is a form of collective punishment."
As for the border crossings, Vershinin noted that they were located in northern, northwestern and northeastern territories outside of the control of the Syrian government, so responsibility "is borne by the de facto occupiers of the country and the local authorities." Groups in the northwest, he pointed out, include the Hayat Tahrir al-Sham and Hurras al-Deen militant organizations.
In the south, where the Al-Rukhban refugee camp exists in a 55-square-kilometer (21-square-mile) zone controlled by the U.S. military and partnered rebel groups around the Al-Tanf garrison, Vershinin criticized "Washington strange logic" that "assistance should be provided from Damascus but not across the border with Iraq, which is the direct and swiftest route."
The U.S. military also conducts operations against the Islamic State militant group (ISIS) in neighboring Iraq, but the route from Iraq to Al-Tanf, according to Vershinin, "is used to supply the American base" at Al-Tanf rather than the local population.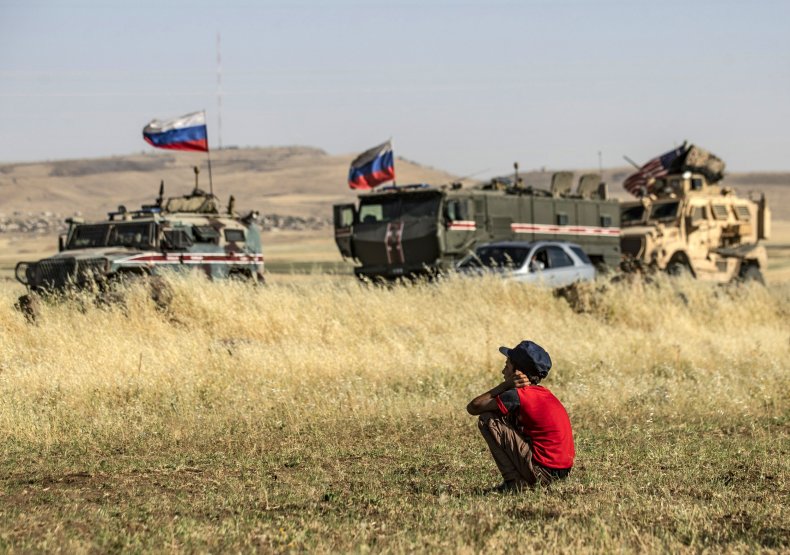 Washington and Moscow are both active against ISIS in Syria, but have waged separate campaigns with divergent goals.
The U.S. sponsored efforts to oust Assad in the early years of the civil war that erupted between the government and opposition forces a decade ago. But as the conflict evolved, it shifted its focus against ISIS in 2014 and began backing a mostly Kurdish militia known as the Syrian Democratic Forces in 2015. Today this group holds much of northeastern Syria.
Also in 2015, Russia joined the war in support of the Syrian government, and that support has allowed Assad and his allies, including militias backed by Iran, to regain control of much of the country. Stretches across the north and northwest, especially Idlib province, remain in the hands of insurgents, including Turkey-backed rebels and jihadi groups.
While the conflict calmed somewhat over the past year as a result of fragile ceasefires negotiated between Moscow and Ankara, the economic crisis deepened as neighboring Lebanon entered a financial meltdown and both countries were caught in the throes of the COVID-19 pandemic. A U.N.-backed peace process backed largely by Russia, Turkey and Iran struggled to establish a political solution, and Syria's humanitarian conditions continue to decline.
The administration of U.S. President Joe Biden, who served as vice president when the U.S. began backing rebel groups in Syria, has also backed a political solution to the decade-long conflict, but has accused Moscow of disrupting efforts to find peace in an effort to improve Damascus' leverage in talks.
"The extremely dire crisis and humanitarian crisis in Syria is really a direct result of that political impasse and the continued blocking of life-saving assistance by the Assad regime, their systemic corruption and importantly their economic mismanagement," U.S. Bureau of International Organization Affairs Senior Bureau Official Erica Barks-Ruggles told a press briefing Friday, "and it's imperative for the regime and its supporters to engage seriously in a political dialogue."
But Moscow argues that Washington and its Western allies represent a barrier to reconciliation and reconstruction as a result of their political, economic and military policies.
"We sincerely hope that the new administration will try to rethink previous strategies on Syria," the Russian embassy in Washington told Newsweek earlier this month. "It is important to cease the cruel sanction campaign against the Syrian people and put an end to illegal military presence in the Arab Republic."
The embassy also raised the possibility of collaboration with the U.S., but only "in providing humanitarian assistance to those in need, countering terrorism and pushing forward political process with a common goal to achieve peace."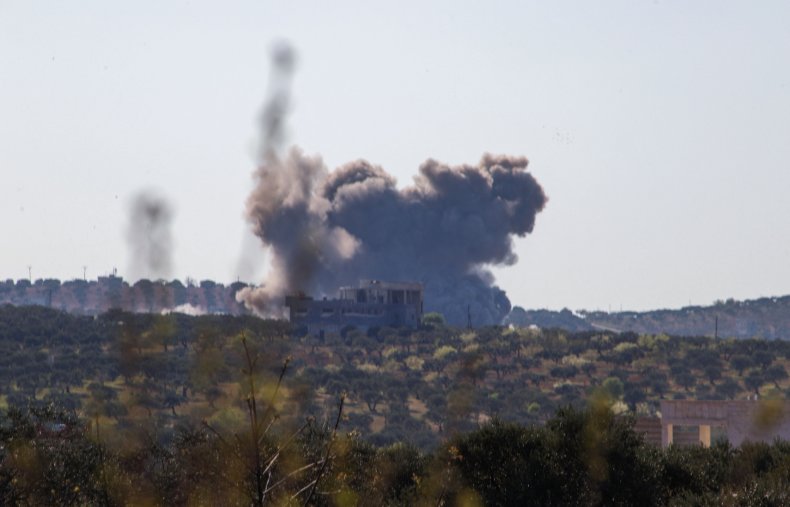 China, a strategic partner of Russia, also weighed in on the war in Syria during Monday's U.N. Security Council session, with Beijing's representative echoing a number of Moscow's positions.
"Ten years of protected conflict in Syria have brought untold suffering to the country and its people, many issues in the current situation in the country warrant deep reflections," Chinese permanent representative to the U.N. Zhang Jun said. "The facts have proven time and time again that the respect for national sovereignty and territorial integrity is an international norm that must be upheld."
He argued that "a political solution is the only viable way to address hotspot issues" and railed against any uninvited efforts to direct events within Syria from abroad.
"Supporting the path of development chosen by the people of the world that suits their conditions is the fundamental way," he said. "Regime change is not an option, nor will it work. Unilateral sanctions can only aggravate the situation. External military interference can only cause greater disasters and serious consequences."
The answer, Zhang said, is for the international community to "adopt a holistic approach integrating political, security, economic and humanitarian aspects to jointly promote peace security and development."
Syria, already suffering mass shortages of resources, has been forced to ration fuel recently as a result of the recent, days-long blockage of the Suez Canal by an errant container ship. Iran has reportedly used the strategic route connecting the Red Sea to the Mediterranean to supply Syria with oil, though the U.S. and European Union have sought to block such shipments they consider to be violations of their sanctions against Damascus.