U.S. and Russian Rescue Teams May Come Face to Face After Turkey Earthquake
As the international community draws together to support Turkey in the wake of Monday's catastrophic earthquake, it has made for some strange bedfellows.
Nations engaged in fraught relationships with one another—or more specifically with Russia—are now set to be on the same side as they work together to help the stricken country.
More than 5,000 people have been confirmed dead so far after an area near the Turkish-Syrian border was struck by a 7.8 magnitude quake in the early hours as people slept, with many crushed in their beds when their homes collapsed.
Other victims remain trapped beneath the rubble of ruined buildings and are now at risk of freezing to death in the snowy conditions as they wait for rescue.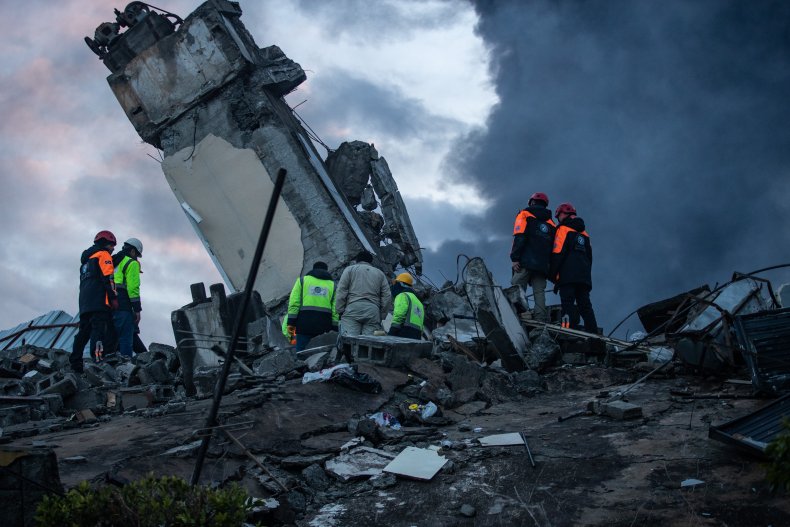 The world watched in horror as footage emerged laying bare the scenes of devastation, and countries have fallen over themselves to offer aid and rescue teams. Leaders from around the world have reached out to the Turkish government.
The U.S. is among those that have pledged support. President Joe Biden said: "At my direction, senior American officials reached out immediately to their Turkish counterparts to coordinate any and all needed assistance. Our teams are deploying quickly to begin to support Turkish search and rescue efforts and address the needs of those injured and displaced by the earthquake." Rescue teams from fire departments in Los Angeles, California, are among those being sent to the area.
Meanwhile, Russia's President Vladimir Putin promised to send Russian teams to both countries hit by the earthquake, during telephone calls with Syrian President Bashar al-Assad and Turkey's Recep Tayyip Erdogan, according to broadcaster Al Jazeera.
The Kremlin released a statement saying 300 troops already in Syria were helping with rescue efforts and added: "In the nearest hours, rescuers from the Russian emergency ministry will take off for Syria. Bashar al-Assad gratefully accepted this offer." It went on to add: "The Turkish president warmly thanked Vladimir Putin for such a prompt and sincere reaction and said that he was giving instructions to the competent authorities of the country to accept the help of Russian rescuers."
Turkey's acceptance of both Russian and U.S. help means teams from both countries may come face to face on the ground, as they work together for a common purpose.
Newsweek has reached out to the U.S. State Department and Russia's Foreign Ministry for further information and comment.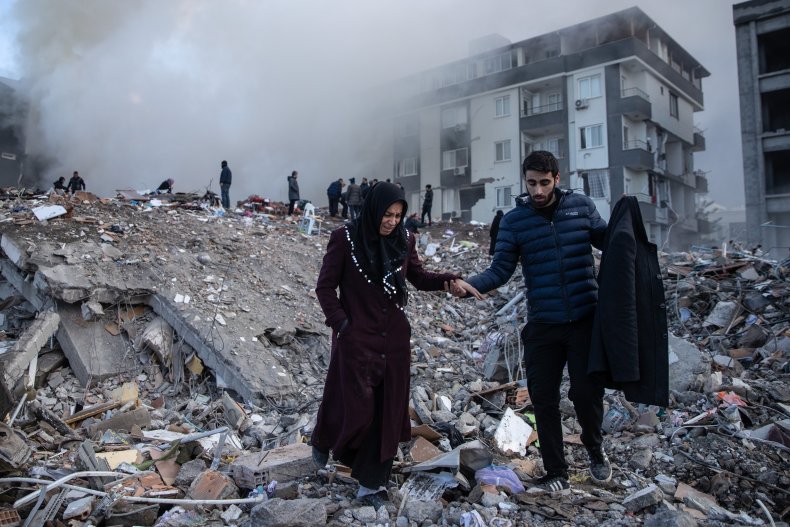 Russia intervened militarily in the Syrian civil war in 2015 and still has forces based in Syria. The area of northern Syria most affected by the earthquake, where there are still a few rebel-held pockets, was badly hit by aerial bombardment during the civil war.
Russia's relationship with the West sank to new lows after its invasion of Ukraine in February last year and amid the war that has ravaged the country ever since. In response, the U.S. has hit Russia with economic sanctions and has been providing financial aid and military equipment to Ukraine.
Despite the Biden administration's commitment to help Turkey after this week's devastating earthquake, the question over aid for Syria has proved a thornier issue. Western nations have remained largely silent on Syria's plight and are instead focusing their efforts on NATO ally Turkey.
The U.S. has ruled out providing assistance to the Syrian government, making a distinction between helping the people of that country and its rulers. State Department spokesperson Ned Price told reporters on Monday that "the U.S. is a partner to the people of Syria" and has "provided more humanitarian assistance to the people of Syria than any other country going forward."
But he added that "it would be quite ironic—if not even counterproductive—for us to reach out to a government that has brutalized its people over the course of a dozen years now—gassing them, slaughtering them, being responsible for much of the suffering that they have endured... Instead, we have humanitarian partners on the ground who can provide the type of assistance in the aftermath of these tragic earthquakes."
In Biden's statement outlining the help he had authorized for Turkey, he added: "U.S.-supported humanitarian partners are also responding to the destruction in Syria."
Nevertheless, the Syrian government has other allies, including Russia, which has pledged more substantial support. China has also pledged to send emergency aid. And other Arab states—including Iran, Algeria, Egypt, and Tunisia – have also vowed to help.
By Tuesday, some 3,419 deaths had been confirmed across a string of provinces in Turkey, with a further 1,602 fatalities across the border in Syria, and thousands more have been injured by the quake, which was also felt in countries as far away as Cyprus, Egypt and Lebanon.