U.S.-Russia Relations Worse Than During Cold War, Former CIA Moscow Chief Says
Relations between the United States and Russia may be worse than they were during the Cold War, and Russian President Vladimir Putin is intentionally stoking divisions within the U.S. political system to undermine American democracy, according to a former top CIA official.
Dan Hoffman, who previously served as station chief for the CIA in Moscow, claimed the two superpowers were very much at risk during the tense nuclear standoff that dominated the global stage for most of the 20th century, but that the countries could be "in a worse place today," according to an interview with Australian outlet ABC released Sunday.
"As dangerous as things were between our countries during the Cold War, as much risk as there was of conflict, you might argue that we're in a worse place today," Hoffman said.
Hoffman noted the now infamous Trump Tower meeting in June 2016, when Donald Trump Jr., the president's eldest child, along with Trump's son-in-law Jared Kushner and former campaign manager Paul Manafort, met with a Kremlin-linked lawyer in an attempt to gain opposition research on Hillary Clinton.
To Hoffman, Putin intended to at least create the appearance that the Trump campaign was in bed with the Russians and thus sow discord in the U.S.'s democratic processes.
"I think what Vladimir Putin was thinking is the best way to soil our Democratic processes, link the Trump campaign in some conspiratorial way, because it's Russia, back to the Kremlin," Hoffman said.
Hoffman explained that Putin, a former KGB and intelligence officer, wanted knowledge of the meeting to reach the American public.
"It wasn't meant to be a clandestine operation; that's the last place he would ever do that. There's too much security, too much press, too many people there," Hoffman said.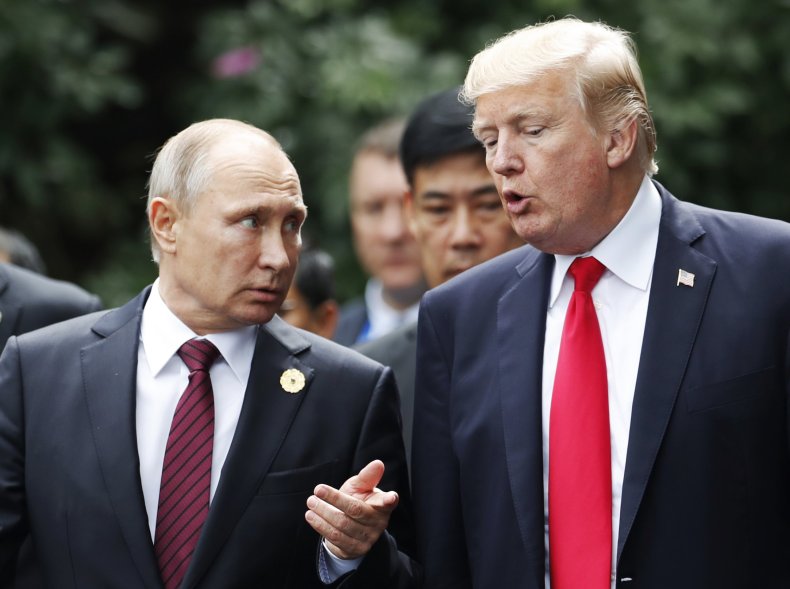 Hoffman continued: "I see the full spectrum of Russian intelligence operations, and frankly, if the media can find something that Russia did, like the meeting at Trump Tower, then it was meant to be found."
President Trump has repeatedly denied any collusion took place between his campaign and Russia, but his critics have pointed to the Trump Tower meeting as evidence of such collaboration, and the nation remains divided under his administration.
Trump has not helped by oftentimes avoiding criticism of Putin and Russia. He also recently told reporters that Russia should be allowed back into the G-7, a global economic coalition that kicked the Russians out in 2014 after its annexation of Crimea.
Further, Trump reportedly wants to plan a summit with Putin on the heels of his historic sit-down with North Korea's Kim Jong Un. The president's hopes stand against those of some of his top advisers, but Trump is pushing for a meeting, which would be the third since he took office 18 months ago.