As the United States' longest-ever war ends with a military withdrawal in the face of a nationwide Taliban advance, uncertainty over Afghanistan's future stability and implications for neighboring Central Asia have left both the U.S. and Russia scrambling to demonstrate their commitments to the strategically located region.
But for Moscow any forays by Washington here, especially in the military realm, represent a potential threat to one of the last remaining blocs of Soviet-era influence, as many Eastern European nations have shifted toward NATO over the past three decades.
Now, Russian officials are carefully eyeing the next U.S. moves.
"Afghanistan and the wider Central Asian region constitute part of Russia's 'southern underbelly,' a term that underscores the sense of vulnerability it feels along its southern border," Tracey German, a reader at the Defence Studies Department at King's College London who specializes in Russian foreign and security policy, especially across the post-Soviet space, told Newsweek.
She said that the immediate risks to the region include drug trafficking and a rise in militant activity, both of which have the potential to be exacerbated should a failure to find peace among Afghanistan's rival parties devolve into a civil war. Both the internationally recognized government in Kabul and the Taliban are seeking to downplay that likelihood.
Unlike the U.S., Russia's proximity to the Afghan conflict presents an intrinsic issue for the country, especially given the history of unrest in its own majority-Muslim republics, such as Chechnya.
But the more intangible hazard of allowing a Western footprint to take hold in the region has the Kremlin shoring up its own well-established links to Central Asia.
"Russia has strong historical, cultural, economic and societal ties with the Central Asian region and is seeking to reassert its influence there, to counter the influence of actors from outside of the region, particularly the U.S.," German said.
"It views the region as its own strategic backyard," she added.
In this backyard are the sovereign nations of Kazakhstan, Kyrgyzstan, Tajikistan, Turkmenistan and Uzbekistan, each with its own unique perspective and interests on how to preserve national and regional security.
The latter three border Afghanistan directly, and view the situation next door with the greatest urgency. Only Kazakhstan borders Russia directly. Both Kyrgyzstan and Tajikistan host Russian military bases, though the two nations threatened regional stability earlier this year with deadly border clashes fueled by a longstanding water dispute.
These bases serve an important, multi-faceted role.
"Whilst Russia is clearly concerned about the potential for destabilization in Central Asia as a result of spillover from Afghanistan, the uncertainty affords Moscow the opportunity to justifiably strengthen its foothold in the region," German said.
This foothold is important not only for the projection of military power but clout as well within Russia's periphery.
"Russia's military bases outside of its own sovereign territory are not only a way to contribute to stability in the region," German said, "they also enable Russia to maintain its influence."
As such, she said Washington finds itself "on the backfoot" with Moscow, which is far ahead in any hypothetical race for influence in Central Asia. Yet the U.S. appears to be discussing the viability of establishing a military presence in Tajikistan and Uzbekistan.
But that's not to say the U.S. does not have its own advantages in engaging the region.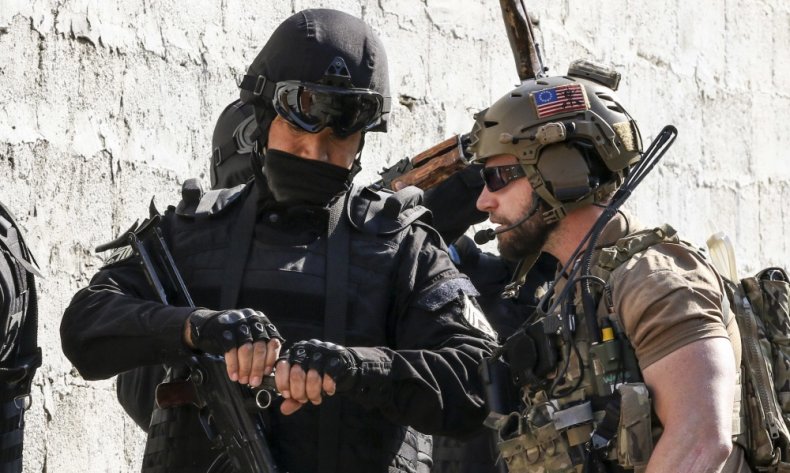 A Great Game
Marat Mamadshoev, chief editor for Tajikistan at the Institute for War and Peace Reporting, told Newsweek that competition between the U.S. and Russia in this part of the world is nothing new.
"This race for influence has never actually stopped," he said.
In a region marked historically by outside influences, such as the ancient transcontinental Silk Road chartered by China, the Muslim conquest, the Mongol invasion and "the Great Game" fought between the Russian and British empires during the 19th-century colonial era, Afghanistan and Central Asia are long accustomed to serving as the stage for power struggles among leading nations.
For the U.S., the region first became a foreign policy priority as the Soviet Union attempted to expand its Central Asian stronghold into Afghanistan, where CIA backing proved key for mujahideen that ultimately ousted the communist administration in the late 1980s and early 1990s.
Washington was again compelled to act after Al-Qaeda, based then in the Taliban-led emirate that emerged in Afghanistan, began to attack U.S. interests worldwide, most infamously through the 9/11 attacks that drew the U.S. and select allies to intervene in 2001.
The early days of what would be a two-decade conflict saw initial cooperation between Washington and Moscow, which even acquiesced to the reality of limited U.S. and allied NATO presence in Kyrgyzstan, Tajikistan and Uzbekistan.
For its part, massive yet sparsely populated Kazakhstan has always remained firmly within neighboring Russia's sphere of influence, while the secretive and natural gas-rich Turkmenistan to this day remains staunchly neutral in its international dealings.
As the war in Afghanistan dragged on, however, both local and regional patience wore thin in Central Asia, and the last of the Western troops left the region in 2014. But facing renewed fears of blowback as Afghan security forces flee across borders from Taliban advances, Central Asia is again looking for external assurances.
Though the Taliban claims it has forsaken the notion of seeking to expand beyond Afghanistan's borders, and remains officially averse to allowing other groups to again conduct major cross-border activities, the situation remains unpredictable, as the group expands its control to levels not seen in 20 years.
And threats lurking within the Central Asian states are watching regional developments with great interest.
"In my opinion, the most dangerous threat is the export of fundamentalist (extremely conservative) ideology," Mamadshoev said. "Central Asia is now home to many extremist groups dissatisfied with the secular structure of the state. Taliban successes become for them a source of inspiration and example."
The question then becomes what Washington and Moscow each has to offer.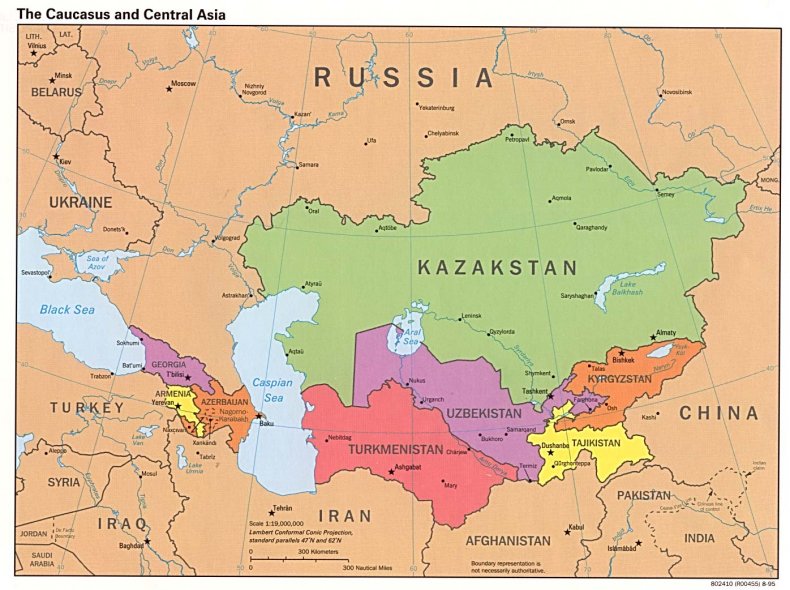 Hard and Soft Power Plays
Russia's military presence constitutes a hard-power asset for the region, but Mamadshoev said the U.S. excels in soft-power diplomacy.
"Both sides are trying to use the mechanisms of 'soft power,' but the United States is doing better," he argued. "American soft-power institutions have more experience and consistency in their work. They are more transparent and democratic. Russian institutions of 'soft power' are more corrupt."
He outlined a dichotomy in much of the region between younger, more educated people who are more open to U.S. overtures and middle-aged and older generations, who remain largely in favor of Russia.
Mamadshoev said that neither the U.S. nor Russia, appear to "have a coherent, long-term policy" toward a region that he argued had been largely forgotten among world powers.
And to what degree Washington can transform its burgeoning soft power-paved inroads into hard power outposts remains to be seen.
A State Department spokesperson told Newsweek that "the United States has a strong tradition of partnering with Central Asian countries on security cooperation-related issues."
These include initiatives pursued "both bilaterally and via regional and multilateral fora, such as the C5+1 diplomatic platform, Organization for Security and Cooperation in Europe (OSCE), the North Atlantic Treaty Organization's (NATO) Partnership for Peace program, and the United Nations."
The spokesperson stressed the ongoing nature of U.S. relations in the region.
"We will continue ongoing diplomatic and military engagements with our Central Asian partners," the spokesperson said. "These engagements include the recent Eighth U.S.-Tajikistan Annual Bilateral Consultations as well as visits to Washington led by the Uzbekistan and Tajikistan Foreign Ministers."
But as Moscow protests against the potential for U.S. bases in the region, a complaint that Russian Deputy Foreign Minister Sergei Ryabkov said Tuesday had been expressed directly during President Vladimir Putin's summit last month with U.S. counterpart Joe Biden, Washington said it also has made its position clear.
"We have been open and transparent with the Russians regarding U.S. efforts to support a secure and stable region," the State Department spokesperson said.
Despite their diverging views on a wide range of foreign policy issues, the U.S. and Russia have found enough common ground on Afghanistan to establish an "extended troika" alongside the world's other leading power, China, and fellow regional stakeholder Pakistan to discuss the conflict.
Throughout this format, the State Department spokesperson said the U.S. has coordinated with these three countries "on a regional consensus approach to the Afghanistan peace process that includes a shared commitment to a stable Afghanistan, from which terrorism is not a threat to the international community."
A Long Stay, A 'Hasty' Exit
The Russian embassy in Washington told Newsweek that Russia also supports "consultations with the United States, China and Pakistan on political settlement in Afghanistan within the "extended troika" format."
But Moscow argues that Washington has failed to live up to commitments made during such talks.
"In April we agreed that the withdrawal of foreign troops should be conducted in a responsible manner, ensure a steady transition, the peace process should not be disrupted, no fights or turbulence shall occur in that country," the embassy said.
"Unfortunately, that is not the case," the embassy added. "The situation is rapidly deteriorating. We attribute it to the hasty pull-out of the U.S. and other NATO countries' troops."
Moscow has long been critical of Washington's approach to Afghanistan, which Russian Foreign Minister Sergey Lavrov said Tuesday had "failed to do anything" despite a peak force of some 100,000 U.S. and partnered forces established a decade ago.
As the number of foreign forces declined in recent years, Moscow has found fault in the manner in which the international coalition left the war-torn nation.
"Our criticism of the U.S. policy is aimed at encouraging Washington to take a more comprehensive approach on addressing the issues in Afghanistan," the Russian embassy said.
In addition to continuing multilateral talks through mechanisms such as the extended troika, this included direct engagement with Afghan parties, including both the government and the Taliban, whose representatives Moscow has hosted in separate meetings this month.
The Russian strategy has also constituted a firm commitment to the security of Central Asia, where Kazakhstan, Kyrgyzstan and Tajikistan are all members of the mutual defense-oriented Collective Security Treaty Organization.
"We closely monitor the situation in the region and take all necessary measures to strengthen the potential of our allies to prevent and counter external threats," the Russian embassy said.
Discussing the U.S. outreach to the region, Lavrov tempered expectations of the Pentagon finding a new home in Central Asia.
"I don't think anyone is interested in becoming a hostage to such U.S. policy and intentions, and in inviting retaliation," Lavrov said Tuesday.
He also questioned Washington's intentions.
"Most probably, they simply want to ensure their military presence in Central Asia and be able to influence the situation in this region," the top Russian diplomat said. "I believe all parties understand this and will proceed from the commitments that exist in various associations."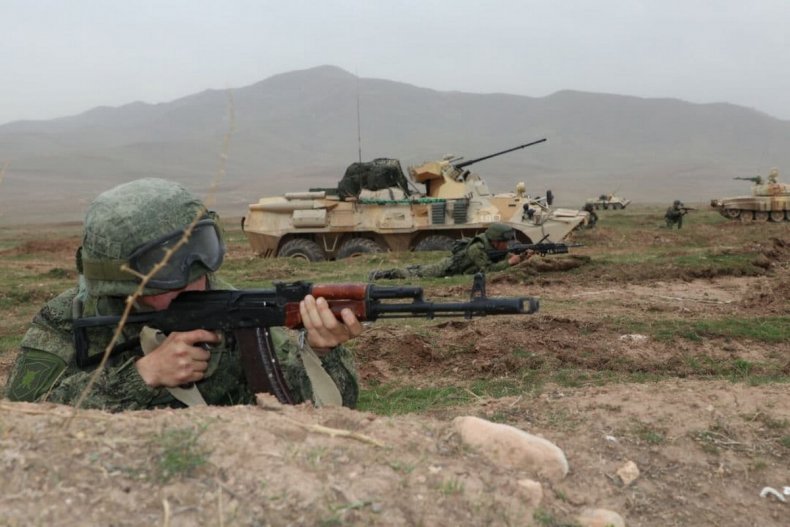 Few Options, Low Priority for U.S.
Also skeptical of U.S. success here was Alex Melikishvili, IHS Markit principal research analyst focusing on the former Soviet republics in the Caucasus and Central Asia.
"The likelihood of the U.S. opening military bases in Central Asia is low at present," he told Newsweek.
His rationale included the existing CSTO commitments of countries like Tajikistan and a 2012 Uzbek law banning foreign military presence, something Melikishvili argued the country would not likely reverse anytime soon for fear of antagonizing Russia.
With little room to maneuver for Washington, Melikishvili argued the notion of "a race for influence" between the U.S. and Russia would be "a vast exaggeration," because "their positions in this region are not evenly matched."
He argued that Washington recognizes the limits of its penetration in a region considered "peripheral" to U.S. foreign policy, with current talks likely focused on resettling Afghan interpreters and other personnel who helped serve the U.S.-led mission there and now fear for their lives.
Beyond such limited issues, he said there were few options for the U.S.
"American influence in the Central Asian region in general is very limited," Melikishvili said. "Successive U.S. administrations viewed the importance of Central Asian countries exclusively through the prism of Afghanistan— namely, from the point of view of how much they can contribute to the stabilization and economic development of Afghanistan."
Whereas the appetite for Russian engagement remains steady, if not more pronounced, in light of recent developments in Afghanistan, he argued the opportunities for the U.S. would only grow slimmer.
"After the U.S. withdrawal," Melikishvili said, "the incentive for these countries to continue to engage in Afghanistan will be greatly reduced."