U.S., Russia Disagree Over Whether They Reached 'Agreement in Principle' on Last Nuclear Arms Treaty
U.S. and Russian officials offered diverging narratives following the conclusion of the latest round of talks aimed at extending a treaty that limits their nuclear weapons arsenals and allows them to monitor one another's stockpiles.
U.S. Special Presidential Envoy for Arms Control Marshall Billingslea announced during a Heritage Foundation event Tuesday that he and his team "believe that there is an agreement in principle at the highest levels of our two governments" on extending the New Strategic Arms Reduction Treaty (New START) "for some period of time."
The deal is set to expire on February 4, a development that would leave Washington and Moscow's nuclear forces unrestricted for the first time in nearly half a century.
The U.S. delegation's view was confirmed to Newsweek by a State Department official.
Shortly afterward, however, Russian Deputy Foreign Minister Sergei Ryabkin disputed that such an arrangement had been reached and, in fact, said the views of the two countries remained incompatible.
"The U.S. position in favor of freezing has long been known to us, it is unacceptable for us. Not because we are against freezing, but because we need to deal with the problems of strategic stability in a complex: we need to deal with launch vehicles, we need to deal with space, we need to deal with missile defense - a system that the United States is creating, it is necessary to deal with their new strategic range conventional carriers," he said in comments sent to Newsweek by Moscow's embassy in Washington.
The Russian diplomat said that the United States would not receive from Russia any
agreement on strategic offensive arms tied to the upcoming U.S. presidential election.
"If the Americans need to report to their superiors something about which they allegedly agreed with the Russian Federation before their elections, then they will not receive it," Ryabkov said.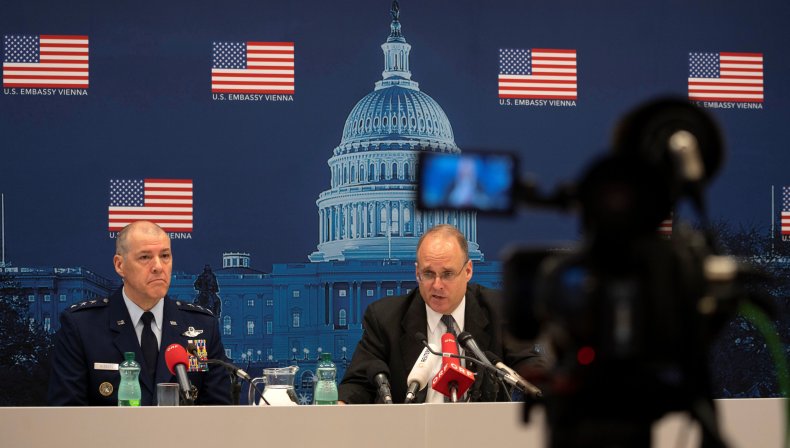 The U.S. and Russia have rarely seen eye-to-eye on arms control in recent years and their disputes have led to the breakdown last year of the 1987 Intermediate-range Nuclear Forces (INF) Treaty, a deal banning the deployment of land-based missiles ranging from 310 to 3,420 miles.
Washington accused Moscow of illicitly fielding a weapon, the Novator 9M729, said to have violated that restriction. Russian officials rejected this and argued that the Pentagon violated the INF in Eastern Europe by maintaining mid-range missile defenses using equipment also found in offensive systems.
As for New START, the U.S. has pushed for a more comprehensive deal involving different kinds of weapons systems and additional countries, especially China, which has argued that its far smaller nuclear arsenal made it irrelevant to such an arms control measure.
Still, President Donald Trump's administration has pushed for Beijing's inclusion, and a spat over differing perceptions of the negotiations emerged July on social media.
Sharing Newsweek's coverage of China warning Japan not to deploy mid-range missiles, Billingslea took the opportunity to bash both Moscow and Beijing.
"China should talk to Russia who destroyed the INF Treaty, deploying battalions of medium range 9M729 missiles (they can't reach US). Where are they deployed? Who are they aimed at? Join Vienna talks; get answers on things like this!" Billingslea tweeted.
The comment elicited a reply from Russia's First Deputy Permanent Representative to the United Nations Dmitry Polyanskiy.
"What a nice way of inviting to talks through false claims! We all know it was US, not #Russia who killed #INFTreaty. #China has no illusions about this. Add US Chinese flags stunt at Vienna talks and the impression is that we are dealing with professional cheaters...#ArmsControl," Polyanskiy responded on Twitter.
His response referred to an earlier social media incident in which Billingslea tweeted out a photograph showing an empty row of seats at a table bearing Chinese flags, claiming Beijing was a "no-show" to arms control talks between Moscow and Washington. Russian newspaper Kommersant cited diplomatic sources saying Russian officials requested no Chinese flags be arranged and that the display was pictured before the discussions began.
Fu Cong, director-general of the Chinese Foreign Ministry's Department of Arms Control, also weighed in on social media.
"What an odd scene! Displaying Chinese National Flags on a negotiating table without China's consent! Good luck on the extension of the New START! Wonder how LOW you can go?" Fu tweeted in response.