U.S. and Russia Find Life-Saving Common Ground in Syria, But Troop Question Remains
The United States and Russia reached a last-minute understanding that prevented the closure of a humanitarian corridor from Turkey to an insurgent stronghold in Syria housing more than a million civilians for another six months, a decision that aid groups say would save lives despite falling short of the desired year-long extension by the U.S. and its allies.
But deep divides remain between Washington and Moscow on the decade-long war in Syria. These include Russia's objections to the continued U.S. military presence in the country, which—like the Bab al-Hawa crossing from Turkey to Idlib—is not coordinated by the central government in Damascus.
Still, U.S. President Joe Biden and Russian President Vladimir Putin struck a positive tone in their call Friday following the United Nations Security Council vote to extend the aid pathway in northern Syria.
"The leaders commended the joint work of their respective teams following the U.S.-Russia Summit that led to the unanimous renewal of cross-border humanitarian assistance to Syria today in the UN Security Council," the White House said in a readout.
The Kremlin also released an account, noting that, "Both sides gave a positive assessment of the coordination of efforts by Russia and the United States on this issue, including in the UN Security Council."
The International Rescue Committee said the decision "will save lives" and Amnesty International called it "essential," but both groups said it "falls short" of the scope of humanitarian needs in this corner of Syria in separate press releases.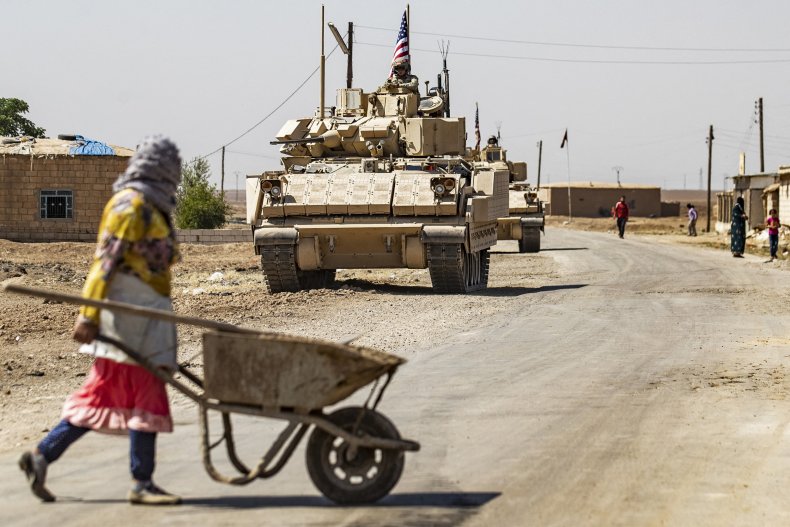 A Potential Path for Cooperation
On a press call Friday, a senior U.S. administration official encouraged reporters to reach out to NGOs to express the impact of the decision and highlighted the urgency with which negotiations that led up to it were pursued by Biden, including at last month's summit with Putin in Geneva.
"For months, we've been concerned about the likelihood, if not a near certainty of a Russian veto of the UN Security Council resolution that allows for humanitarian assistance to be provided across the Syrian border from Turkey," the official said, "and it is our strong sense that only leader-level engagement along the lines that took place at the summit in Geneva would have gotten this extension done and this access secured at a time of severe humanitarian distress."
The official described the outcome as "quite a consequential action and a genuine impact of the president's personal engagement at the summit."
The vote was also welcomed by U.N. special envoy for Syria Geir Pedersen, whose office said in a statement he was "pleased that, after high-level diplomacy, common ground has been found among key states on a vital humanitarian issue" and emphasized the need for further action, on humanitarian issues as well as broader political quarrels on Syria.
"Given the wider challenges facing the Syrian people, the Special Envoy hopes that today's Council decision can be the beginning of building more international unity, in a manner that could help move the Syrian political process forward towards the implementation of Security Council resolution 2254 (2015)," the statement said. "The Special Envoy will continue his engagement with the Syrian parties and all key states to this end in the period ahead."
Russian permanent representative to the United Nations Vasily Nebenzya also hailed "a historic moment" in which, "for the first time, Russia and the U.S. were able to not only agree on something, but present a joint text that has been supported by all our Council colleagues." And he too cast hope for future unity between the two powers on other issues in Syria.
"We expect that this scenario will become a turning point that will not only benefit Syria and the Middle Eastern region," Nebenzya said, "but the world in general."
U.S. Military Presence
His colleague, Kremlin presidential envoy to Syria Alexander Lavrentiev, suggested Washington may even be considering further moves that would be welcomed by Moscow.
"I think that the withdrawal of US troops from Syria may take place at any time," the envoy said in an interview with the state-run Tass Russian News Agency.
Lavrentiev made reference to the ongoing U.S. military exit from Afghanistan, which Biden announced Thursday would be completed by the end of August. He also mentioned Iraq's parliamentary vote last year to initiate the withdrawal of U.S. troops from that country as well, though no timetable has been announced by either Washington or Baghdad.
Nor have plans been announced as to the fate of U.S. troops in Syria.
As in Iraq, the U.S. military mission in Syria is rooted in an international coalition to battle the Islamic State militant group (ISIS), and troops here do so in support of the Syrian Democratic Forces, a mostly Kurdish militia that runs an autonomous administration across the country's northeast. Prior to joining forces with this group in 2015, the U.S. sponsored rebel groups fighting to overthrow Syrian President Bashar al-Assad, who has been accused by Washington and Western allies of mass human rights abuses, including the use of chemical weapons.
Also in 2015, Russia intervened directly in support of Assad's military, which had lost nationwide territory to both insurgents and ISIS. The Syrian leader's other international backer is Iran, which has helped to field a network of allied militias across both Iraq and Syria.
These militias have received wider attention recently amid an ongoing series of rocket attacks on U.S. positions in both countries. Last month, Biden authorized the second set of airstrikes since he was sworn in in January against positions held by these militias along the Iraqi-Syrian border.
U.S. officials have not ruled out further strikes with the aim of deterring these paramilitary forces.
Syria's Relations
Russia, Iran and Syria have all expressed opposition to these attacks and, on Thursday, representatives of Damascus and Tehran reiterated their criticism of the U.S. role in the region.
Syrian People's Assembly President Hamouda al-Sabbagh "indicated during the meeting that the forces of evil and global aggression, led by the United States, are besieging Syria and Iran together under false and misleading headlines, claiming that they are fighting terrorism, while in fact they are the ones who feed, support and motivate it," according to an official readout.
Despite Iran too remaining under U.S. sanctions as efforts to coordinate Washington's reentry into a 2015 nuclear deal remain underway in the Austrian capital of Vienna, Tehran has repeatedly pledged to expand cooperation with Damascus as it undergoes an economic crisis due to the compounding effects of imposed economic restrictions, the war and the COVID-19 pandemic.
Syria also remains isolated in the region as a result of the conflict, in which Turkey and Arab countries cut ties with Assad's government. Now, however, the momentum appears to have shifted toward a potential reconciliation as key Arab players renewed relationships with Damascus.
Lavrentiev felt a number of concerned countries were anticipating movement in this direction.
"Clearly, much will depend on the decisions that will be made in terms of easing sanctions on Syria," the Russian envoy told Tass. "There are many countries, including Arab nations, who are looking forward to such decisions."
He said the issue "requires special attention," particularly after Assad's most recent, near-unanimous election in May, which the U.S. and Western countries dismissed as a sham. Lavrentiev felt, however, "that the window of opportunities is opening to move the process forward."